Kings
Wise men came from the East to Jerusalem, following a star. The star, positioned at the top of the painting directly above the Christ Child and the dove of the Holy Spirit, is also a symbol of God the Father.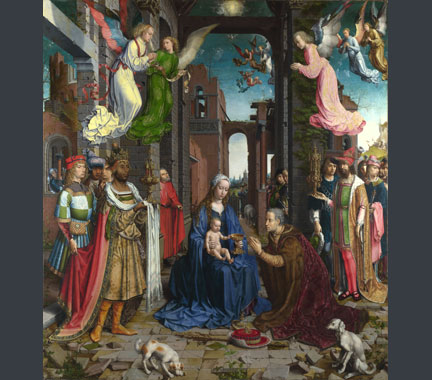 The three men are shown here presenting their gifts. Their luxurious clothes contrast with the surrounding ruins. This was a common setting for paintings of this subject symbolising the collapse of the old pagan order and the beginning of Christianity.
Precious gifts 
The wise men brought gold, frankincense and myrrh, a fragrant resin used to embalm the dead and a symbol of Christ's future sacrifice. Caspar kneels before the Virgin presenting gold coins in a chalice. Melchior stands behind him and Balthazar, the Moorish King, stands on the left.
The wise men had been sent by King Herod to find the newborn 'King of the Jews' and to report his whereabouts under the pretence that Herod wanted to go and worship the child. Fortunately God warned the wise men in a dream not to return to evil King Herod and they departed another way.
Painting
Jan Gossaert (Jean Gossart)
1510-15
Next: Flight into Egypt