Nativity
While pregnant with the Christ Child, Mary and her husband Joseph travelled to Bethlehem to pay taxes, which the Emperor Caesar Augustus had declared that all citizens must pay. Once in Bethlehem, Mary gave birth to her son in a shelter for animals and used their manger for a bed because there was no room left at the inn.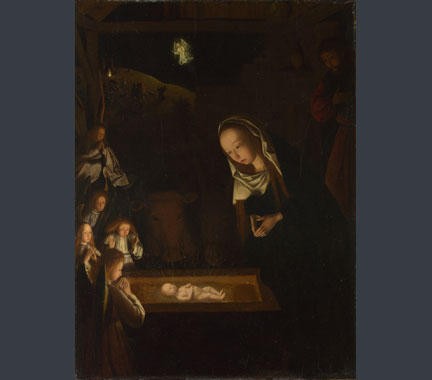 In this small devotional painting Geertgen tot Sint Jans ('little Gerard of the Brethren of Saint John') does not show the baby in traditional swaddling clothes. Instead, the tiny naked child exudes rays of supernatural light which illuminate the night-time scene, one of the first realistically painted night scenes in Northern art.
It is so dark that we can barely make out Joseph standing behind to the right, or the faces of the ox and ass as they too look into the manger at the unexpected contents. The light emanating from the Christ Child lights up the faces of the little angels and emphasises their wonderment at his miraculous birth.
Painting
Geertgen tot Sint Jans
possibly about 1490
News of Christ's birth spread fast and it was not long before the first visitors arrived.
Next: Shepherds