Dream of Saint Joseph
These events must have come as quite a shock for Joseph, thrust into the role of earthly father to the Son of God. Saint Matthew's gospel describes how he was visited by an angel in a dream who gave him some reassurance.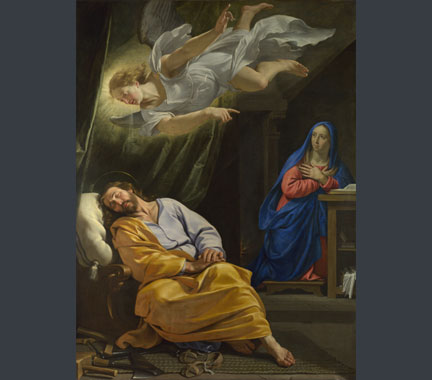 Joseph is asleep on an elegant armchair, perhaps one he made himself. The tools of his trade as a carpenter are placed at his side and his sandals lie on the woven mat by his feet.
The hefty angel who miraculously stays airborne has been sent by the Lord to reassure Joseph. He tells him that he need not hesitate to take Mary for his wife as the child she has conceived is the Son of God.
The artist deliberately chose a simple composition with blocks of vivid colour so that the painting, which was destined for a dimly lit chapel in the now demolished church of the Minimes in Paris, would be easily seen.
Painting
Philippe de Champaigne
1642-3
Next: Nativity