Issued November 2014
'A Young Woman Kneeling at a Prayer Desk' purchased by the National Gallery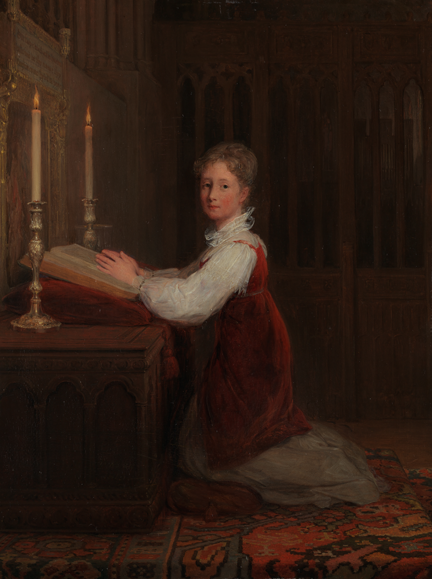 A painting by Scottish artist Sir David Wilkie, that was thought to be lost for more than 140 years, goes on display at the National Gallery, London today (20 November 2014) – and its purchase is all thanks to the gift of a Birmingham art teacher.
'A Young Woman Kneeling at a Prayer Desk' was discovered in the USA after last being heard of in 1872, when it was put up for sale by a relative of the 1st Earl Mulgrave. It is thought his daughter – Lady Augusta Phipps, who died in 1813 aged just 12 – is the subject of the painting.
The work was known to exist because it had featured in an oil sketch, 'Display of Eight Paintings', that the artist sent to his brother, Captain Wilkie, an army officer in India.
It was London-based art dealer Ben Elwes who recognised the painting as a Wilkie when he saw it in the catalogue for a sale in New York. He says:
"I know the work of Wilkie very well and I could see straight away that this was a painting of very great quality. It was tremendously exciting to make this discovery."
The National Gallery is able to purchase 'A Young Woman Kneeling at a Prayer Desk' thanks to Marcia Lay – an art teacher who taught at Lordswood Girls School, Harborne, for more than 20 years. She died in June 2012, leaving a generous gift in her will to the National Gallery, and this will fully fund the purchase of the painting in what is Legacy Awareness Month. Culture Minister Ed Vaizey said:
"This acquisition is a fantastic example of legacy giving and one that I hope will inspire others to do the same. Thanks to the wonderful generosity of Marcia Lay, an art teacher, this beautiful painting will be seen and enjoyed by a huge audience for the first time, so helping to ensure that her name – and her gesture - is celebrated for generations to come."
Wilkie is often called the first truly international British artist, and 'A Young Woman Kneeling at a Prayer Desk' will enhance the National Gallery's collection of British painting in the 19th century by artists who have themselves been highly influential in the development of European painting. It will also further emphasise the great inspiration which British painters of this period drew from the Old Masters. It is just the second Scottish work to enter the National Gallery collection (the first being 'The Archers' by Raeburn, acquired in 2001).
Dr Susan Foister, Deputy Director and Curator of British Paintings says:
"The painting vividly shows off Wilkie's outstanding painterly powers to concentrated effect within its small compass. The young subject of the painting is depicted kneeling at an altar, but she has turned her face directly to us. In this way Wilkie creates a moment of small drama, the sense of discovering, even intruding on, the girl at her private prayers. The pose does not merely enable her features to be clearly identifiable to those who knew her, it also creates a moving connection to the viewer, which is emphasised by the dramatic illumination of her face and figure, her solemn expression and the accuracy and delicacy with which Wilkie suggests the face of a young girl poised between childhood and adulthood."
'A Young Woman Kneeling at a Prayer Desk' goes on display in Room 34 of the National Gallery today alongside works by Turner, Constable, Gainsborough and Reynolds. 
NOTES TO EDITORS
Painting information
David Wilkie
'A Young Woman Kneeling at a Prayer Desk', 1813
Oil on wood
Canvas dims (H x W): 34 x 25.5 cm
Frame dims (H x W x D): 60.4 x 53.4 x 10.2 cm
Glazed
Bought with the support of a generous legacy from Miss Marcia Lay, 2014
© National Gallery, London.
About Sir David Wilkie (1785-1841)
The Scottish painter Sir David Wilkie gained success as an artist at an early age: he was only 21 when he was commissioned to create works for Sir George Beaumont – a major sponsor behind the creation of the National Gallery – and the 1st Earl of Mulgrave. Wilkie was soon elected to the Royal Academy and attracted the attention of the Prince Regent who commissioned a painting. He also attracted the patronage of Sir John Julius Angerstein – whose collection formed the corner stone of the National Gallery collection. In 1823 Wilkie was appointed King's Limner for Scotland; in 1830 he was appointed Painter in Ordinary to King George IV, and reappointed by King William IV, by whom he was knighted. His death while travelling through the Mediterranean following a visit to the Holy Land was recorded by Turner in his painting 'Peace: Burial at Sea' (which can be seen in Tate Britain). Wilkie's pre-eminence in a European context is demonstrated by the fact that his work was bought by the Crown Prince of Bavaria for his gallery in Munich, an honour bestowed on no other British artist.
Many of Wilkie's most popular works were narratives of everyday life. He drew his greatest inspiration from the work of Dutch and Flemish painters such as Adriaen van Ostade, David Teniers and Rembrandt, in compositions depicting inn scenes or village events which Wilkie imbued with a strong sense of drama and psychological insight, as well as subtle effects of lighting.  Throughout his career Wilkie continued to paint with a strong sense of connection to the tradition of Old Master painting. Later in his career he was influenced by the work of Italian painters, in particular Titian and Correggio, as well as by Spanish masters following a visit to Spain in 1827-8. His later works show a shift in style towards a broader manner of painting, away from the extraordinarily deft brushwork with which he captured facial expression and gleaming light on metal or ceramic in the earlier works with which he made his name.
For further information and images please contact the National Gallery Press Office on 020 7747 2865 or press@ng-london.org.uk.