Art underground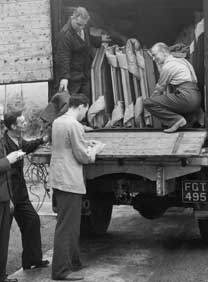 By the summer of 1940, the outlook seemed bleak for the allies in mainland Europe. The British army had been forced into retreat at Dunkirk. France and the Low Countries fell to Germany. The invasion of Britain looked imminent.
It was decided that the National Gallery collection could not remain scattered in various locations around Wales.
One serious proposal was for the paintings to be evacuated by ship to Canada. But the vulnerability of the ships to U-boat attack worried the Gallery's director, Kenneth Clark. He went to see Winston Churchill who immediately vetoed the idea: 'Hide them in caves and cellars, but not one picture shall leave this island'.
Manod quarry
As the paintings were now going to stay in Britain for the duration, a new secure location needed to be found. The conditions in their temporary homes were far from ideal. There was always a chance they might get hit by a stray bomb during air raids on the Liverpool docks.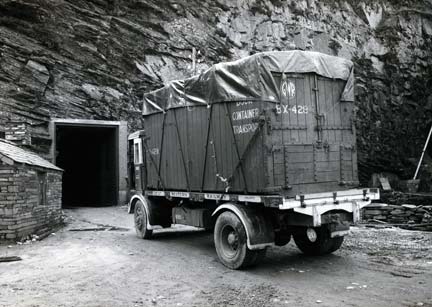 The disused slate mine near Blaenau Ffestiniog at Manod fitted the bill perfectly. High explosives were used to enlarge the entrance in order to accommodate the largest paintings. Several small brick 'bungalows' were built within the caverns to protect the paintings from variations in humidity and temperature. By the summer of 1941, the whole collection had been reunited in its new subterranean home.
New discoveries
It had long been known that paintings were happiest in conditions of stable humidity and temperature. But it had never been possible to monitor a whole collection in such controlled circumstances before. Valuable discoveries were made during this time which were to influence the way the collection was displayed and cared for once back in London after the war.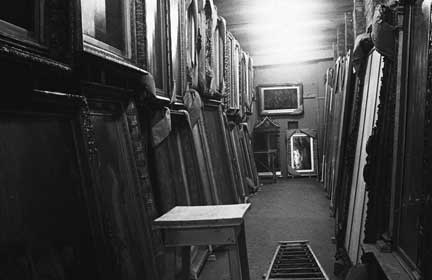 It was also an opportunity for Martin Davies, the Assistant Keeper in charge of the paintings in Wales, to complete his research for new editions of the National Gallery's permanent collection catalogues.
Although all the paintings had left Manod by the end of 1945, the caves were reserved for further use during the Cold War. They were still available to the government until the early eighties.