The national collections
The natural end result of these new displays was the foundation of permanent art galleries. Unlike most of the great European public galleries, the National Gallery was not based on a royal collection.
Founding the National Gallery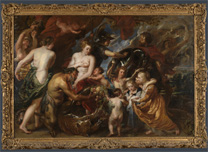 The first gallery for Old Master pictures in the UK was founded at Dulwich, in South London, in 1814. A decade after the establishment of Dulwich, the National Gallery was founded by an act of parliament. Its collection was quickly supplemented by gifts and bequests from private individuals.
Unsurprisingly, Bridgewater's relatives played a major role. They donated major works: the future Duke of Sutherland gave Rubens's Peace and War in 1828 and the future Earl of Ellesmere presented two large cartoons by Agostino Carracci in 1837 (NG 147-8). Ellesmere went on to serve as a Trustee of the Gallery for 20 years from 1835.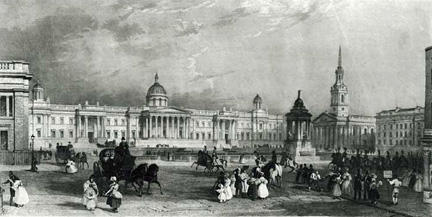 By bringing major paintings like 'Diana and Actaeon' to the country, displaying them and inspiring a public interest in art, the Duke of Bridgewater's family played a major role in creating permanent public collections in this country. For the first time in British history, Old Master paintings had been made permanently accessible to the British public.
Further reading
The Bridgewater Collection: Its Impact on Collecting and Display in Britain
Lecture by Susanna Avery-Quash, Research Curator in the History of Collecting
Nicholas Penny, National Gallery Catalogues (new series): The Sixteenth Century Italian Paintings, Volume II, Venice 1540-1600, 2008, pp461–468