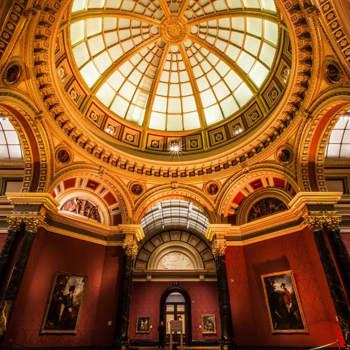 Martha Doris Bailey's legacy gift 2023
Max Pechstein's 'Portrait of Charlotte Cuhrt'
Supporting the development of the national collection
We are enormously grateful to the late Mrs Martha Doris Bailey for her extraordinary generosity towards the Gallery.
Mrs Bailey, a French teacher from Hutton Rudby, near Stokesley in North Yorkshire, was introduced, during her lifetime, to the then National Gallery Director, Neil MacGregor.
On her death in 2000 aged 92, not only did Mrs Bailey leave funds to the Gallery that enabled us to purchase Adolph Menzel's Afternoon in the Tuileries Gardens of 1867 in the name of her late husband Mr Richard Hillman Bailey, but with great foresight, she left instructions concerning the use of funds from the sale of land that resulted in a significant contribution to the Gallery's acquisition fund also in memory of her husband.
Mrs Bailey's legacy enabled us, in November 2022, to acquire a work by another German artist working in the late 19th century, Max Pechstein (1881–1955), that complements Menzel's 'Afternoon in the Tuileries Gardens'. The painting, Pechstein's 1910 'Portrait of Charlotte Cuhrt', is a superb example of work by an artist who had been unrepresented in any national collection.
The sitter Charlotte Cuhrt was the daughter of Max Cuhrt, a highly successful Berlin solicitor who moved in the avant-garde circles of early 20th-century Germany. Pechstein's new daring, colourful, expressive style reflects the avant-garde influences on his work from across Europe and is a key piece in helping us to tell the story of this dynamic time in the development of Western modern art.
Through the purchase of Pechstein's 'Portrait of Charlotte Cuhrt', Mrs Bailey's wish for her gift to support the development of the national collection has been fulfilled to the great benefit of generations of visitors to the Gallery.
We would like to thank the late Mrs Martha Doris and Mr Richard Hillman Bailey for their generosity as well as all those who have left a gift in their will to the National Gallery. Gifts in wills play an important in the Gallery's activities. No matter how small or large, gifts have the power to help us connect people to paintings for generations to come, to support our programme of education and conservation, as well as acquisitions.
If you would like to learn more about supporting the Gallery in this way, please contact our Legacy Manager, Meredith Loper, via email: Meredith.Loper@nationalgallery.org.uk, or telephone: 020 7747 5982.
Alternatively, additional information, including our legacy film, is available to watch on our website: nationalgallery.org.uk/support-us/leave-a-legacy