After Gustave Courbet, 1819–1877
'Self Portrait', after 1880
Oil on board, 45 x 37.8 cm
NG3240
This painting was long considered to be Courbet's own reduced replica of his self portrait, 'L'Homme à la Ceinture de Cuir', now in the Musée d'Orsay, Paris. However, recent analysis of the materials and techniques used in creating the work indicated that the painting was very likely produced after Courbet's death, and thus cannot be by him.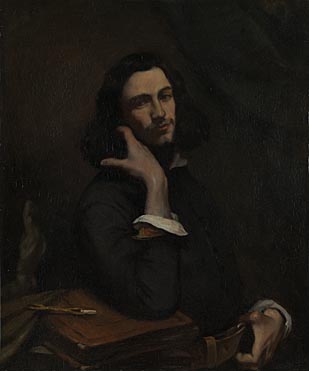 Distinguished provenance
This small portrait came to the National Gallery via the Anglo-Irish collector and art dealer Sir Hugh Lane. When Lane drowned on the 'Lusitania' in 1915, legal ambiguities regarding the terms of his bequest meant that his 39 Barbizon and Impressionist paintings, while owned by the National Gallery, are for all practical purposes shared between it and the Dublin City Gallery, The Hugh Lane.
The painting is a smaller version of 'L'Homme à la Ceinture de Cuir (The Man with a Leather Belt )' – one of Courbet's earliest self portraits, dated about 1845–6 (Musée d'Orsay, Paris).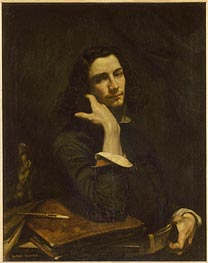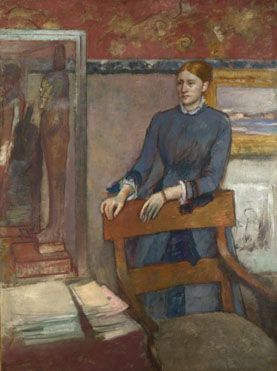 Lane had acquired the smaller work from the estate of Henri Rouart in 1912. Rouart was an industrialist, amateur painter (he studied with Corot) and an exceptional collector of works by Courbet, Millet, Corot, Degas and other Impressionist painters.
The artist at work
The painting was described in the 1912 catalogue of Rouart's collection as by Courbet, and until very recently has been regarded as the artist's own replica of the larger work in Paris. It was not unusual for Courbet to make replicas of his own paintings; although there is no specific mention of a copy after 'L'Homme à la Ceinture de Cuir', Courbet does refer to copies of his self portraits in his correspondence.
The artist also used the back of the small replica for a quick study of a hand resting on a studio stool.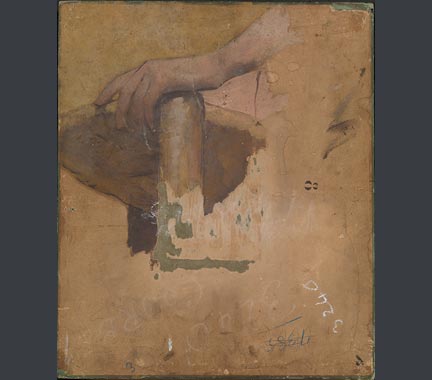 Unusual materials
By 1996, discoloured retouchings and varnish had obscured the surface of the 'Self Portrait', and it was decided to clean the painting. During treatment at the National Gallery, it was discovered that the millboard support had been prepared with a lead white ground – unusual for Courbet, who preferred a darker, often reddish, ground preparation for his paintings. Millboard itself, a heavy duty cardboard, was rarely used by Courbet: only four other works by him are known on this type of support.
Finally, the execution of the painting is rather cursory and not typical of Courbet; the forms are smoother and less detailed than in the original. The fact that the painting bears a 'signature' on the edge of the book is no proof of authorship, as these are easily forged.
Date-stamped?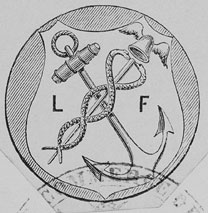 In 2008, a study by Pascal Labreuche of trademarks used by 19th-century artists' suppliers provided an identification of the label on the back of the Gallery's picture, partly visible beneath the sketch.
The trademark is one used by Lefranc et Cie, a Parisian art supply company founded in 1773. This particular design, however, featuring a shield contained within a circle, was registered and in use by them only from 1880 – three years after Courbet's death. The painting must have been made between 1880 and 1912, when it is recorded in the sale of Rouart's collection.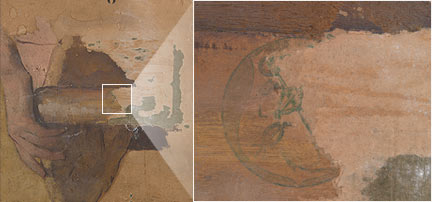 If the painting's support (and therefore the painting itself) post-dates Courbet's death, who might have painted it? There is no record of when or from whom Rouart might have obtained it. It is possible, if unlikely, that Rouart – himself an amateur painter, who exhibited with the Impressionists – might have ventured a copy of Courbet's 'L'Homme à la Ceinture de Cuir'. However, Courbet's original was on public display in the Musée de Luxembourg (and later the Musée du Louvre, Paris) from 1882, and would have been easily available to any would-be painter attracted to this dashing likeness.       
Marjorie E. Wieseman is Curator of Dutch paintings at National Gallery. This material was published on 30 June 2010 to coincide with the exhibition Close Examination: Fakes, Mistakes and Discoveries
Further reading
M. Davies, 'National Gallery Catalogues. French School, early nineteenth century, Impressionists, Post-Impressionists, etc.', third edn, rev. Cecil Gould, London 1970, pp. 36–7
Marie-Thérèse de Forges, 'Autoportraits de Courbet', exh. cat., Paris, Musée du Louvre, 1973