Attribution and date
The portrait has generally been accepted as the work of Cranach himself.16  Details such as the fine, swift brush strokes creating the highlighted curls of the sitter's hair and the economical, deftly painted highlights of the gleaming metal purse frame are clear indications of Cranach's authorship (fig. 6). As discussed above, the date of the portrait must be either 152[?] or 153[?]. If the identification of the sitter as Johann Feige is accepted it is reasonable to date it to the early 1530s.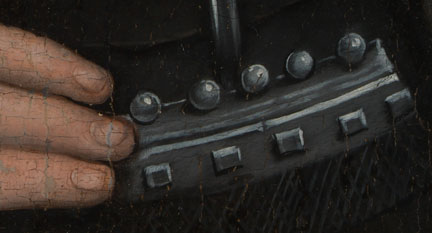 Further sections
16. Friedländer and Rosenberg 1968, no. 181; Levey 1959, pp. 19–20; Koepplin and Falk 1974, vol. II, no. 610, p. 692.