Technical notes
Conservation

In 1929 a vertical split in the panel near the left edge was mended. The painting was cleaned and restored in 1974. In 2010 a non-original reinforcing wooden framework was removed from the back.

Condition

The picture is in quite good condition. There is damage to the paint on the left associated with the split, and further scattered losses, including some in a circular shape in the coat of arms top right and a larger one in the sitter's neck.

The winged serpent used as Cranach's signature is thinly painted but intact; on examination with a microscope, the paint appears to include some lead-tin yellow. In the area of the date (fig. 1) only fragments of original paint survive, also apparently including lead-tin yellow. The shapes of the numbers now visible have been made by incising the background adjacent to the fragments of paint to reveal the light ground and wood in order to create the date 1524. Not enough original paint remains to be certain of the date: the digit which has the most paint is the 5; the penultimate digit only has paint across the top and so might originally have been a 2, 3, 5 or 7; only tiny traces remain of the 1. The final digit has traces of original paint along the horizontal bar of the 4.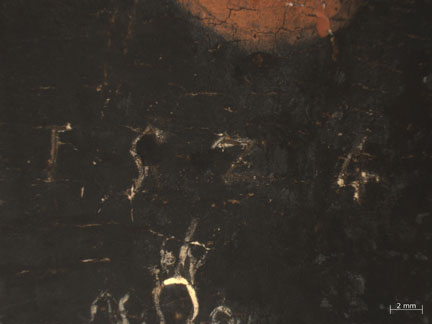 The coats of arms are also somewhat damaged. In that on the left the female demi-figure wears something green on her head but damage makes it impossible to identify. Her left arm is missing, but a patch of original green paint suggests that it may have been raised like the right, which is holding up a branch with green leaves (fig. 2).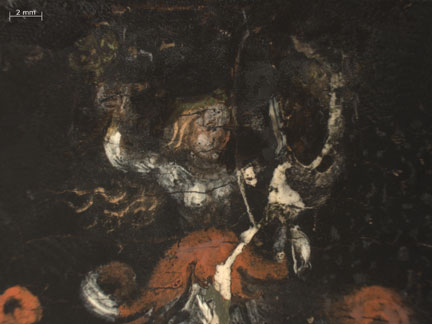 Materials and technique

The support is a limewood (Tilia sp.) panel with vertical grain.3 The thickness is 1.1 cm. The panel is formed from two boards; the join in the middle of the panel is 12.6 cm from the right edge. Around all four edges of the back of the panel is a rebate about 0.8 cm wide where the wood has been reduced in thickness to 0.5 cm. Balsa blocks have been attached in the rebates to bring the thickness of these areas up to that of the main part of the panel. The non-original reinforcing wood that was removed in 2010 had been slightly inset into the back of the panel and so now there is a border about 3.6 cm wide around three sides of the panel where the wood is 0.1 cm thinner and some worm channels are visible. On the left, a split had been mended using a wider piece of wood, but this has been replaced with a thin piece of balsa to reinforce it.

On the back of the panel is a handwritten inscription in black paint reading 'H: Doctor Lüther/1778'. A label handwritten in ink reads 'Francis von Sickingen/by/L Cranach'.

The ground is white and consists of chalk (EDX and FTIR analysis). There is no sign of canvas between ground and panel, but there are tangled fibres visible in the X-radiographs which must be either below or within the ground. The ground and paint end with a barbe at the top, bottom and right edges, leaving a narrow strip of bare wood which would have been covered by an engaged frame (the left edge is more damaged and repaint extends to the panel edge). In places the ground has seeped under the frame onto the wood. No underdrawing was detected by examination with infrared reflectography, nor were any traces revealed by examination with the microscope in areas such as the contours of the face, which might be expected to be underdrawn.

The medium of the black background paint was identified by GC–MS analysis as heat-bodied linseed oil.

Painting technique

The paint is generally thin and skilfully worked wet-in-wet in places, for example in the decoration on the purse and the hair. In the black paint, in addition to the black pigment, some potassium zinc sulphate, probably a form of white vitriol, is present as an additive.4
Further sections
3. Confirmed by Peter Klein: report of 18 April 1995 in the NG dossier. The 1959 catalogue erroneously identified the wood as beech.

4. Potassium, zinc and sulphur were detected by EDX analysis in the black paint. White vitriol is zinc sulphate, and potassium zinc sulphate could be another form of it. A small but increasing number of occurrences of both of these compounds have been reported in paintings from across Europe. White vitriol is mentioned in documentary sources in recipes for the preparation of oils and also as an additive on the palette. For a more detailed discussion see Dunkerton and Spring 2013, esp. pp. 24–5 and notes 67–73. See also the entry for Cranach's Portrait of a Woman (NG291). [http://www.nationalgallery.org.uk/paintings/lucas-cranach-the-elder-portrait-of-a-woman/*/x/145/y/-92/z/2]