1. Introduction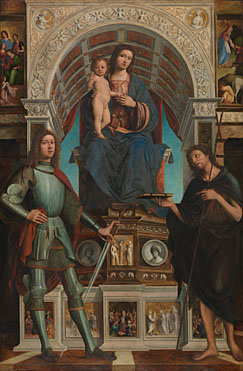 We are used to thinking of the figures in paintings addressing an audience rhetorically, using gestures as Alberti recommended, or looking directly out at the viewer;1 but buildings in pictures perform an equally essential rhetorical role, addressing the spectator and welcoming us to the image. Arches, portals, window frames and openings act as architectural greetings and entrances (fig. 1). These structures are applied with greatest consistency and exuberance in depictions of the Annunciation, where architecture encapsulates the subject and sets up a chain of visual puns.2 To put it simply arches, apertures and entrances are the architectural equivalent of an arrival and a greeting – an Annunciation, 'Ave' or Hail Mary. The architecture in a painting is therefore itself an annunciation, announcing the subject of the picture in a very concrete way.
Artists used architecture in other interlocking ways in Annunciations, employing façades, loggias, porches, doorways, gates and windows to create the narrative, building and describing the biblical event, namely the Archangel's touchdown, greeting, and astonishing announcement that the Virgin Mary will give birth to Christ (fig. 2). They used the same structures metaphorically to convey the idea of Mary's impregnation by the Holy Spirit – the gateway to Christianity. Mary herself was represented metaphorically as the gateway to heaven – the 'porta coeli'. And in each case they used architecture rhetorically or transitively to reach out and greet the worshipper, so as to stimulate yet another greeting in response as the worshippers offered their Hail Marys in return.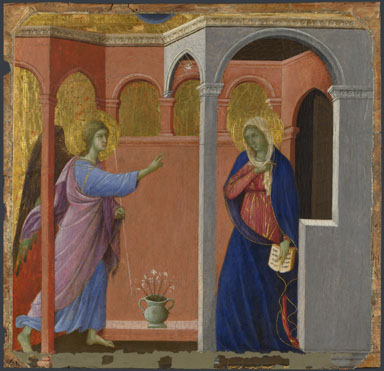 The archways of Annunciations can help us understand the interconnectedness between painting and viewer, and artists' playful approaches to the visual flow between them. Architecture within paintings repeatedly draws attention to this relationship and to the viewing process. Perspective was part of that process, but only a part. This section explores some of the ways in which artists used multiple types of architecture to address their audiences and draw them in. Inner frameworks had enormous potential to affect the relationship between the viewer and the work, creating intimacy or formality, proximity or distance, witty foreplay or magnificent hauteur.
Late medieval and Renaissance rhetoric was much concerned with the notion that writers and artists were engaged in 'imitating nature' and in creating works which were 'true' and 'real'.  However, there are fundamental differences between our modern concepts of truth and reality and those held in the period covered here, when the word 'storia' meant both history and story, so that there was no linguistically recognised distinction between fiction and non-fiction. Likewise, it is often misguided to think in terms of modern photographic and digital virtual reality when looking at 15th- and 16th-century paintings. Bearing these caveats in mind, one of the aims of this section is to consider to what extent late medieval and Renaissance artists were engaged in creating pictures that could be visually inhabited. The creation of apparently accessible spaces within images sets in train a type of imaginative game in which the viewer is invited into the image. However, neither artist nor viewer is ever in any doubt that this is an invented pictorial world that diverges from the real world to create another fictional plane of reality, measured by its startling difference from or similarity to what we know.
Read further sections in this essay
To cite this essay we suggest using
Amanda Lillie, 'Entering the Picture' published online 2014, in 'Building the Picture: Architecture in Italian Renaissance Painting', The National Gallery, London, http://www.nationalgallery.org.uk/research/research-resources/exhibition-catalogues/building-the-picture/entering-the-picture/introduction