1. Introduction
Rather than treating architecture as something added on or subordinate to the rest of the image, painters often adopted an architectonic approach to structure the whole painting at the initial planning stage. There were many reasons for this. Establishing a close relationship between a painted image and its actual setting was a fundamental concern for patrons, artists and architects in the Middle Ages and Renaissance. Most pictures were site-specific commissions created to enhance and relate to their architectural surroundings. Architecture within the picture space could make this relationship work by responding to the building for which the painting was designed. In the case of altarpieces, highly structured frameworks and boldly designed internal compositions were more comprehensible from a distance and acted as destinations within the high, gloomy spaces of churches. Painted architecture could help to create strongly defined, welcoming structures for altarpieces. Three-dimensional frames could also promote an architectural approach to image making, and painted architecture was often devised to relate to the outer frame, either creating a unified work or setting up a visual dialogue between frame and painting (fig. 1).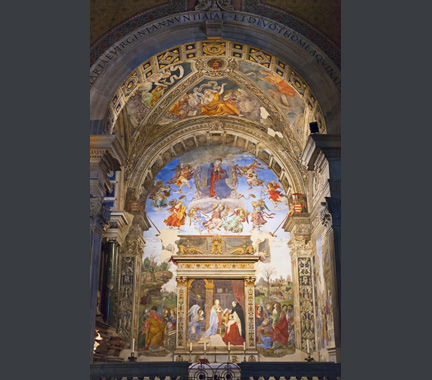 Narrative paintings, whether they were murals, small predella panels along the base of altarpieces or domestic images, required fictive settings and environments within which the action or story could take place. Inventing and designing these narrative settings was one of the first tasks for a painter. The roles played by fictive architecture within narratives are examined in the second essay, 'Entering the Picture', and in the third essay, 'Place Making'. Architecture was not only essential to create the look and identity of places in stories, but it also structured episodes, conveyed meaning, and directed audience attention.
Beyond these fundamental requirements related to the site, framing, commission and subject matter of each picture, the overarching concept of 'disegno' – a word that meant design, drawing, draughtsmanship, and both the conceptual and practical planning of a work – underpinned and united all the arts of design. The working methods of painters were therefore based on a systematic process of design that applied many of the fundamental principles we now associate with architecture to the planning of pictures.
Read further sections in this essay
To cite this essay we suggest using
Amanda Lillie, 'Constructing the Picture' published online 2014, in 'Building the Picture: Architecture in Italian Renaissance Painting', The National Gallery, London, http://www.nationalgallery.org.uk/research/research-resources/exhibition-catalogues/building-the-picture/constructing-the-picture/introduction