William Coningham
1815 - 1884
Paintings previously owned by William Coningham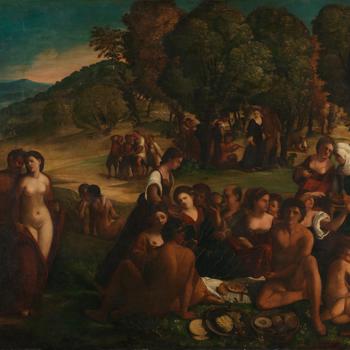 Followers of Bacchus – the Roman god of wine and fertility – feast, drink and make love in the countryside. The painting resembles the great bacchanal scenes that were commissioned from the leading painters of Venice by Alfonso I d'Este, Duke of Ferrara, for the Camerino d'Alabastro (Alabaster Ro...
Not on display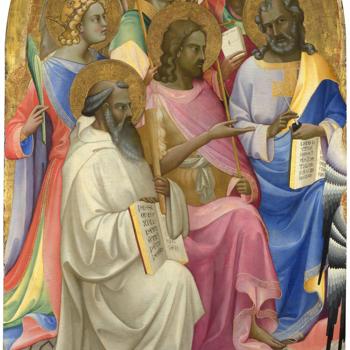 A group of saints dressed in glowing colours cluster on an elaborately decorated floor. This large painting was part of a complex polyptych (a multi-panelled altarpiece) painted for the Camaldolese monastery of San Benedetto fuori della Porta Pinti in Florence.They look at the coronation of the V...
A company of richly dressed saints, their gilded haloes stamped with elaborate patterns, gaze at something on their right, or turn to talk to each other. This painting is part of a large multi-panelled altarpiece made for the Camaldolite monastery of San Benedetto fuori della Porta Pinti in Flore...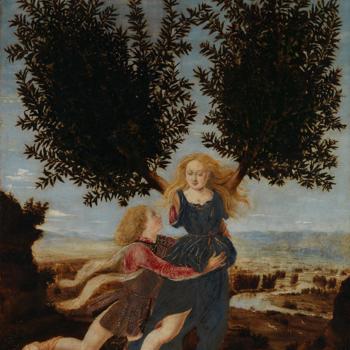 This tiny picture has grand themes: the rivalry of the gods and the power and danger of love. Its story comes from the Metamorphoses, by the Roman poet Ovid. Cupid, taking revenge on Apollo for his teasing, struck the god with a golden arrow of love, igniting a fierce desire for Daphne – but stru...
This small painting of the Pentecost shows Giotto's skill at transforming complex biblical stories into images that were easy to decipher. Jesus's followers were gathered together 50 days after his Crucifixion to celebrate the Jewish Feast of Weeks. A strong wind began to blow and flames like 'to...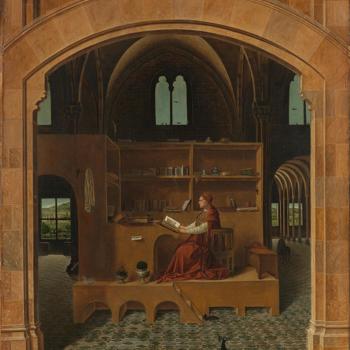 Born in the fourth century, Saint Jerome was a scholar and a monk. His translation of the Bible from Greek into Latin is known as the Vulgate, and it is still used by the Catholic Church today.Antonello offers a peek into the saint's environment through a fictive stone wall pierced by a broad arc...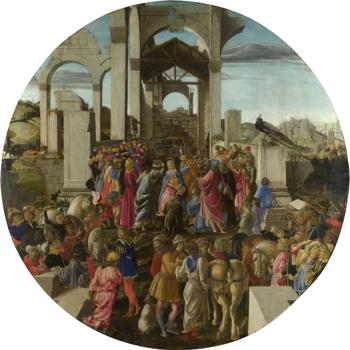 Botticelli painted at least six scenes of the Adoration of the Kings. This, one of his most expansive and ambitious, is painted in a circular format called a tondo. The figures and animals in the outer circle face inwards to pay respect to the Christ Child, inviting the viewer to do the same. Bo...
Christ prays before a group of cherubs who hold up the instruments of his torture and death. His disciple Judas, who has betrayed him, leads a large band of soldiers down from Jerusalem to arrest him. Meanwhile his other disciples sleep.This painting reflects many of the artistic issues that woul...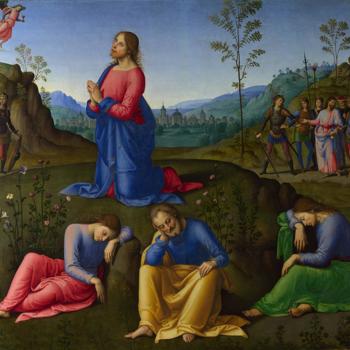 Christ kneels on a grassy hillock, hands folded in prayer, and looks up at a floating angel who carries a chalice. At the front, three of the apostles slumber, heads resting on their arms or hands. Soldiers wearing fantastic Renaissance versions of classical armour approach from the sides, led by...
Not on display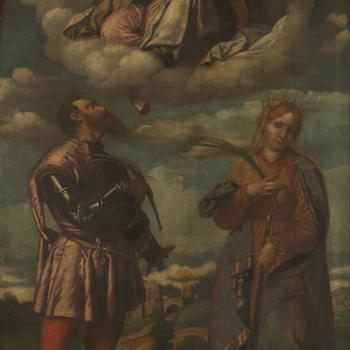 Saint Hippolytus gazes up at the Virgin and Child in the clouds and gestures to a distant group of buildings, probably Onzato, where this painting was originally displayed, or nearby Flero.Saints Catherine and Hippolytus were both martyred by having their limbs broken as they refused to convert t...
Not on display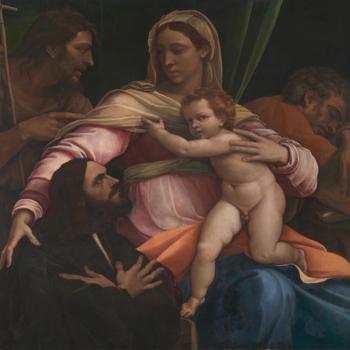 The Virgin Mary turns to look down at the kneeling man beside her and extends a protective arm around his shoulder. Saint John the Baptist points at the lively Christ Child, while Saint Joseph sleeps with his head on his arm. The diagonals in the composition draw the viewer's eye to Christ's gaze...
Three of Christ's followers visited his tomb to anoint his body. When they arrived they found 'a young man... clothed in a long white garment' who told them that Jesus had risen from the dead (Mark 16: 1–8). In the Gospel of Matthew, the figure is described as the angel of the Lord; the painter o...
Not on display
According to the Gospel of Matthew, the Roman governor Pontius Pilate set a guard of soldiers at Christ's tomb to prevent anyone from stealing his body; they did not expect Christ to rise from the dead. Here we see that the soldiers have fallen asleep, and are completely unaware of Christ's resur...
Not on display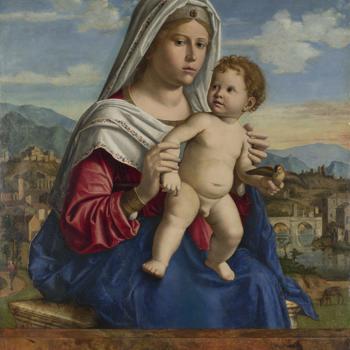 This was one of Cima da Conegliano's most popular designs, and he and his workshop produced a number of versions of it. The Virgin Mary sits on a marble bench in front of a sunlit Italian landscape, her body forming a solid mass which we can almost feel pressing down on the cool stone. There is h...
You've viewed
6
of 14 paintings