In this tiny postcard-sized painting, we are confronted by a brick wall. There is no story here and nothing happens: no protagonist, no activity, no sense of place, or moral message to dwell upon. Neither is there a focal point or vista to speak of. 
Instead, we are invited to look directly at a side of a house. It fills our view, and since our eyes have nowhere else to go, we become transfixed by small details – soft peeling plaster, scaffolding holes, crumbling, pocked and pitted bricks. We take in the texture and colours of the bricks – some of them water-stained, yellowish or buff – as well as the shapes made by the two tightly-shut windows, and the balcony, where washing hangs out to dry.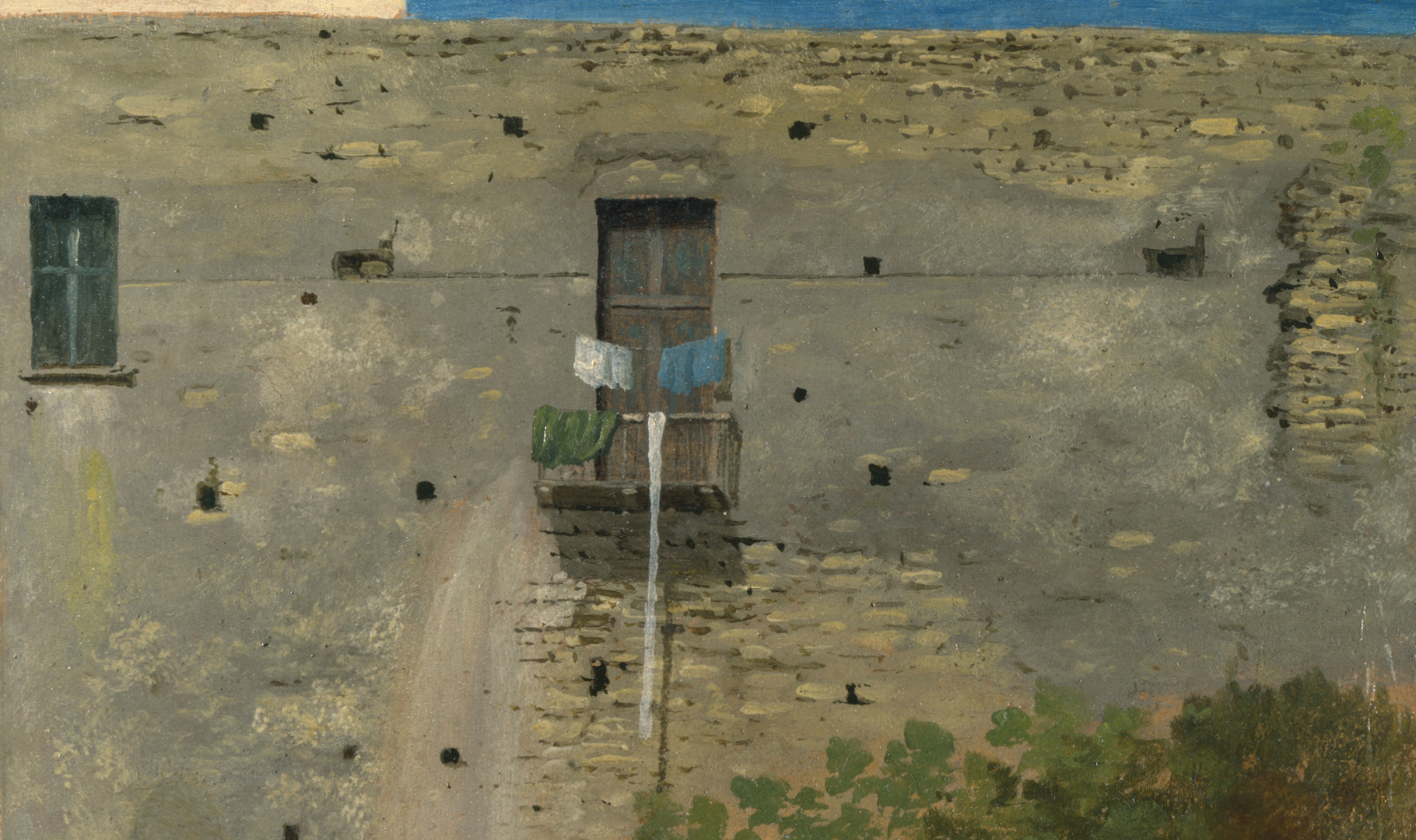 It's a picture of nothing much and yet it's strikingly modern in its geometric design. The Welsh artist, Thomas Jones, was truly ahead of his time, being the first British painter to make outdoor oil-sketching a significant part of his artistic practice.
While living in Naples in 1782, he turned away from the famous sights and views and the conventions of classical landscape painting in about twelve such plein-air oil sketches, each offering glimpses of neighbouring buildings seen from the roof terrace of his lodgings, near the harbour.
When contemporary artist Sean Scully saw this painting recently in the Gallery, he was mesmerised, recognising in it an affinity with his own abstract paintings and photography. Compare the cream and blue strip across the top of Jones's painting with Scully's own boldly geometric compositions. Our eyes recognise the cream-coloured space as a plaster-rendered wall, and the blue as the Mediterranean sky, but these coloured shapes would not be out of place in an abstract painting.
By inviting us to look closely at single space, Jones offers us the opportunity to clear our mind and meditate on simple lines and colours.
Learn more about how Scully has taken inspiration from our collection: 
Sea Star: Sean Scully at the National Gallery