Van Gogh's Materials
'A decoration in which the raw and broken chrome yellow will blaze forth on various backgrounds, blues between pale 'véronèse' [emerald green] and royal blue, framed with thin strips painted in mine orange [red lead pigment].'
Van Gogh describing his 'Sunflowers' in a letter to the painter Emile Bernard, August 1888.
The two Sunflowers in this display were made within about five months of one another. Van Gogh used very similar paints for both works. His palette is dominated by the vibrant, opaque chrome yellow, a pigment that had first become available to artists in the early 19th century. As the century progressed, manufacturers developed a wide range of shades of this yellow pigment. Several varieties of chrome yellow are used in each of the Sunflowers. In common with most of his contemporaries, Van Gogh made use of tubes of ready-made oil paint, supplies of which were sent to him by his brother in Paris from the firm of Tasset et L'Hôte.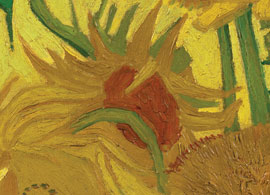 Van Gogh also employed, in a subsidiary role, two greens (viridian and emerald green), both mixed and unmixed, and the intense deep blue of French (synthetic) ultramarine, all of them 19th-century introductions to artists' palettes. The Amsterdam Sunflowers contains a pale blue tint with white of Prussian blue in the centre of the flower to the right (which may originally have been mauve) and for his signature on the vase. In the London painting the signature is French ultramarine. A deep red dye-based pigment for a flower centre is used only in the Amsterdam version [1,2].