Confident, proud, shrewd - these are all words that might describe the self-image that Rembrandt projected at the age of 34.
He had begun life as a miller's son in Leiden. By 1640, he had established himself in Amsterdam as one of the foremost painters of portraits and religious subjects. His self portrait reflects a sense of pride in his own success at this point.
His clothes and pose were also carefully chosen to make references to paintings by Raphael and Titian, so with this portrait Rembrandt placed himself in a long line of great artists.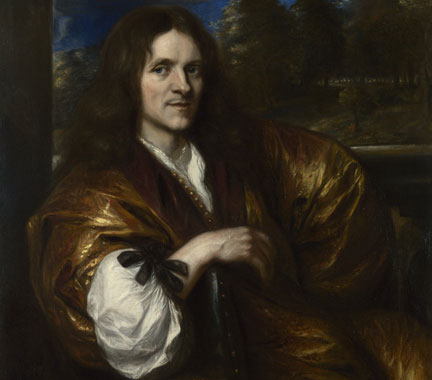 We can also see how two of Rembrandt's contemporaries used their self portraits to either connect with or differentiate themselves from him.
Jan Lievens shared a studio with Rembrandt back in Leiden. By this point, however, he had moved on, both geographically and in terms of his artistic direction. Now living in Antwerp, Lievens was interested in the work of Anthony Van Dyck. The loose hair, swathes of fabric and landscape background are all reminiscent of Van Dyck's work.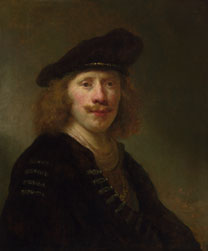 Govert Flinck on the other hand had been Rembrandt's pupil, and still very much wanted to emulate his master's approach. His clothing, hair and moustache are so similar to Rembrandt's that this was once thought to be a portrait of him, not of Flinck.
While he inspired others, Rembrandt often drew inspiration from those who were close to him.
Next: Rembrandt's wife Saskia