The paintings on display
In the mid-1850s Turner's two pictures were still being displayed next to Claude's (view paintings) in Trafalgar Square.
However because space was at such a premium in the Trafalgar Square building the rest of the Turner bequest was initially exhibited with the National Gallery's British pictures at Marlborough House in Pall Mall.
When that residence was assigned to the Prince of Wales in 1859, Turner's paintings moved even further away, to a gallery adjoining the South Kensington Museum, which is now the Victoria and Albert Museum.
It was not until 1861 that all the finished pictures were finally placed in Trafalgar Square following a House of Lords enquiry that upheld Turner's original wish that his paintings be housed together at the National Gallery.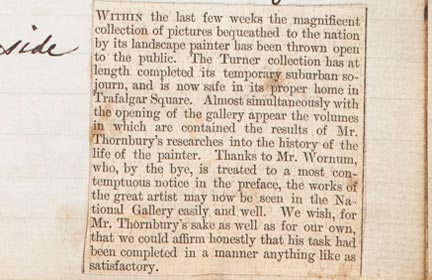 As a result of this decision they were exhibited as a separate 'Turner Collection' while the two Turners and two Claudes were displayed within the rooms dedicated to French paintings. The unfinished paintings, and the sketches and drawings, remained at South Kensington.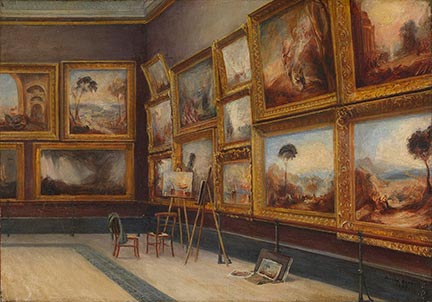 Next: Trafalgar Square to Tate