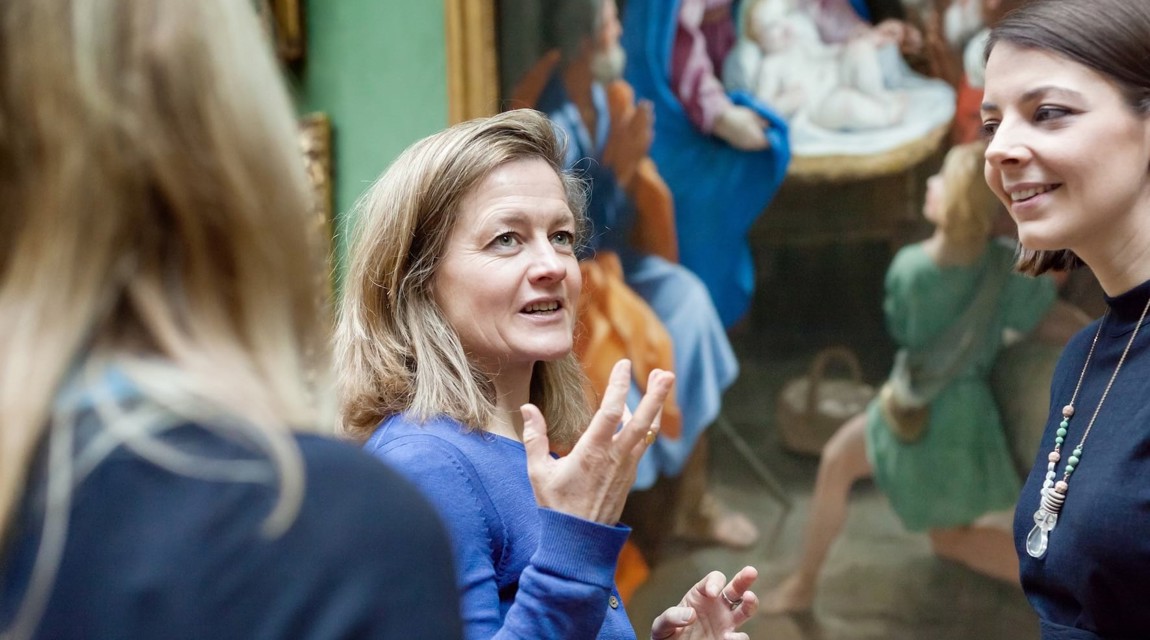 Membership terms and conditions
Terms and conditions of Membership
Membership of the National Gallery
On applying to become a Member of the National Gallery you are automatically agreeing to these terms and conditions and you are providing us with the appropriate consent to handle your personal information in accordance with current data protection legislation including the General Data Protection Regulation (please refer to our Privacy policy). References to the "National Gallery", "we" or "us" are references to the Board of Trustees of the National Gallery. 
Our acceptance of your application will bring into force a legally binding contract between us and these terms and conditions will form the basis of that contract through which the National Gallery will deliver a service to you as a Member.  Where you apply for Gift Membership for someone else, we will deliver these services to the person named in your application.
Membership benefits
National Gallery Members will receive a range of benefits. A typical Membership package will include:
Membership card which gives free access to all paid temporary shows
The opportunity to attend Members' events held at the National Gallery
Offers from third parties
1.2 We reserve the right to change the benefits that apply to National Gallery Membership at any time and without prior notice. Where possible, changes to benefits will be published on the National Gallery website.
1.3 Any third parties or external providers of a benefit included in the Membership package will have absolute discretion in relation to the provision of services.
1.4 Services supplied from a third party or an external provider will be subject to the supplier's own terms and conditions. We are in no way responsible for and do not accept any liability for loss or damage suffered as a result of a fault, error or omission in the provision of these services.
1.5 The National Gallery Company Members' discount excludes postage and packaging, shipping and stamps, Heni prints, Peter Layton vases, giftcards, additional Membership, exhibition tickets, audio guides and cannot be used in conjunction with any other price offer or promotion or previously purchased merchandise
2. Administration of your Membership
2.1 National Gallery Membership is administered almost exclusively through online channels.
2.2 When you join as a Member, you will be asked for your email address and a password to create an account which will be used to send you confirmation of payment, a welcome email, direct debit notifications and Members' email updates and reminders, which may include our monthly newsletter, access and invitations to our Members' events, what's on round ups, exhibition alerts and surveys - providing information about our latest exhibitions, news, events, appeals and offers available in the Gallery shops and restaurants.
2.3 You can unsubscribe from emails at any time using the link included on all email updates which we send you, and can also change your email preferences by logging into your account and editing your preferences.
2.4 If you chose not to provide an email address (or you unsubscribe from receiving emails from us at any time) the only communications you will receive from us will be those very limited communications which we send by post, including the Member's card and Welcome pack and a postal reminder about renewal.
2.5 You will need to use your email address and password when logging into The National Gallery website to book exhibition tickets and tickets for Members' events (see section 3.8 below).
3. Accessing Membership benefits
3.1 Members should remember to bring their Membership card – or Welcome Email with temporary card with barcode, if permanent Membership card is yet to be received - with them when they visit.
3.2 Membership cards are for the named card holder only. Membership may not be transferred to another person and Members are not permitted to allow another person to use their Membership card.
3.3 'Joint Member & Guests' Membership allows both card holders to bring one guest each. Please note that both card holders must be present if they wish to visit an exhibition with two guests. The secondary named joint member will need to create their own account with their email address and a password to gain access to their preference centre and to book exhibition tickets and tickets for Members' events (see section 3.8 below).
3.4 National Gallery Membership (other than Gift Membership – see clause 10 below) is valid from the date of acceptance by the Gallery until the date of expiry shown on the card. 3.5 Membership cards will be dispatched within 15 working days of your application for Membership being accepted by the Gallery. If you join onsite the card will be provided at point of sign up.
3.6 Lost Membership cards will be replaced once free of charge. Any subsequent replacement cards may incur a small administrative fee.
3.7 The National Gallery may operate a timed ticket system for entry to some ticketed exhibitions to monitor Gallery capacity and visitors' health and safety.
3.8 Members can enter exhibitions by simply showing their Membership card at the exhibition entrance. For certain events and exhibitions Members are advised to pre-book timed tickets online at www.nationalgallery.org.uk/membership
3.9 A limited number of tickets are always reserved for Members which are available at the Ticket Desk each day for each time slot. These are allocated on a first come first served basis. During peak times and busy exhibitions, there will be high demand for the Members tickets and we will not be able to guarantee entry.
3.10 To collect a timed ticket from the Ticket Desk prior to entering the exhibition, Members will need to present a valid Membership card (or confirmation email with temporary card included, if awaiting postal delivery of Membership card).
3.11 If a Member is unable to use his or her pre-booked tickets, he or she should let us know so that we can cancel the place and offer it to another Member.
3.12 Up to four Under 18s can access the exhibition for free with an accompanying Member. Under 18 free tickets must be booked in advance or in the Gallery.
4. Right to refuse applications
4.1 The National Gallery reserves the right to refuse any application for Membership. The National Gallery also reserves the right not to fulfil or to cancel a Membership if you (or the Member, where you purchase Gift Membership for another person) are found to be in breach of these conditions.
4.2 On receipt of your order we will debit your card or process the Direct Debit payment for the price (as applicable). However our acceptance of your offer remains subject to approval of it by us. Once a decision has been reached we will either confirm that your application has been accepted, at which point a contract will be formed between us, or notify you that we cannot accept your application. If we cannot accept your application for whatever reason we will confirm that your account has been re-credited (if applicable).
4.3 If we are unable to obtain payment authorisation from the issuer of your card or from your bank in the case of Direct Debit payments and a Membership has already been issued to you, we will request you return the Membership card and forfeit any benefits and to cover the cost of any exhibition tickets obtained since the Membership was issued to you.
5. Price information
5.1 All quoted Membership fees are for a one-year Membership subscription.
5.2 We reserve the right to increase the price of your Membership subscription on an annual basis. You will be informed of any fee increase within your renewal letter.
5.3 New Members can receive the amount of their exhibition ticket off the price of Membership
5.4 Exhibition ticket holders can redeem the price of their ticket against the cost of a new Membership. This is valid upon presentation of a ticket on the same day as the visit to the exhibition, or if a new Membership is purchased online within seven days of the exhibition visit, or within the terms of an offer sent at the discretion of the National Gallery. If the Membership is purchased online the price of the ticket will be refunded within 3 working days. After the initial year, the price of the Membership will return to the standard rate at the time of renewal.
5.4.1 Based on your Membership type, you can redeem the following number of tickets per Membership: Member: 1 ticket Member & Guest: 1 ticket Joint Membership: 2 tickets Joint Membership & Guests: 2 tickets
5.4.2 The National Gallery reserve the right to amend the terms and conditions of this offer at any time and without notice. In any dispute the Management's decision is final.
6. Credit/Debit card payments
6.1 The credit/debit card information you provide us for a Membership transaction is used solely for the purpose of processing that Membership transaction. If we are unable to process payment from the credit/debit card details you have provided we will contact you immediately to verify your card details.
6.2 We strongly advise you against sending us any credit/debit card information via email. It is contrary to the rules of the Payment Card Industry (PCI) for us to accept credit/debit card payments by email and we will decline to accept payment by this means.
6.3 If you are not using your own credit/debit card to pay for the Membership subscription, you must ask permission of the credit/debit card holder before entering payment details. When you subscribe to Membership of the National Gallery either online, by post or verbally, you are confirming that you have obtained the express prior permission of the credit/debit card holder.
7. Direct Debit payments
7.1 If there are any changes to the amount, date or frequency of your Direct Debit, the National Gallery will notify you 10 working days in advance of your account being debited or as otherwise agreed. If we request to collect a payment, confirmation of the amount and date will be given to you at the time of the request.
7.2 If an error has been made in the payment of your Direct Debit by us or your bank/building society, you are entitled to a full and immediate refund of the amount paid from your bank or building society. If you receive a refund you are not entitled to, you must pay it back when requested to do so by the National Gallery.
7.3 You can cancel a Direct Debit any time by simply contacting your bank or building society. Written confirmation may be required. We would be grateful if you also notified us using the contact methods set out below.
7.4 Direct Debit is not available as a payment method when buying or renewing a Gift Membership.
8. Your right to cancel
8.1 As a consumer, you have a legal right to cancel the contract formed between us (and receive a refund of the fees paid) if you change your mind or decide for any other reason that you do not want to continue the Membership.
8.2 Your legal right to cancel the contract starts from the date on which we confirm that your application for Membership has been accepted, which is when the contract between us is formed. Your deadline for cancelling the contract is 14 days after the day on which this contract was formed.
8.3 To cancel a contract, you just need to let us know that you have decided to cancel. To cancel an order, you must contact us via e-mail at membership@ng-london.org.uk or by writing to Membership, National Gallery, Trafalgar Square, London WC2N 5DN.If you cancel the contract in accordance with clause 8.2 we will:
8.3.1 refund you the price you paid for the Membership. Please note we are permitted by law to reduce your refund to reflect the period of time (if any) that the Membership was valid up to the date on which we were notified of your decision to cancel the contract and so we shall be entitled to charge the full adult ticket price of any exhibition or event the Member attended (or booked but failed to attend) prior to cancellation; and
8.3.2 make any refunds due to you as soon as possible and in any event within the deadlines indicated below.
9. When your Membership expires
9.1 After the expiry of your Membership, you will continue to receive email updates from the National Gallery to let you know what is happening at the Gallery and giving you the opportunity to renew. If you do not wish to hear from the National Gallery after your Membership expires, you should unsubscribe by logging into your account and using the preference centre or via the footer in any email from the National Gallery.
10. Gift Membership
10.1 Gift Membership must be activated using the unique number located on the Gift box or card. If the unique number - contained within the Membership pack materials - is mislaid, the Membership cannot be activated. Proof of purchase will not be accepted in lieu of the unique Membership number. Subject always to the provisions of clause 7, the National Gallery will not refund Gift Memberships where the unique number has been lost or mislaid.
10.2 Gift Membership must be activated by the recipient within 3 months of the original purchase date.
11. Data protection and use of personal data
11.1 When you purchase Membership (and throughout the course of an individual's Membership subscription) it will be necessary for us to obtain from you and process certain information (such as your name, address, date of birth, etc.) which we will treat as 'personal data' for the purposes of data protection law. We will process your personal data in accordance with current data protection legislation including the General Data Protection Regulation, and in accordance the National Gallery's Privacy Policy.
12. Events
12.1 Members will have access to a programme of events organised by the National Gallery on behalf of the Members. Some events will require a cost in addition to the annual Membership fee.
12.2 Events will be limited by capacity and will vary according to event. Therefore attendance cannot be guaranteed to all Members and we would recommend booking in advance.
12.3 Tickets for both the free and paid-for events will be available on a first-come, first-served basis via the ticketing pages on the website. Members will be asked to log into their account to identify themselves as a Member. If a Member has requested a ticket but is subsequently unable to attend a particular event, we would ask that the Member advises the Membership team as soon as possible, so the place can be made available to another Member.
12.4 We reserve the right to cancel or rearrange an organised event. A current events programme will be made available to Members via the Membership section of the National Gallery website.
12.5 Members' tickets for paid events are non-refundable.
12.6 The National Gallery does not accept liability for any costs incurred (e.g. travel) by Members if the Gallery has to close or cancel an event due to unforeseen circumstances. 
13. Contacting us
The Membership team will aim to respond to any communication received within three working days. This may be an acknowledgement of receipt whilst further investigations are carried out. Please contact the Membership team: Telephone: 020 7747 2850 Email: membership@ng-london.org.uk Post: Membership, National Gallery, Trafalgar Square, London WC2N 5DN Office hours are Monday to Friday 9.45am to 5pm (excluding public holidays) Please note that if you telephone the Membership line during out of office hours, you will be directed to a member of the Visitor Engagement team.
14. General
These terms and conditions are governed by the laws of England and Wales. These terms and conditions together with your application for Membership set out the whole of our agreement relating to the supply of Membership services by us to you. Nothing said by any sales person or member of our Visitor Engagement team on our behalf should be understood as a variation of these terms and conditions or as a representation about the nature and quality of the services being offered by us.