Portrait of a loved one
This painting is an example of Rembrandt creating a portrait of a personal nature. The sitter is believed to be Hendrickje Stoffels who first entered Rembrandt's household as a domestic servant. She quickly became his mistress and bore him a child. She provided inspiration for many of his artworks during this period – some might even describe her as an artist's muse.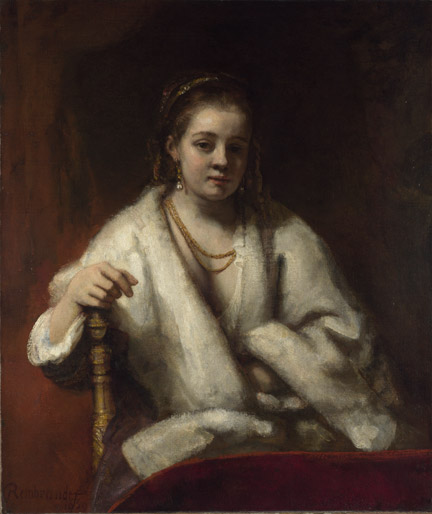 In a press release from 1976, you can see the excitement around the painting being bought for the National Gallery. The press release gives us information about the sitter and the scandal surrounding her relationship with Rembrandt.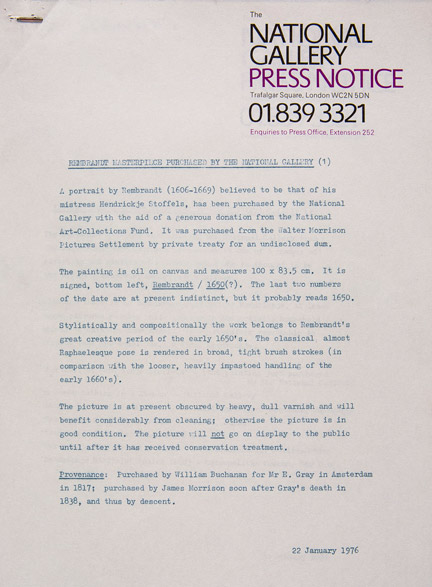 A poster from the same period also displays the enthusiasm about the National Gallery acquiring a new Rembrandt portrait.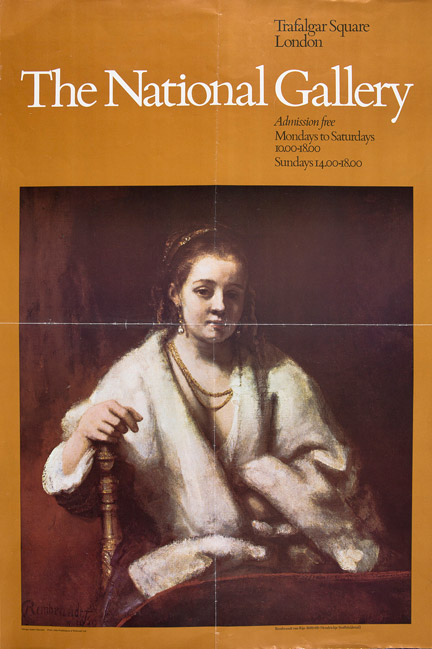 Although Rembrandt signed and dated this portrait of Hendrickje, many believe it was left somewhat unfinished. Her wrap, either of wool or fur, has areas which are marked with very loose brushstrokes. These 'unfinished' brushstrokes could also indicate that the paint was applied rapidly. This could suggest that the sitter was painted while present, therefore requiring Rembrandt to paint quickly to capture her pose.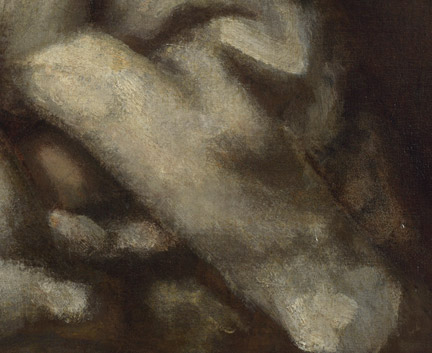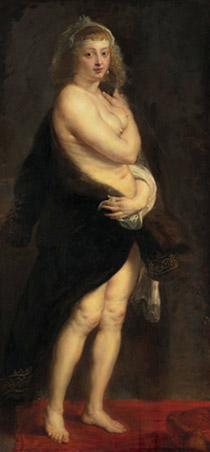 Costume also has great significance for portraiture and Rembrandt's artwork. The fur wrap Hendrickje wears is a type of costume. Rembrandt often dressed his sitters up in a selection of outfits he kept at his studio. A similar fur wrap was also used by the artist Peter Paul Rubens in portraits of his wife. We are unsure whether Rembrandt would have known this painting by Rubens, yet it seems both used specifically a fur wrap for a portrait of their wife, partner, or muse.
Rembrandt used Hendrickje Stoffels repeatedly as a model in many different ways. A drawing from the British Museum (below) is among many believed to show Hendrickje. It is sometimes suggested that this drawing was a preparatory sketch for the National Gallery painting, as X-ray images of the painting show us that her left hand was originally outside her fur wrap, much like the British Museum drawing. However, the difference in costume and the angle of her head leaves this open to debate.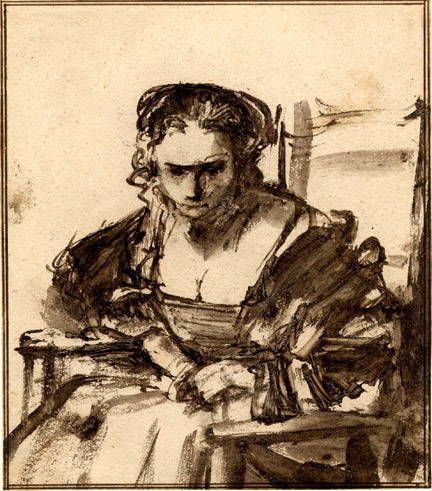 If you look closely at the colour in the painting of Hendrickje's dress underneath her wrap, you can see that it is lilac. Artists and their workshops at this time would have created their own paints, grinding pigments and mixing them with oil to create specific colours. The lilac used in this painting is an unusual mixture of lead white, charcoal black, and red lake.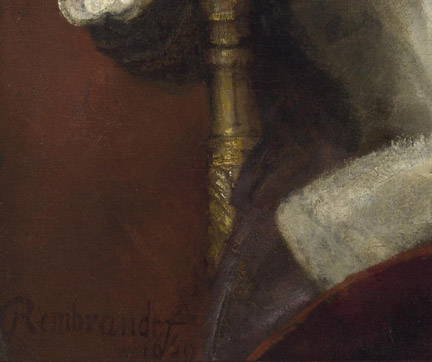 This video explains how different shades of purple, like lilac, have been made through time.
The Conservation Department at the National Gallery is responsible for assessing the condition of the artworks and for their cleaning and restoration. When this painting first arrived in the National Gallery's collection in 1976 it was covered in a thick varnish that had become yellow as it aged. Although varnishes are originally applied to enhance and protect paintings, these surface layers may also attract dirt from the atmosphere or become brittle and crack, making their removal even more necessary. Today, we see the portrait of Hendrickje free from the old, yellow varnish.
Read more about the cleaning process.