Wealthy patrons
This pair of paintings is an example of a pendant portrait, where the two sitters are shown in two separate canvases. This portrait format was popular in 17th-century Holland and was often used to show either married couples or families.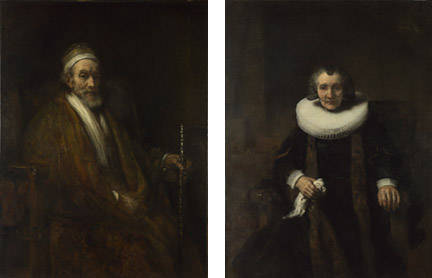 In this case a named married couple is shown: Jacob Trip and his wife Margaretha de Geer. Jacob was one of the wealthiest and most successful merchants in Northern Europe and he worked closely with the brother of Margaretha, who was one of the greatest iron-makers and arms manufacturers of the day. We are able to name this couple as other artists portrayed them in a series of paintings throughout their lives.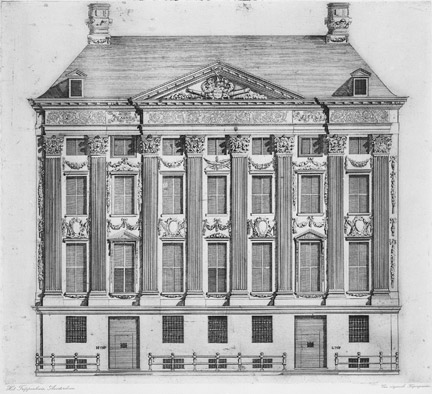 It is believed that these portraits were produced because the sitters' sons, Louys and Hendrik, commissioned them. Like their uncle, Louys and Hendrik also dealt in arms. With their large income, in the early 1600s they built a grand house in Amsterdam called the Trippenhaus. The drawing above shows the house, which is where these portraits may have originally hung.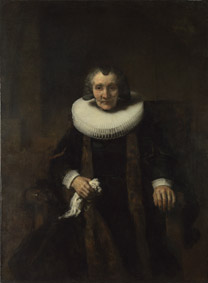 Margaretha is shown wearing clothes that were in fashion at least 30 years before this portrait was painted in 1661. For example, the handkerchief she clutches in her right hand was highly fashionable in the 1620s but fell steeply from favour by the 1630s. Her wide pleated ruff was also popular during the same period.
In other words, she wears the fashion of her youth – something conventional for women of her social position and age. Unusually for a pendant portrait she looks straight out of the painting. Her body is not turned towards her husband's portrait, as was custom at this time. It could be argued that this shows that her husband is dead (Jacob died in May 1661) and that her outdated dress is in fact a sign of grief.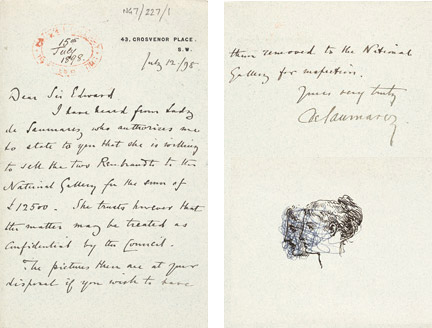 The pendant portraits were purchased by the National Gallery from Lady de Saumarez in 1899. The letter above is from Lord de Saumarez, offering the two portraits by Rembrandt for sale at the price of £12,500 in July 1898.