Meaningful glances
Let's look at the theme of 'the glance'. Some of the characters in the painting are looking directly at each other. Think about what those different glances might mean.
Look at other paintings in the National Gallery collection where glances are significant – Titian's Bacchus and Ariadne, for example. In both 'Bacchus and Ariadne' and Diana and Actaeon the characters are looking at each other.
Now look at Renoir's The Umbrellas. How does the situation change when characters are looking out of the painting at us? It is also interesting to think about how removing a character's sight changes the atmosphere of a painting. Consider the blindfolded Lady Jane Grey in Delaroche's painting, The Execution of Lady Jane Grey.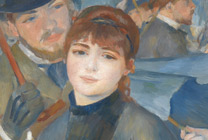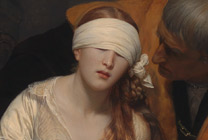 Role reversal
Think about and compare the main characters in this painting – a young fit male and a naked female. Who is actually in charge and who would you expect to be in charge?
Now consider other paintings in the collection and try to work out who is in charge. Look at Botticelli's Venus and Mars or Rubens's Samson and Delilah. What is happening here to our stereotypes about powerful people?