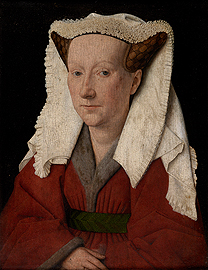 Issued June 2008
15 October 2008 - 18 January 2009
Sainsbury Wing
Admission charge
A landmark exhibition at the National Gallery explores the dramatic rise of portraiture in the Renaissance, through the great Masters of Northern and Southern Europe.
Renaissance Faces: Van Eyck to Titian eatures masterpieces by, among others: Raphael, Titian, Botticelli, Van Eyck, Holbein, Dürer, Lotto, Pontormo and Bellini. The exhibition provides a rare opportunity to explore Renaissance portraiture in exceptional depth, displaying over 70 paintings alongside important sculptures, drawings and medals.
The National Gallery houses one of the richest collections of Renaissance portraits in the world, and a selection of these works, including Holbein's The Ambassadors, will be shown alongside major loans from the UK, Europe and North America. Highlights include masterpieces of Habsburg court portraiture on loan from the Museo Nacional del Prado, including Titian's majestic warrior portrait of the young Philip II and Anthonis Mor's 'The
Court Jester Pejeron'.
In the 15th and 16th centuries, portraits played a vital role in every aspect of human life: childhood, politics, friendship, courtship, marriage, old age and death. The exhibition provides fresh insights into fundamental issues of likeness, memory and identity, while revealing a remarkable community of Renaissance personalities – from princes, envoys and merchants to clergymen, tradesmen and artists (Dürer, 'Self Portrait', Kunsthalle Bremen).
During the Renaissance, it was widely believed that a person's appearance mirrored their soul, with physical beauty indicating inner morality and virtue. Artists developed highly individual approaches to the representation of ideal beauty. Palma Vecchio's exquisite 'Portrait of a Young Woman' (Museo Thyssen-Bornemisza, Madrid) and Tullio Lombardo's marble relief of 'A Young Couple as Bacchus and Ariadne' (Kunsthistorisches Museum, Vienna) introduce this key theme with dramatic effect.
Portraits enabled artists and their patrons to convey powerful messages about themselves and the world around them. The use of symbolism in portraiture played a vital function in Renaissance life, not least in marriage alliances and power politics.
The exhibition features many intriguing compositions from Holbein's A Lady with a Squirrel and a Starling (National Gallery) to Arcimboldo's 'Emperor Rudolph II' as Vertumnus (Skokloster Castle, Sweden), on display in the UK for the first time.
The final room of the exhibition traces the development of the full-length court portrait and its crucial role in court
propaganda. Highlights include the dramatic bronze statue of Philip II by Leone and Pompeo Leoni (Prado) and Anthonis Mor's 'Portrait of Philip II in Armour' (El Escorial).
Renaissance Faces features several captivating portraits of children, both as individuals and among family groups. Young princes were often shown with their fathers, partly to reinforce dynastic continuity, as in Justus of Ghent's portrait of 'Federico de Montefeltro, Duke of Urbino, and his son, Guidobaldo' (Galleria Nazionale delle Marche, Urbino). Also on display is the remarkable painted bust by Guido Mazzoni of a 'Laughing Boy' (Royal Collection), now thought to be a portrait of the young Henry VIII. Other works depict poignant details of family life such as Domenico Ghirlandaio's 'An Old Man and his Grandson' (Louvre).
Renaissance Faces reveals, more than ever before, the extraordinary degree of cross-cultural exchange active in Europe at this time. Van Eyck, Titian and Memling were in demand from North to South, and the influence of their work carried far beyond the courts of their patrons.
For further press information please contact:
Thomas Almeroth-Williams on +44 207 747 2512/ thomas.almerothwilliams@ng-london.org.uk
Organisation
'Renaissance Faces: Van Eyck to Titian' is organised jointly by the National Gallery, London, and the Museo Nacional del Prado, Madrid, where an exhibition entitled 'The Renaissance Portrait' runs from 3 June to 7 September 2008. The lead curator in London is Susan Foister. The lead curator in Madrid is Miguel Falomir.
Sponsorship
Renaissance Faces: Van Eyck to Titian is sponsored by AXA.
Publication
Renaissance Faces: Van Eyck to Titian
The exhibition is accompanied by a comprehensive catalogue tracing the development of portrait painting in Northern and Southern Europe during the Renaissance. This fully illustrated book examines the different portrait styles, techniques and iconographies, the function of portraits, and the connections between painting, sculpture and portrait medals. Renowned experts analyse the role of portraiture and the notion of likeness in all aspects of human life, including propaganda, power, courtship, love, family, ambition and hierarchy. Essays and individual catalogue entries present new research on works by the greatest portraitists of the period.
Essays by Lorne Campbell and Luke Syson at the National Gallery, London; Jennifer Fletcher, until recently Senior Lecturer at the Courtauld Institute, London; Miguel Falomir at the Museo Nacional del Prado, Madrid. With contributions from Susan Foister, Elena Greer, Minna Moore Ede, Simona Di Nepi and Carol Plazzotta at the National Gallery, London; Philip Attwood; Duncan Bull; Molly Ann Faries; Sergio Guarino; Pilar Silva Maroto; Almudena Pérez de Tudela; Karen Serres.
Published by the National Gallery Company, London. Distributed by Yale University Press.
£19.95 paperback, £35 hardback
Dates and opening hours
Press view 14 October 2008, 10.30am–1.30pm
Open to public 15 October 2008 – 18 January 2009
Daily 10am–6pm, Wednesday until 9pm
Last admission 5.15pm (8.15pm Wednesday)
Admission
Enter by the Sainsbury Wing Entrance
Full price £10
Senior/Concessions £9
Senior/Concessions Tuesday afternoon offer £5
Art Fund members £5
Students/Unemployed/12–18s £5
Under-12s free
Family Ticket
(2 adults and up to 4 children aged 12–18) £20
Season Tickets
Full price £25
Senior/Concessions £23
Art Fund members £13
Students/Unemployed/12–18s £13
Tickets
For advance tickets to 'Renaissance Faces: Van Eyck to Titian' please visit www.nationalgallery.org.uk/exhibitions/renaissancefaces/tickets.htm or call 0870 906 3891 (booking fee). You can also book tickets by post and in person from the Gallery.
Images
Publicity images for Renaissance Faces: Van Eyck to Titian can be obtained from http://press.ng-london.org.uk.
To obtain a username please contact the National Gallery Press Office on 020 7747 2865 or e-mail press@ng-london.org.uk
For public information, please contact 020 7747 2885 or information@ng-london.org.uk