The last concert
The last concert at the National Gallery took place on 10 April 1946, six and a half years after the first. Myra Hess elected not to play herself, afraid that the emotion of the day would be too much, and instead gave the honour to the Griller Quartet, who had performed regularly at the concerts since their inception.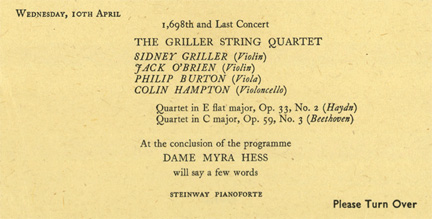 When the musicians finished and the audience had grown quiet, the new Director of the National Gallery, Philip Hendy, took the platform. He explained why the concerts had to end and expressed his hope that they might recommence once the building had been repaired. When Hess rose to speak she referred back to his words. 'Even a glimmer of hope that we may have music here again,' she said, 'Relieves the gloom of this sad parting.'
'It is seldom that we do not wish to be someone else,' she added, 'But for once in a way I would not change places with anyone in the world, for the experience of these six and a half years has been the greatest privilege any musician could hope to have'.
Nigel Hess, Myra's great nephew, talks about her popular appeal
'She reached out to everybody.'
Transcript
Nigel Hess: Well, I think what she stood for was the healing power of music because obviously everywhere was closed. The National Gallery concerts were really the only form of musical sustenance that Londoners had during the Blitz, and it was very well known that Myra was the founder and the chief mover behind them, and so she just became the darling of the day, she really did.
And of course she was given awards and doctorates all over the place, and it all reflected the fact that she'd actually sacrificed so much, and people knew that, to be able to create these concerts. I mean, she cancelled a very lucrative tour of America in order to start the concerts, and she sacrificed, both in time and financially, a huge amount to keep them going for, what was it, six and a half years.
There's that wonderful story, isn't there, of the solider on the train whistling 'Jesu, Joy of Man's Desiring' and one of his fellows said 'I didn't know you knew Bach', and he said 'that's not Bach, that's Myra Hess'. And in a little nutshell that says that she reached out to absolutely everybody, and that was the whole idea. She finally found the audience she really, really wanted. Not an audience that were going to come to be seen at a very grand concert, and not an audience that didn't really want to be there, you know, a lot of them. She found an audience that wanted to be there, in that place at that specific time, more than anything else in the world, and what a fabulous audience to play to. I mean, they just lapped everything up. I wish I'd been there, it must have been wonderful.
They had begun, Myra Hess explained, by wanting to provide an antidote to the sense of foreboding that accompanied the outbreak of war. But gradually, they had become aware that they were realising an ideal: 'that music should be an integral part of the life of the nation, and not merely an occasional pleasure or a luxury for those who could afford it'.
The union of the arts could stand for much in a disunited world and perhaps, she hoped, the reconstruction of the Gallery might permit them to return in the future and 'resume this perfect alliance of painting and music'. Then, with a final thank you, Myra Hess said her farewell. It was an emotional conclusion to a very sad day.
Next: Myra remembered