Sculptures on the building
The sculptures on the exterior of the National Gallery are redundant sculptures left over from the creation of Marble Arch. They had originally been conceived by John Flaxman and John Rossi to commemorate the military victory in the Napoleonic Wars (1803–1815).
William Wilkins, who designed the building, had to adapt these sculptures to make them suitable for their new setting outside the Gallery.
Getty and West entrances
In the niches above these entrances, you can see two allegorical female figures. These were originally personifications of victory. They are flanked by pairs of smaller figures, which were originally trophies, which also commemorated military victory in 1815.
Wilkins changed the sculptures, replacing the weapons and warlike attributes with symbols of peace and art. The figures in the Getty entrance now hold artistic implements, including paint brushes. Those at the West (staff) entrance stand empty-handed.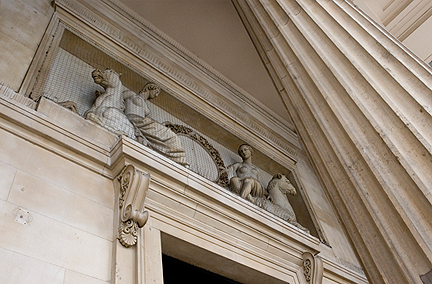 Portico Entrance
John Rossi's group in the side niches over the Portico entrance hold olive wreaths to symbolise peace. In the central niche there are two female figures: one on horseback and the other on a camel.
The central niche once held the profile bust of the Duke of Wellington, which is now inside the West Entrance.
Next: Outside the Gallery