This elegant young woman is Christina of Denmark, the youngest daughter of King Christian of Denmark. In 1538, King Henry VIII of England was looking for a fourth wife, after the death of Jane Seymour the previous year. As Henry's official court artist, Holbein was sent to Brussels to capture the...
Jean de Dinteville, the man on the left, is shown on his second diplomatic mission to England on behalf of Francis I, King of France. To the right is his close friend, Georges de Selve, Bishop of Lavaur. This portrait was painted at a time of religious upheaval in Europe. Although the pope had re...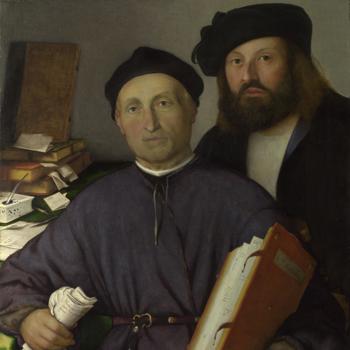 Giovanni Agostino della Torre was a distinguished doctor and citizen of Bergamo. He had taught at the University of Padua, and the costume he wears is official or academic dress. In 1510 he was elected prior of Bergamo's College of Physicians, an office he held until his death.The texts on the tw...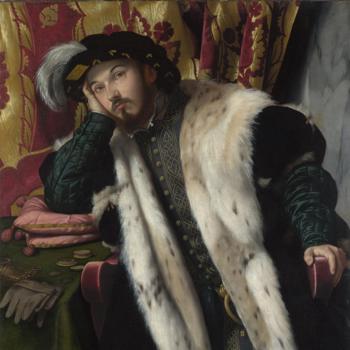 This lavishly dressed sitter, wearing a coat lined with lynx or snow leopard fur, is the Brescian nobleman and humanist Fortunato Martinengo (1512–1552). Ancient gold and silver coins and a bronze oil lamp in the shape of a foot on the table allude to his scholarly interests, and perhaps also to...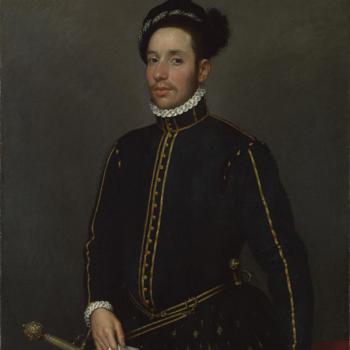 The traditional Italian title of this portrait, 'Il Gentile Cavaliere', means 'the well-born gentleman'. The prominent sword, a symbol of gentility, and the books suggest that he is a man of action as well as learning. He holds a letter addressed 'al...Sig' (To Lord), but the name is now illegibl...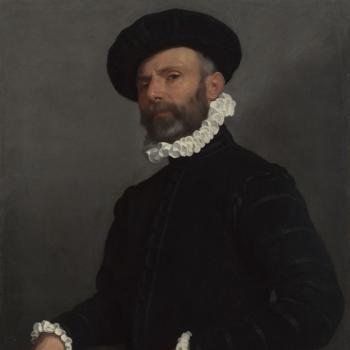 This portrait has long been known as 'L'Avvocato', meaning the lawyer or counsel in Italian. The sitter's air of well-paid theatricality and his supercilious regard, as though he is summing up evidence, may have suggested this title. It might also derive from a misreading of the folded letter in...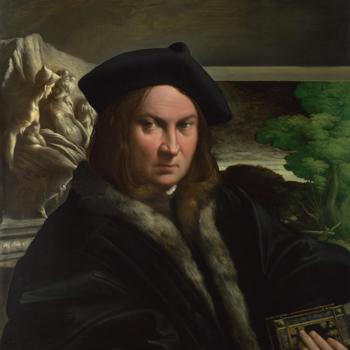 An unknown man sits at an inlaid table wearing a large black fur-lined coat and black hat. His eyes do not fix on us but appear to be watching something slightly to our left. He holds the so-called Durazzo Book of Hours by Francesco Marmitta, created about 20 years earlier (now in the Biblioteca...
This portrait of the careworn Pope Julius II (1443–1513) is usually dated to the one-and-a-half-year period during which he wore a beard. He grew it in 1510 as a token of mortification while recovering from a serious illness brought on by the loss of Bologna to the French, and vowed not to shave...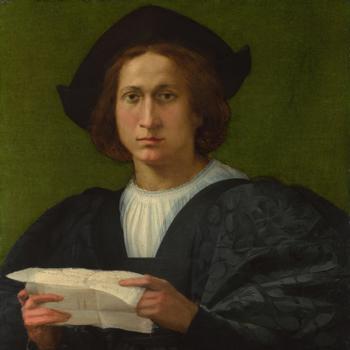 This is the earliest of very few known portraits by Rosso. It was painted in Florence, while he was in the workshop of Andrea del Sarto. It reveals something of Rosso's eccentricity, particularly in the strange spiky fingers, the curiously abstract style and the characteristically swift way of wo...
We have interrupted a young man reading; he turns to look over his shoulder at us. The unguarded look creates the impression that we are seeing him as he really is. His identity is uncertain, although he may be the stationer Lorenzo di Matteo Peri, whose family commissioned Andrea del Sarto's Dis...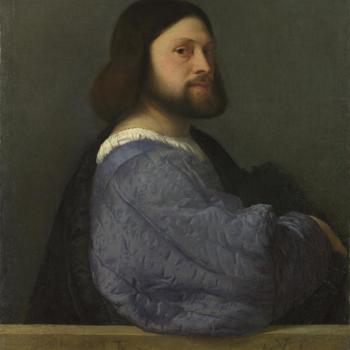 In this, one of Titian's earliest portraits, the sitter turns to look at us over his shoulder and momentarily meets our gaze. Our attention is focused on the raised brow above his right eye, which is positioned midway across the picture. The man's elbow rests on a parapet and his voluminous quilt...