The family
Longford Castle has been the residence of one family for almost 300 years.

The Huguenot, Laurens Des Bouverie, having fled from religious persecution during the Reformation, settled in London and became a prosperous silk merchant. His enterprising descendants became wealthy landowners in England. The family was ennobled in 1747 with Sir Jacob Des Bouverie becoming First Viscount Folkestone while his son, William, was created an Earl in 1765. Longford has continued to be home to the Earls of Radnor ever since.
The castle
Longford was originally built in the late 16th century to an unusual triangular plan. Then, in the 18th century, the second Earl of Radnor, employed the architect James Wyatt to transform it into a hexagonal palace. Abandoned part way through this project, it was left to the fourth Earl of Radnor and Victorian architect Anthony Salvin to complete Longford.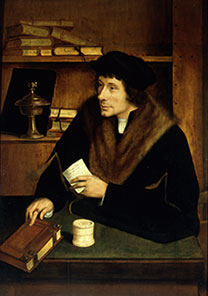 The collection
The Longford Castle collection, formed by successive generations of the family, is one of the finest in the United Kingdom. It includes paintings by van Dyck, Claude, Teniers and Hals, together with British pictures by Reynolds and Gainsborough, as well as oriental porcelain, Brussels tapestries, and exceptional 18th century English and continental furniture.
Longford Castle and the National Gallery
The collection at Longford has had a long association with the National Gallery. Some very great pictures from Longford Castle are on loan to the National Gallery in London: Holbein's 'Erasmus'; Sebastiano del Piombo's majestic 'Portrait of a Lady' and Jan de Beer's triptych of 'The Virgin and Child with Saints'. In addition, some of the finest paintings belonging to the National Gallery came from this collection – notably, Holbein's Ambassadors and Poussin's Adoration of the Golden Calf . Studying the history of collections of this kind is a major theme in the National Gallery's programme of research.

By helping to organise visits to the Castle the National Gallery is delighted to support the Longford Estate in measures taken to preserve major works in the settings created for them.