How your gift helps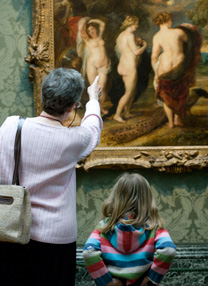 Gifts in wills have always played a major role in the National Gallery's history.
In the 1820s Sir George Beaumont helped to establish the National Gallery by giving his personal collection of paintings to the nation. Since then, the collection has been greatly enhanced by both painting bequests and the hundreds of art lovers and supporters who have made gifts of all sizes in their wills.
Such gifts have supported the Gallery's work and have helped with the acquisition of many great paintings, including Titian's Diana and Callisto in 2012.
Remarkably, nearly a quarter of the paintings in the National Gallery's collection
have been acquired thanks to these acts of generosity, benefiting generations now and in the future.
Download our information booklet

The work of the Gallery
The Gallery is open to everyone free of charge and it inspires, educates and delights five million visitors every year. We offer education programmes for thousands of school children, who learn to appreciate great paintings.
There are opportunities for people of all ages to take part in tours, courses and talks. For those who are unable to visit us we have a range of community-based projects.
We also have a duty to past benefactors and today's visitors to:
Financial support is a necessity and your support will help us to continue this work.
If the National Gallery is important to you please consider supporting us in your will. However small or large, your gift will make a difference, and will be received with gratitude.
Our commitment to you
We appreciate how important this gift is to you and understand how many things you need to consider when making a gift in your will.
We would like you to know that we are committed to using your gift efficiently and, as directed by you, with care and with the utmost respect and sensitivity.