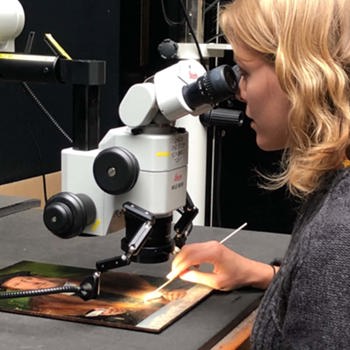 The Patrick Lindsay Conservation Fellowship gives early career conservators the rare opportunity to gain high-level practical experience
The Patrick Lindsay Fellowship is a 22-month position providing an invaluable opportunity for early career painting conservators to work within the National Gallery's Conservation department.
Ann Don, the recent Patrick Lindsay Fellow (September 2019 – July 2021), reveals more about what her role entailed, and the exciting projects she has worked on:
The main focus of this Fellowship is spending time in the conservation studio, treating paintings. As no two paintings and their treatments are ever alike, the experience gained from sitting at the easel and working on a range of paintings is of unparalleled benefit. Treatments may involve structural work (addressing issues with the canvas or panel on which it is painted), the removal of aged, discoloured varnish and sometimes overpaint, and the retouching of old damages. Each of these stages throws up a unique set of challenges and considerations, and to have the opportunity to discuss treatments and gain insights and expertise from colleagues in the Conservation department is one of the great benefits of this Fellowship.
As well as working on paintings in the studio, this Fellowship also provides the opportunity to become acquainted with the day-to-day tasks of working within a museum. This includes dusting paintings in the Gallery before it opens to the public (it is a joy to spend time with the collection while the galleries are quiet), and checking the condition of paintings that are going out on loan.
I began my Fellowship in September 2019, and over this time I have had the chance to treat a wide array of paintings, from late 15th-century Italy to 18th-century France. I have also collaborated with colleagues in the Curatorial and Scientific departments to gain insights into the materials, meanings and histories of these paintings, which has been hugely beneficial.
As an early career conservator, this experience has been instrumental for me, and has provided me with a strong foundation to pursue a career in museum conservation.