Intimacy
Some of the most intimate images Rembrandt produced date from his late career and reveal his heightened sensitivity to expressing insights into the human character.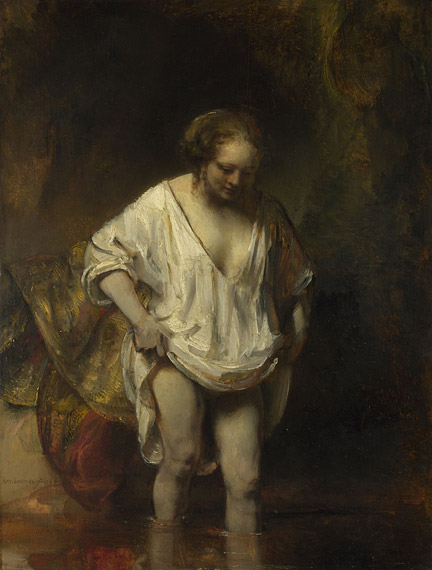 'A Woman bathing in a Stream (Hendrickje Stoffels?)' shows a woman lifting the hem of her shift and exposing her bare flesh. She wades in a shallow pool with her gaze cast downward, deeply immersed in thought. The viewer is made privy to a contemplative moment, whilst the woman herself is completely unaware that she is being watched.
The sense of intimacy is heightened with the knowledge that the model for the portrait was most likely Hendrickje Stoffels, Rembrandt's lover. Scholars have attempted to identify the woman with a historical figure such as Susannah or Callisto, both of whom were spied upon while they bathed, however this remains speculative.