This is a YouTube video player. Below the video are the title, view time and description. Below that is a carousel of video thumbnails. Clicking a thumbnail will load and play that video.

Many medieval depictions portrayed Saint Sebastian in a state of abjection – body contorted, head bowed. By the Renaissance period, however, he was often represented as a healthy young man. Borrowing from Classical Greek notions of beauty, Saint Sebastian became a lithe, scantily clad, curly‐haired youth, who was almost always pretty. In many of these interpretations, Saint Sebastian wears an expression more allied with pleasure than pain. As such, the apparent contradiction between his arrow wounds and the tranquillity of his expression, eyes upturned, has provoked much discussion of the uneasy boundary between physical pain and religious – sometimes even erotic – pleasure in Christian martyrdom narratives. In turn, the legacy of Saint Sebastian's story is one that has given rise to multiple interpretations and re-imaginings.
In the last century or so, the queer community has adopted Saint Sebastian as something of a queer icon. This is, in part, due to the links between Saint Sebastian's persecution, and the abjected position that queer people have historically inhabited within society. Oscar Wilde reportedly took on the name Sebastian when he left prison [having been sentenced to two years' hard labour for 'gross indecency' in 1895]. In Evelyn Waugh's novel 'Brideshead Revisited' (1945), the unhappy Sebastian Flyte is described as "full of barbed arrows".
Another reason for Saint Sebastian's appreciation within queer circles is, of course, his beauty. In recent reimaginings of Saint Sebastian, queer artists have explicitly invited the onlooker to view him as an object of desire. Artist-duo Pierre et Gilles' various homoerotic recreations of Saint Sebastian resemble Ken dolls more than a religious martyr – the arrows more reminiscent of arrows of desire fired from Cupid's bow, than arrows of persecution. Likewise, Derek Jarman's film 'Sebastiane' (1976) offers a highly eroticised account of Saint Sebastian's martyrdom.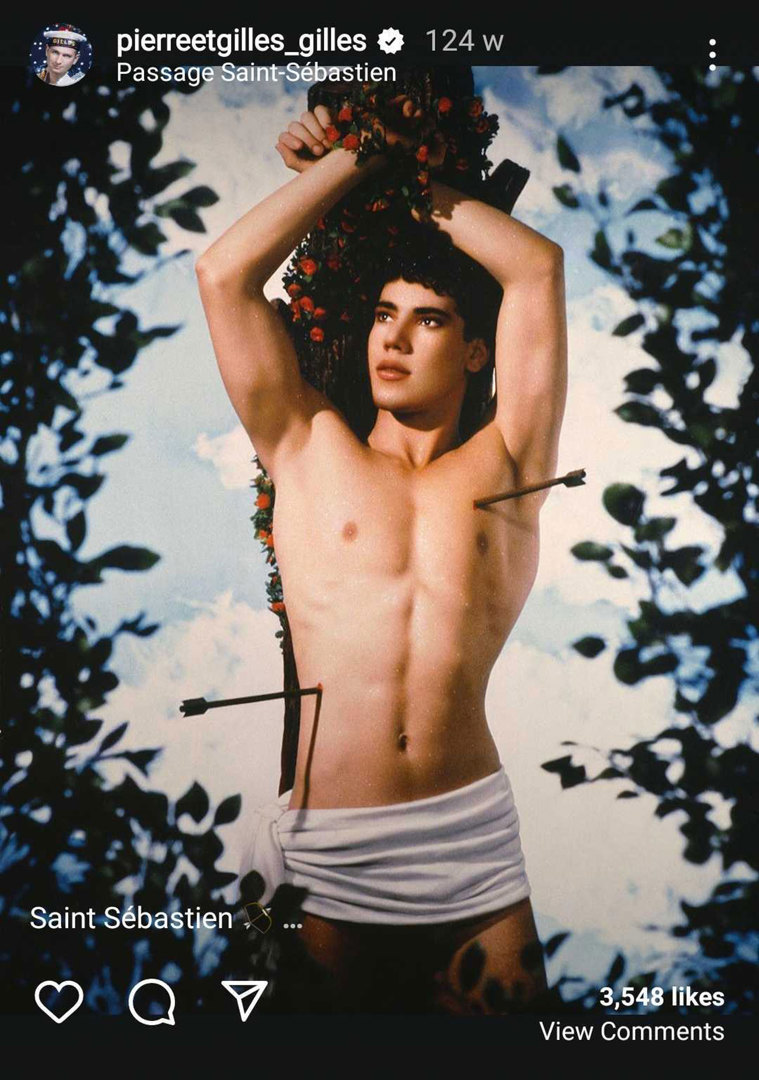 The Saint Sebastian story continues to inspire contemporary art and culture. Beyond the recreations of queer men, in recent decades, Saint Sebastian has been reimagined as a woman, and even as a drag queen. Louise Bourgeois' 'Sainte Sebastienne' series (1992) considers the Saint Sebastian story from a female perspective, curator Sewon Kang likening the arrows to "antagonisms and criticisms" that Bourgeois received throughout her life.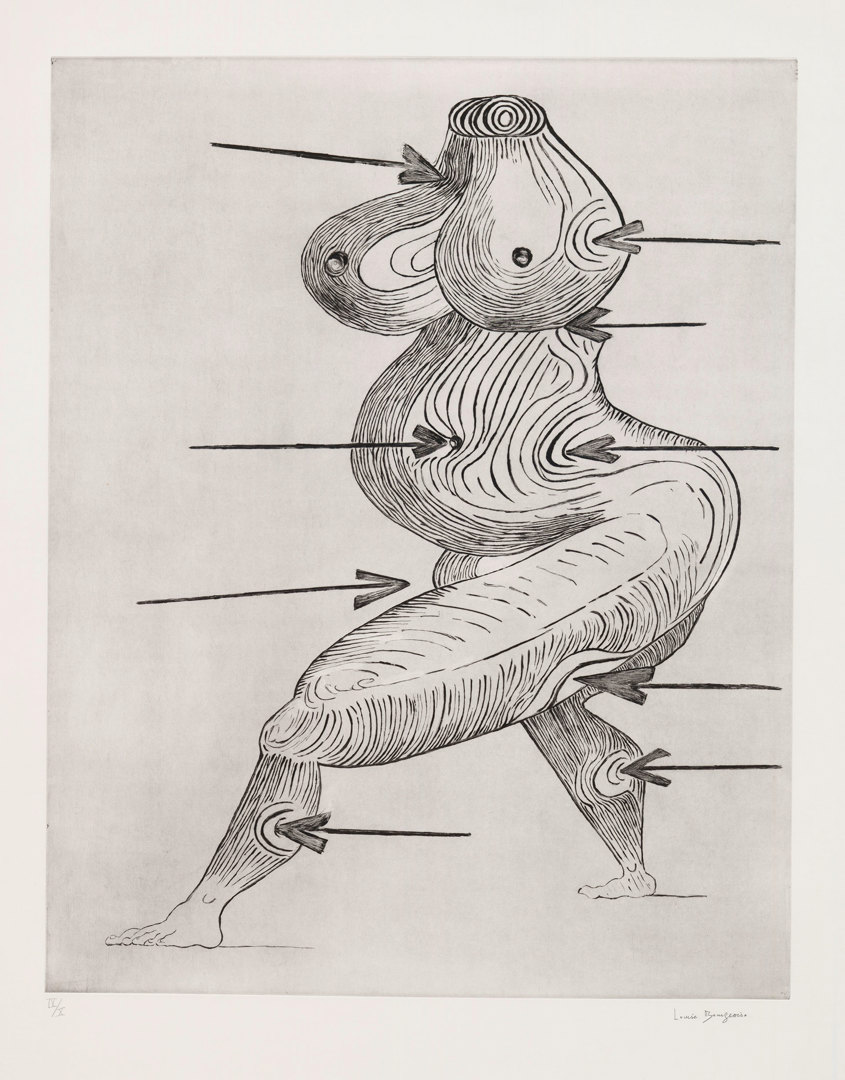 In 2018, drag queen Aquaria, winner of RuPaul's Drag Race (US Season 10), graced the runway in an outfit inspired by Saint Sebastian's queer legacy.
As I was writing this article, I came up with the idea of reimagining Saint Sebastian as a drag king: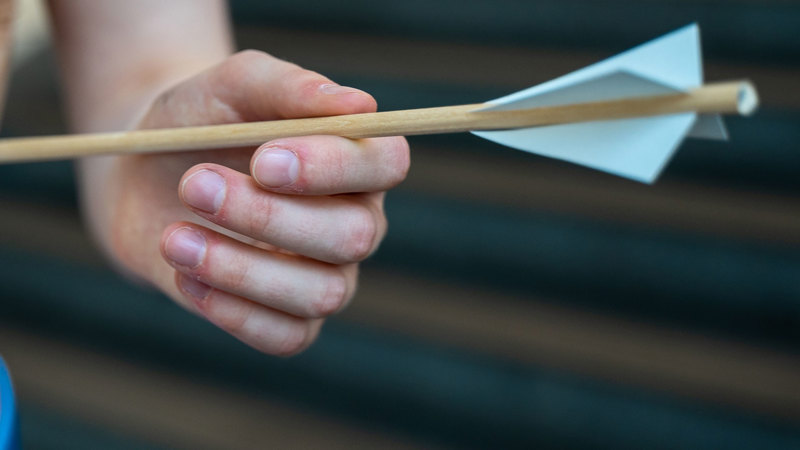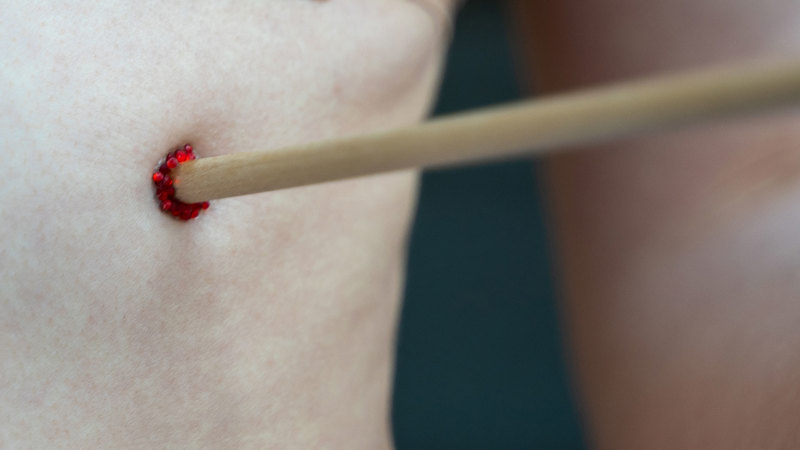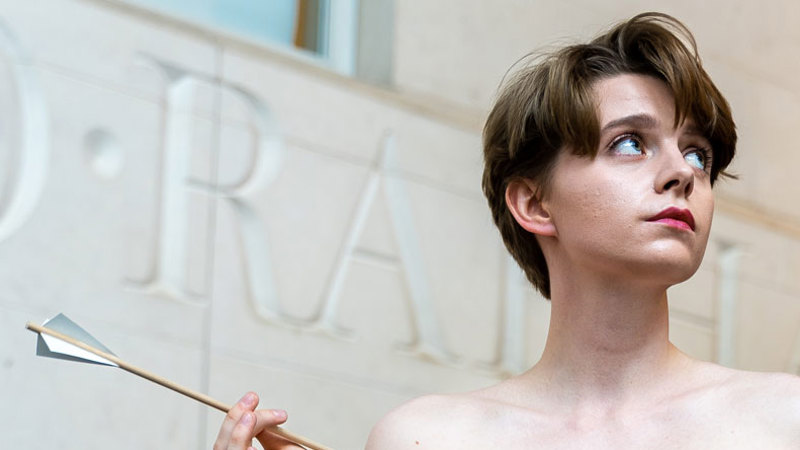 In my drag practice, I take inspiration from historical masculinities that tend to have only ever been embodied by men. 
[Expand to see images in full]
In the images we created, I have attempted to convey a sense of camp whimsy by giving myself rhinestone wounds –
– and gazing upwards in a somewhat performative manner. 
I also chose to hold the arrows myself, as a nod to the self‐conscious mimicry at play.