Description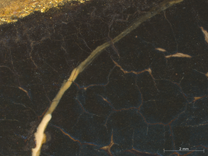 The background is blue; on the left, a shadow, apparently cast by the frame, is a mixture of blue and black. The halo, executed in yellow paint, appears to be original (See fig.4 below, and photomicrographs m43 and m44 in Image Viewer). The saint has blue eyes (fig.5) and brown hair and around her head is a black headband. The jewels on the headband are a diamond and eight pearls (fig.6 and photomicrograph m13) in a gold setting. The ribbon around her neck is black; the pendant is a semi-transparent pink stone (fig.7) held by four golden claws and hanging from a golden ring. The dress is cloth of gold (fig.8), patterned in black and trimmed with brown fur, and is laced at the neck with green ribbons over a red 'pièce'. The larger pendant (fig.9) hangs from a black ribbon and incorporates, in a gold setting, diamonds and rubies and a large pearl (fig.10). The ring on her left hand is silver, with a ruby set in gold (fig.11); the ring on her right hand is gold, set with an emerald (fig.12).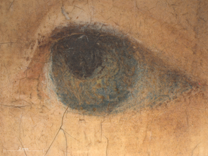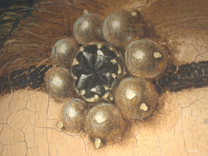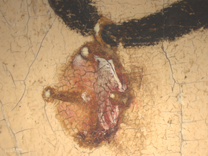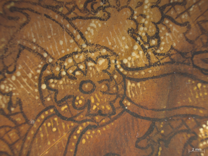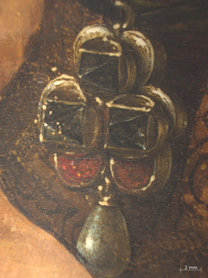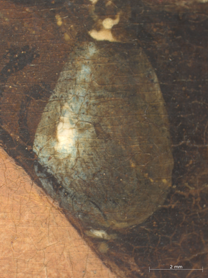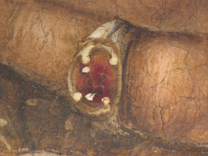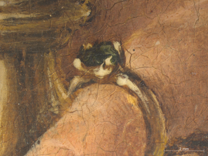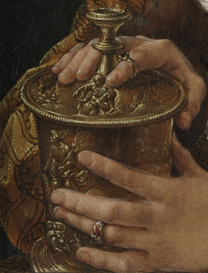 The Magdalen is identified by her emblem, the covered pot of ointment (fig.13), and by her halo. The decoration of the golden pot is intriguing. On the cover, a clothed woman is being carried on the shoulders of a nude woman, whose thighs are disappearing into water. A monster lurks in the choppy waters behind them (fig.14). One of the women is perhaps Latona who, pregnant with Jupiter's twins Apollo and Diana, was pursued by the serpent Python. She fled to Ortygia, where she gave birth to Diana. As soon as she was born, Diana grew to womanhood and helped her mother across the narrow strait to Delos, where Latona gave birth to Apollo. A few days later, Apollo, who also matured with miraculous speed, wounded Python with his arrows; and shortly afterwards killed him.7 On the main part of the pot is Mercury, nude but wearing his winged hat or 'petasus' and holding his 'caduceus' (fig.15). Below him are two cows (fig.16); they may refer to Admetus' cattle, which were herded by Apollo and stolen by Mercury.8 Why these myths should be associated with the Magdalen is totally obscure.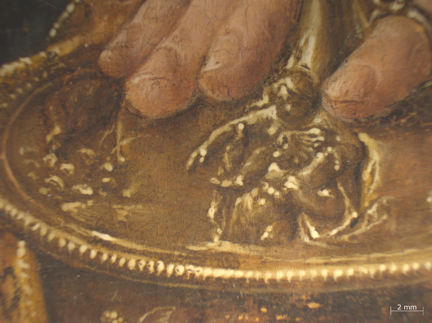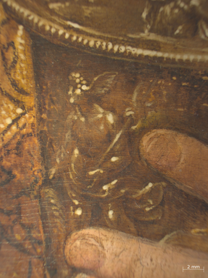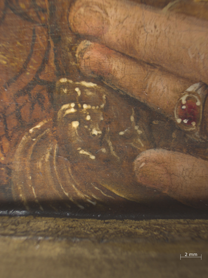 Further Sections
7. Graves 1960, vol. I, pp. 55–6, 76.

8. Ibid., vol. I, pp. 63–5, 223–4; Ovid, 'Metamorphoses', II, 656–735.