The National Gallery Podcast
Episode 87
Cézanne and his papa, plus why Manet's packing his bags and a preview of this spring's exhibitions at the Gallery.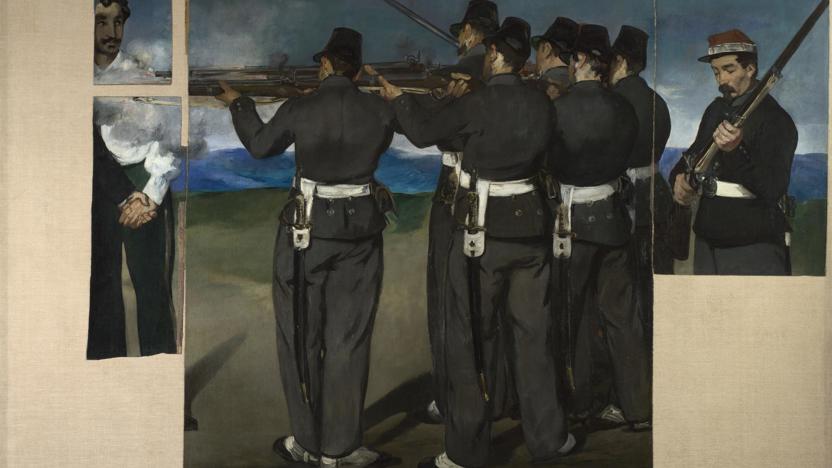 Read transcript
MIRANDA HINKLEY (in the studio): This is the National Gallery Podcast and I'm Miranda Hinkley.
Happy New Year. We start twenty-fourteen with the story of a young artist from Aix-en-Provence - Paul Cézanne - and his father, Louis Auguste. Cézanne made several portraits of 'Le Papa', the earliest of which - painted when the artist was in his mid-20s - is in the National Gallery collection. The painting depicts Cézanne senior sitting upright on a chair, engrossed in his newspaper and in good health. But it's painted in a very heavy, almost crude way. To find out more about the relationship between sitter and artist, father and son, Cathy FitzGerald spoke to Professor Alex Danchev, author of an acclaimed biography of Cézanne and edited volume of his letters. She began by asking how the teenage Cézanne got along at school.
ALEX DANCHEV: He was an extremely good student. This is probably the most intelligent and the  best-educated major painter of his era. He carried off prizes in all the subjects – except in painting and drawing.
CATHY FITZGERALD: And what was his painting and drawing like?
ALEX DANCHEV: Clumsy, rough and ready…
CATHY FITZGERALD: I've heard the word terrible used…
ALEX DANCHEV: [Laughs] Yes, it was really very bad. This is a man who never really had a first-class art training. Many people thought that he was pursuing the wrong line of work actually, including his father.
CATHY FITZGERALD: And this is a painting of Cézanne Senior, who sat for his son in the 1860s, so Cézanne by this point would have been in his mid-20s. What was their relationship like?
ALEX DANCHEV: The elder Cézanne was a self-made man. He began in hats. Then he began to lend money. And then he became a banker by the simple expedient of buying the bank. The father also had very specific views on what the young Paul should do. That he should on no account be a painter…
CATHY FITZGERALD: I can imagine it wouldn't be every parent's greatest desire.
ALEX DANCHEV: Exactly. Uncertain. As like as not unrewarded – and no sort of life for the son of a banker. Cézanne's father felt that Cézanne should be a lawyer. But in the end the father was generous. He kept the allowance going all those years.
CATHY FITZGERALD: And this painting is actually an example of that generosity in a way, isn't it?
ALEX DANCHEV: Yes. I think it is an example of his generosity, in many ways. Posing for a portrait was if you like generous – he had better things to do. He's shown in a very characteristic pose in the sense that he's reading his newspaper – he was generally reading his newspaper – and he's dressed rather stylishly. His hat in particular – hats are important – his hat is a very particular style and the peak is very sharp. So much so that it was known in the town as Cézanne's shovel. And I'm sure that was known both to the father and to the son, who therefore perhaps connived in a certain way in the painting of the hat.
CATHY FITZGERALD: So would it be fair to say that there was a warmth to the relationship?
ALEX DANCHEV: There was a relationship, all Cézanne's life. The father died in the 1880s and when Cézanne is showing one of his young admirers his early work, they find this portrait and Cézanne says to Gasquet, 'Le Papa', father. Very gruffly, but also very emotionally. It was a meaningful bond.
MIRANDA HINKLEY (in the studio): Alex Danchev, whose new translation of Cézanne's letters was published by Thames and Hudson last year. And the picture he and Cathy were talking about - 'The Painter's Father, Louis-Auguste Cézanne' - is on display in Room 45.
MIRANDA HINKLEY (in the studio): And now for a travelling masterpiece. The 19th century French painter, Edouard Manet, is often hailed as the father of modern art. And this month as part of the National Gallery's Masterpiece Tour - sponsored by Christies - Manet's 'The Execution of Maximilian' begins a year-long tour of Britain. The painting depicts the execution of the Archduke Maximilian. He had been installed as puppet ruler of Mexico by France's Napoleon the Third - but then abandoned to the firing squad. The impact of Maximilian's death in Europe generally and on Manet in particular was tremendous… and led to this forceful artistic critique of French foreign policy.
Manet's painting was subsequently cut into fragments. Several have never been recovered - including the one depicting Maximilian, who originally stood on the far left of the work - but four were bought by Edgar Degas, and reassembled on a single canvas. They show Maximilian's faithful companion General Miramón as he faces the firing squad, the squad itself and on the far right an officer preparing to deliver the 'coup de grace'. This strange jigsaw was purchased by the National Gallery in 1918 and has intrigued visitors ever since. Before the picture set off on its travels, Leah Kharibian met curatorial assistant Arnika Schmidt and asked whether - counter-intuitively - the fragmentation of Manet's picture actually adds to our appreciation of it? 
ARNIKA SCHMIDT: You're very right about the fragmentation because it also draws the attention more to certain details. So I personally am fascinated with how Manet shows the firing squad as a kind of anonymous body of people, but they are faceless, they are turning the other way, and then we have two people facing us – the non-commissioned officer who's just loading his gun, but in his face you just see he's just doing everyday business, which is a bit strange when you think about what he is there to do – and then you have the face of General Miramón, who is one of the faithful Generals and he is really facing the firing squad, really facing his destiny. And then you see Maximilian is really clasping the hand of General Miramón and of course the fragmentation draws attention to this particular detail and this whole image is about betrayal in a certain way, a personal betrayal as well as political betrayal, and then you have this gesture of comradeship, a human gesture, and I think it is wonderful the way that Manet brings that across in his painting.
LEAH KHARIBIAN: There's really so much that we could talk about here – this is such a perpetually enigmatic and fascinating painting – but as I understand it, it's actually precisely this richness that's going to be explored when this painting goes on the road. Where's it going to be going first?
ARNIKA SCHMIDT: Well, it's going to three venues and the first is going to be the Beaney House of Art and Knowledge in Canterbury. And they've proposed a very interesting display centering on the idea of how different artists including photographers approach events of political killing and they will exhibit our painting alongside works from their own collection.
LEAH KHARIBIAN: And where's it headed to after that?
ARNIKA SCHMIDT: After that it is going to the Bowes Museum and after that it is going to the Mead Gallery at Warwick University.
LEAH KHARIBIAN: That's wonderful. And as I understand it, this is going to be a rolling programme so that other masterpieces from the Gallery are going to be heading out onto the road and I just wondered – does this really fit with the ethos of the National Gallery? It seems to me to be a perfect fit this idea of sending pictures out.
ARNIKA SCHMIDT: It definitely is, and it is part of the aim of the National Gallery to promote the knowledge and the appreciation and understanding of masterpieces and in this particular case with Manet of an iconic image of 19th century early Modernism. And the National Gallery really wants to share and collaborate with other regional museums in order to make the works as accessible as possible to as many people as possible.
MIRANDA HINKLEY (in the studio): Arnika Schmidt. You can see 'The Execution of Maximilian' for yourself from January the 17th at the Beaney House of Art & Knowledge in Canterbury. Then from the 22nd of March it will be on display at the The Bowes Museum, Barnard Castle, and from the 27th of September* at the Mead Gallery, Warwick Arts Centre. Each institution will create a different exhibition centred around the work - for more details, see www.nationalgallery.org.uk.
*Editor's note: Since the recording of this podcast, the display date for 'The Execution of Maximilian' at The Mead Gallery, Warwick Arts Centre has changed to 4th October 2014.
MIRANDA HINKLEY (in the studio): While Manet is away on tour, there'll still be plenty going on here in London. The Gallery is planning a 'Renaissance Spring': three exhibitions devoted to art from the 14th to 17th centuries. By way of a New Year trailer, we asked curator Colin Wiggins to introduce the shows, beginning with 'Strange Beauty: Masters of the German Renaissance', which opens on the 19th of February. As Colin explained to Cathy FitzGerald, 'Strange Beauty' will bring together paintings and drawings by an array of German artists:
COLIN WIGGINS: I think everybody knows Holbein and 'The Ambassadors' because Holbein comes to England and works for Henry VIII and paints images really that to us define what the period looked like. But there's more than just Holbein. The other great artists of the time, such as Altdorfer, and Dürer and Cranach are equally remarkable and I'm looking forward to this exhibition especially because it has got works on paper. Drawings and prints by these artists. And of course in a collection of paintings, you don't usually get the opportunity to see the artworks that for me really get you close to the imagination that produce the paintings.
CATHY FITZGERALD: The exhibition's also going to talk about how the idea of the German Renaissance has changed in the culture over the last three or four hundred years.
COLIN WIGGINS: Yes, it's interesting, isn't it? I mean there are obvious historical reasons why this country has had difficulty accepting German culture, but once Prince Albert arrived and married Queen Victoria, he was one of the first people to actually bring these German artworks to Great Britain. And even now if you look at some of the National Gallery's pictures, they will have labels on them saying 'Presented by Queen Victoria at the Prince Consort's wish'. Which was after Albert died, he wanted these pictures to become part of the British National Gallery. But we've had always trouble accepting these and I think it's to do with the primacy of the Italian Renaissance. The Italians are so busy trying to perfect people, to paint idealized representations of them, but a German portrait painter looks at you and notices you've got wrinkles round your eyes and he'll put those wrinkles in. And consequently these images – for me – carry so much more personality than the works of their Italian counterparts.
CATHY FITZGERALD: And what comes next in the 'Renaissance Spring'?
COLIN WIGGINS: We have 'Veronese'. This is actually the exhibition of a lifetime for some people because we talk about Venice, and Titian is perhaps the first name that comes to mind, but for me Veronese trumps Titian every day of the week. It's as if he paints with crushed gemstones… his works are simply, ravishingly beautiful and gorgeous. And if you like Titian and you think Titian is a great artist then just go and have a look at Veronese – I can't wait for this show.
CATHY FITZGERALD: So Veronese starts in mid-March and 30th April is the last exhibition.
COLIN WIGGINS: Right, yes, 'Building the Picture' we've called this exhibition, 'Architecture in Italian Renaissance Art'. Architecture is used by artists as a device for creating the illusion of space and of course this couldn't happen without perspective. What perspective does is that it gives artists the opportunity of providing this illusion of three dimensions into which they can put their figures and their landscapes and their scenes of miracles and religious stories and if we just take one example, Crivelli… a very quirky Italian Renaissance painter… he creates these wonderful illusions that send you zipping around the surface of a picture and into the pictorial space. You can go around corners and up side streets and go through windows and find things happening. It's a tool that artists use that enables us, the viewers of the picture, to step into the picture, to explore. And when computers began to dominate our lives… this idea of virtual reality that the whole computer game industry is based upon, this was invented in the Italian Renaissance. It's nothing new. And without perspective the whole story of picture-making would be different and much less interesting.
MIRANDA HINKLEY (in the studio): Thanks to Colin Wiggins. 'Strange Beauty: Masters of the German Renaissance' opens on the 19th of February. It's followed a month later by 'Veronese: Magnificence in Renaissance Venice', which is sponsored by Credit Suisse and opens on the 19th of March…  and finally, 'Building the Picture: Architecture in Italian Renaissance Painting' runs from the 30th of April. You can find more information about these and other shows, as well as all the paintings in the collection, at www.nationalgallery.org.uk.
That's it for this month - if you're visiting, we're open 10 'til 6 daily and 'til 9 on Fridays.
Until next time, goodbye!