Episode 63
The National Gallery Podcast
In the first episode of the new year, hear the sounds of Hogarth's London, marvel at the mastery of Leonardo's sketches and take a walk through a snowy scene by Friedrich.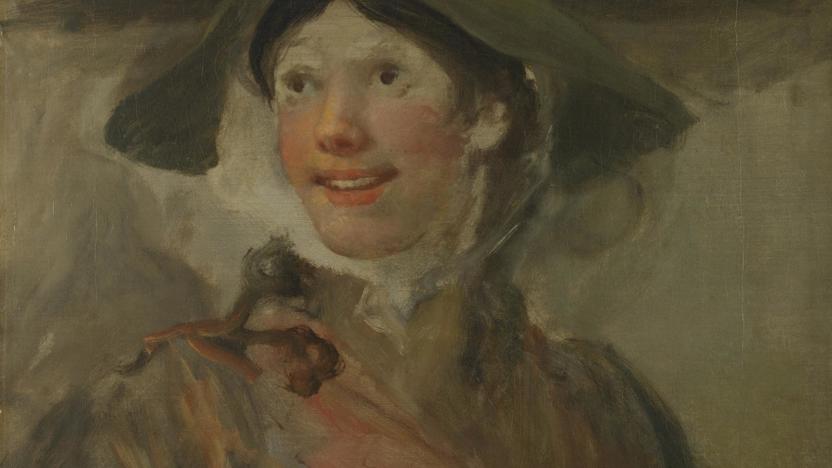 Read transcript
Miranda Hinkley (in the studio): This is the National Gallery Podcast and I'm Miranda Hinkley. In this month's episode...
We start this episode – of course – with 'Leonardo da Vinci: Painter at the Court of Milan', our landmark exhibition sponsored by Credit Suisse.
One room of the show looks at Leonardo's depictions of female beauty and includes his celebrated 'Portrait of Cecilia Gallerani (The Lady with an Ermine)', whose face adorns the exhibition posters. To illustrate how Leonardo came to make this portrait, it's displayed alongside many exquisite drawings which the artist made in preparation – a large number of which have been lent to the exhibition by Her Majesty the Queen.
Mari Griffith met Martin Clayton, Senior Curator of Prints and Drawings at the Royal Collection, to find out more, and began by asking how many works the collection had lent the show.
Martin Clayton: Thirty-three drawings from the Royal Collection are on loan to the National Gallery for this exhibition. And all the drawings at Windsor are the drawings that were in Leonardo's studio at his death. He left them all to his favourite pupil, Francesco Melzi... when he died his heirs sold them to a sculptor, Pompeo Leoni. who bound them all into a single album and that album came into the Royal Collection before about 1690, probably acquired by Charles II, so the drawings have been in the Royal Collection for over 300 years. Leonardo must have executed many thousands of drawings that were lost or destroyed during his lifetime, but these were the ones that he kept right to the end, so they must have had a certain importance for him.
Mari Griffith: In this room of the exhibition, we're looking at the theme of female beauty, portraits made by Leonardo, and we're standing in front of a group of very exquisite, very precise drawings. Let's start with this one which shows a female sitter, shown from a number of different angles. It has a real sense of immediacy as if Leonardo's done it from life. I was wondering if you could tell me why Leonardo made these drawings – what purpose did they serve for him?
Martin Clayton: A commonplace in describing portraits of Leonardo's day is how alive they seem and in a drawing such as this, Leonardo is clearly trying to capture the vitality that he wished to record in the finished portrait. It's a sheet of paper, slightly smaller than A4 and it's covered with about 20 studies of a female sitter, from the front, then from the back, then from the front again. He's filled the sheet, cramming every corner of it with little metalpoint sketches of the figure. They're not particularly detailed – what he's trying to capture is a lively pose and at the far left of the sheet is a little sketch which does seem to correspond very, very closely with the 'Cecilia Gallerani, (The Lady with the Ermine)' – so he's fishing around for the ideal pose in a drawing like this. It's wonderful experimentation and vitality.
Mari Griffith: It does really have this sense of immediacy, doesn't it – the lines seem to be so quickly drawn. How did he make it?
Martin Clayton: It's executed in a medium called metalpoint, which is drawing with a stylus, usually of silver on paper that's been prepared with a coating of ground bone, so a medium that is almost unknown today, but it was very common in the 15th century and it allowed the artist to work very, very quickly. It requires a certain discipline – you can't erase the line – but when the artist is in full possession of the medium, he's able to produce very very rapid and precise little sketches.
Mari Griffith: And in doing this, he didn't only focus on faces, did he? We have this fantastic drawing of hands...
Martin Clayton: This drawing may well have been preparatory for 'Cecilia Gallerani, (The Lady with the Ermine)'. It's a study of two hands – they appear to be held one above the other, but they're probably two separate studies of hands crossed over. And they are executed in a very wide range of finish. You have extremely sketchy charcoal and metalpoint lines towards the top, but Leonardo sort of focuses down upon the fingers, which are very highly finished with densely hatched metalpoint and white heightening. But those fingers are extraordinarily long and thin. They look bony and rather off-putting to us today, but at the time these long elegant hands were a sign of beauty.

Mari Griffith: But Martin, this drawing isn't all about beauty, is it? We see Leonardo also having some fun up at the top-left hand corner.

Martin Clayton: Well, Leonardo was concerned around 1492 with trying to formulate the principles of ideal beauty, but at the same time he was fascinated by how you could turn those principles on their heads and produce the exact opposite – ideal ugliness if you like. And at the top left of this sheet, you see sketched very lightly in metalpoint, a gurning old man. The contrast between this grotesque figure and the beautifully elegant hands couldn't be greater. Working at Windsor I'm very familiar with the drawings – I look at them pretty much every day – but it's so tremendously exciting to have them in a room with the paintings which they were probably preparatory... and they've not been together for 500 years so this is a tremendously exciting occasion.
Miranda Hinkley (in the studio): Thanks to Martin Clayton – who, you might like to know, will be curating two Leonardo exhibitions for the Royal Collection later this year: 'Leonardo da Vinci: Anatomist' at the Queen's Gallery, plus a travelling exhibition of drawings that will visit Birmingham, Bristol, Ulster, Hull and Dundee.
But back to our own show. Advance tickets for 'Leonardo da Vinci: Painter at the Court of Milan' sold out months ago... but if you're still hoping to visit before the exhibition closes on the 5th of February, there are a limited number of tickets available to buy on the day. These are sold in person from 10am and sell out quickly – so come early and do expect to queue. You can find out more at www.nationalgallery.org.uk
Miranda Hinkley (in the studio): Next... to a much-loved painting in the Gallery's permanent collection. Hung among portraits of leisured aristocrats, Hogarth's 'Shrimp Girl' is a vibrant picture of a fresh-faced working woman. Now she lives in a peaceful corner of the Gallery... but back in the 18th century she'd have sold her wares in the noisiest of working environments – the London streets.
To hear more, we spoke to art-historian James Heard, and to Jeremy Barlow, author of 'The Enraged Musician' – a book about Hogarth's famous engraving of the same name, which depicts an angry violinist trying to practice amid the cacophony of London's street-sellers. James began by explaining what it was about the 'Shrimp Girl' that first caught his eye.
James Heard: She's a really feisty woman and I think this is rather unusual. If you look at all the kind of portraits of 18th century women taking their cups of tea, she's of an entirely different nature. She's very upfront – she's almost falling out of the picture in a very modern way and some people have suggested that it's not really a portrait... I'm convinced it's a portrait... it's got that kind of certainty of a real person. And there is this phrase – the thumb-nail sketch... Hogarth's supposed to have made these very tiny... was it actually on his thumb-nail? But these tiny sketches which enabled him to kind of memorise and I'm sure that he glimpsed her in the streets... Leicester Fields or wherever it was... perhaps Billingsgate – I don't know, because they obviously wandered around.
Jeremy Barlow: She's looking away from Hogarth himself and she has this kind of dish or basket on her head, and there's a little cup at the top of that which I suppose she'd use to measure out the shrimps and she looks very happy – whether really she would be happy is another matter... they had to get rid of their load of shrimps within the day before they went off, and that was hard work – she'd have had to get up very early to buy the fresh shrimps – so Hogarth is presenting a rather idealised picture of her.
James Heard: I'm attracted to her mouth because her mouth is opening – it's a speaking portrait. And it's been suggested that she might have been shouting 'a penny half-pint; fine fresh shrimps!' So our shrimp girl is there alone. There's nothing much in the background – just kind of paint if you like. But there's another image by Hogarth where it seems to be the same girl where you really get the sense of all the noise around her. Here in 'The Enraged Musician' she's a milk maid, but I'm actually convinced – because the print was made 1741; the painting possibly in 1740 – it just looks like her.
Jeremy Barlow: Hogarth's picture, 'The Enraged Musician' is really about noise. There are well over 20 noises that he's deliberately put into the picture...
James Heard: Cats caterwauling... little children screaming... the knife grinder...
Jeremy Barlow: 'Knifes to grind; scissors to grind!'
James Heard: There's a drummer boy; you've got somebody blowing a horn. There's a little baby who is bellowing, as well as mother shouting.
Jeremy Barlow: The one that is closest to the shrimp girl is the man selling flounders. 'Flounders! Thames flounders!'
James Heard:  And, of course, typical Hogarth – there's always animals around and here is a parrot squawking, which sort of says it all to my mind.
Jeremy Barlow: The milk girl in the middle – who though she looks pretty and serene – actually produced a really screeching sound according to commentators of the time, right high up, which I won't attempt, but it was something like 'Milk below! Milk below!'
James Heard: All life is here – and it really I think brings London life around St Giles to our ears, not just to our eyes.
Miranda Hinkley (in the studio): Thanks to James Heard and Jeremy Barlow. And if you want to meet Hogarth's 'Shrimp Girl' in person, she's on display in Room 35.
Miranda Hinkley (in the studio): We may not all like the cold, but Gill Hart, who's recently returned to the Gallery's Education Department to take up the post of Head of Adult Learning, feels there's something to be said for the seasonal chill. She took Leah Kharibian to see one of her favourite snow-laden landscapes – a work by the early 19th century Dresden-based artist, Caspar David Friedrich.
Leah Kharibian: Gill, we're here in Room 41 of the galleries to look at Friedrich's 'Winter Landscape', which was probably painted in 1811. But you wanted us first to stand at quite a distance from the picture. Why's that?
Gill Hart: I did want us to stand at a distance. And that's mainly because five or six years ago this painting actually hung in a much smaller gallery adjacent to the one that we're currently standing in and it wasn't possible to look at it from very far away. And what struck me looking at it a few weeks ago for the first time in quite a number of years was the way that it's able to hold its own in a gallery of this size. It's much smaller than most of the other paintings in this gallery that we're currently standing in and I walked through the door and just thought wow – what a powerful visual impact it has. You can really see the blanket of snow that's completely covering the foreground and actually even from quite far away it's possible to pick out the key compositional elements of this painting: the group of fir trees that occupy the centre of the composition and the architectural structure that echoes the shapes of the trees. It's a Gothic cathedral.
Leah Kharibian: That's amazing. Yes, you're quite right. Can we go and have a closer look?
Gill Hart: Absolutely.
Leah Kharibian: Now it's once we get here that we actually start to see a lot more, including what looks like a little sort of figure leaning up against a rock in the foreground. What's going on there?
Gill Hart: Yes, you're right. There is a tiny figure right at the base of that central group of trees that dominates the painting. And actually I think what it is that draws us in towards that figure is the object that's lying abandoned in the snow. It's a crutch and actually once you've noticed you'll see that there's another one just behind it, beyond it, nearer the figure himself. And I think what's happened here is that the figure has been moving through this incredibly bleak, hostile looking landscape with the assistance of crutches... has come across this group of trees and noticed that there is a sculpted figure of Christ on a cross within, or nestled among the trees... has abandoned those crutches and moved towards it to lean against the rock and pray.
Now I guess where this is taking us is that there could be two possible ways of interpreting the figure who's leaning against the rock; he's abandoned his crutches – is that because he no longer needs them because he's somehow miraculously been healed or is it because he does not need them where he's going? And I think what we have in this painting is a representation of our world, the real world, and that beyond. The other thing that's wonderful at such a close distance to the painting where we're standing now, is that that blanket of snow that looks pretty solid from a distance – when you move in towards the painting, you see that it's absolutely covered in little brushstrokes indicating the tiny shoots of grass that are coming through from underneath it, so actually life itself is present in the landscape despite the fact it didn't initially look as if it was.
Leah Kharibian: So perhaps time to embrace a bit of sadness and time to embrace the cold?
Gill Hart: I would say so yes. I mean perfect at this time of year, isn't it, when we're in the middle of winter ourselves? And I think, what's good about this painting is that when you look at it, it's not actually the sort of painting that really makes you shiver to your bones because of those lovely references to the fact that nature renews itself; it replenishes and as, of course, as I mentioned, we can see the grass... we can see that the trees themselves are not going to be killed off by this particular – well, very harsh looking winter the way that Friedrich has represented it. And of course there are all of those references to something that goes beyond the material world in the way that Friedrich has structured this composition. 
Miranda Hinkley (in the studio): Thanks to Gill Hart. If you'd like to take a closer look at Friedrich's 'Winter Landscape', it's on display in Room 41. A visit to the permanent collection is, of course, free – and we're open 10 till 6 daily, and 10 till 9 on Fridays.
That's it for this episode. Until next time, goodbye.