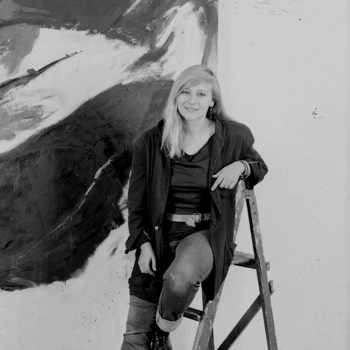 Artist-in-Residence at the National Gallery between 1988 and 1989
Madeleine Strindberg (b.1955, Germany) was Artist-in-Residence between October 1988 and March 1989. Strindberg is best known for large painting-based installations, which explore the notion of conflict. She uses a range of media, including found objects, painting, photography, and video. Strindberg studied at Byam Shaw School of Art and received an MA in painting from the Royal College of Art in 1985.
Strindberg was the first artist making non-representational paintings to become Artist-in-Residence at the Gallery. Strindberg wrote that when she began her residency, she brought nothing with her 'but a number of blank canvases and a statement of intent'. For Strindberg, the Gallery's collection included many 'examples of excellence within their own historical context', however, she moved away from what she described as 'quoting details, making comparisons or assimilating techniques'. Instead, she aimed to use the collection as a catalyst for her own work.   
Strindberg spent many hours during her residency looking closely at paintings in the collection, 'searching for the structure in each painting' and 'the essence in each artist'. Strindberg was fascinated by Rembrandt's work, which she felt approached 'an internal truth'. She was also captivated by Piero della Francesca's Nativity, 'almost mathematical in its precision', Velázquez's Toilet of Venus, 'sensuous and mysterious', and Rubens's work, 'full of voluptuous sweep.'  
'Blades', an exhibition of artworks that Strindberg produced during her residency was held at the National Gallery between 1 and 30 June 1989. This exhibition included series of paintings consisting of collaged sheets of dull aluminium embedded in oil paint and encaustic. Strindberg explained that these paintings, which were collectively known as 'Metal Paintings', aimed to challenge the what she saw as the limitations of the two dimensional canvas: 'The large metal shapes carry both aggressive and protective associations', she said, appearing both 'mechanistic' and 'primeval' to the viewer.  
Since completing her residency, Strindberg has been awarded several prestigious art prizes and important artists residencies. In 1996, she won an Abbey Award in Painting, which enabled her to spend several months at British School at Rome. She won the Jerwood painting prize in 1998 and was also shortlisted for the Charles Wollaston Award in 2000. Until 2014, Strindberg was a senior lecturer at Brighton University.