Self-portraits
This painting is a self-portrait painted by Rembrandt in the last year of his life – he died on 4 October 1669. Rembrandt's self-portraits are prolific in number. He made at least 80 self-portraits during his lifetime.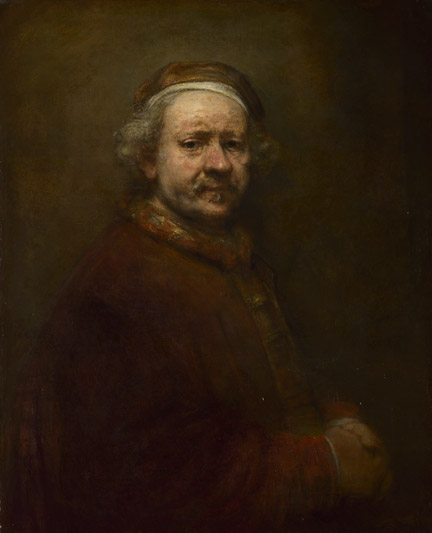 The costume that Rembrandt wears in this self-portrait is significant because his fur-lined and high-necked doublet can be related to costumes used by artists from the canon of art history, particularly during the 1400s. For example, the praying donor portrayed in an earlier painting by Rogier van der Weyden wears a very similar fur-lined doublet (see below). Although some have argued that Rembrandt painted himself as a 'miserable and disappointed old man', his choice of costume in this self-portrait instead suggests that he is proudly aligning himself with famous artists and established traditions of the past.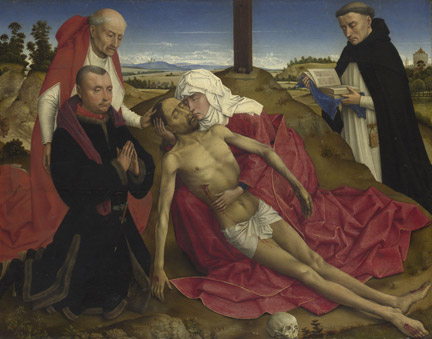 This photograph shows how this painting was displayed at the National Gallery in the 1950s. You can see that his self-portrait (on the far right) hangs alongside other portraits by famous artists.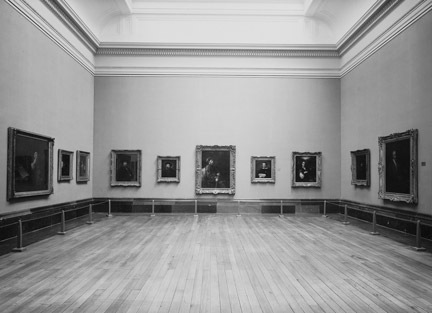 Rembrandt's 'Self Portrait at the Age of 34', also hangs nearby.