Where does Dürer fit into the history of Western European landscape painting? 
You might say in some ways he started it all, in particular with his watercolours, which respond to places he saw on his travels, but which were not necessarily made on the spot; rather they were edited versions of what he saw, made to use in other works.
You can often spot the way in which he translated his stock of watercolour views into backgrounds for many of his paintings and prints. A good example in the exhibition is in the background of the painting of the 'Virgin and Child' from the National Gallery of Art in Washington. Another is the engraving of the 'Large Fortune' with its vertiginous view of the little Alpine town of Klausen.
Artists before Dürer were drawing and painting landscape of course, but his intensely atmospheric and cohesive representations were revolutionary.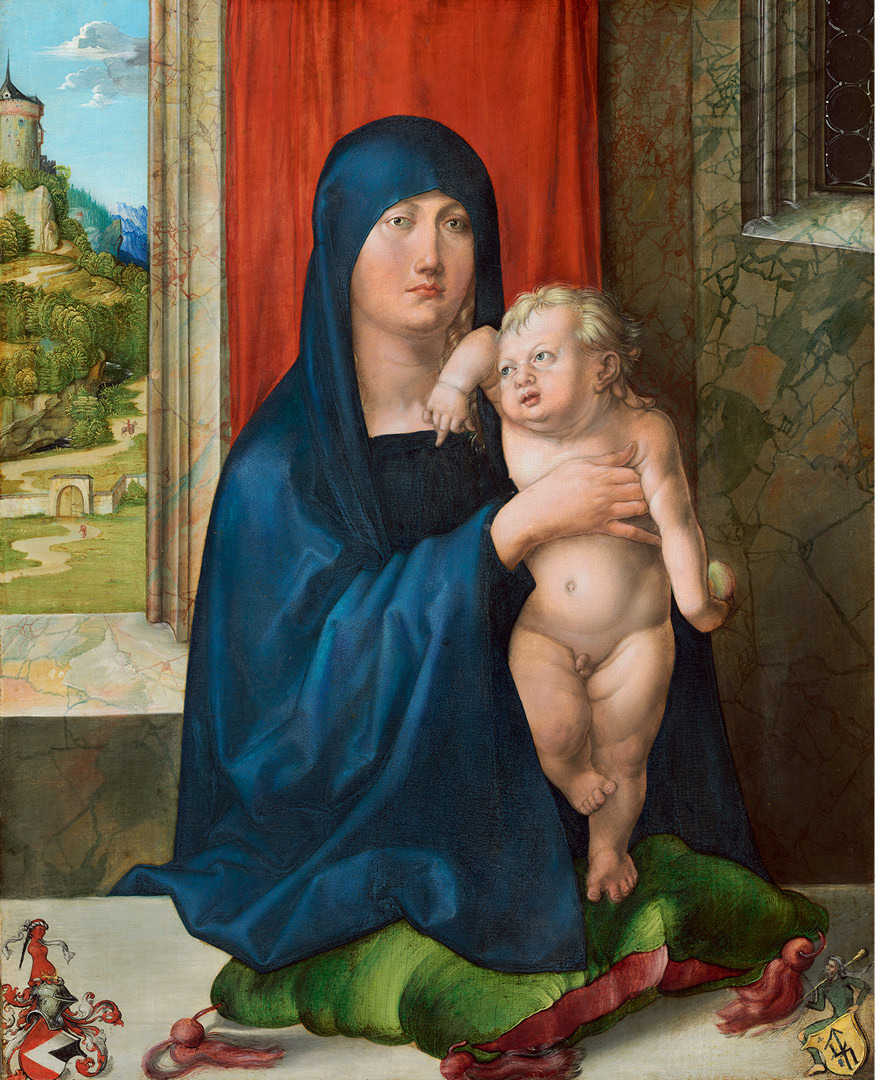 Was Dürer apprenticed to an artist/studio when he started out? 
Yes he was an apprentice twice. He started to learn the trade of goldsmith, in order to follow his father into the family business. But he tells us in his family chronicle that he then asked if he could learn painting. Although this would undoubtedly have postponed the day on which he would be able to start earning, his father agreed and so he was apprenticed to the local painter Michael Wolgemut (1434–1519). This unusual combination of metalworking and painting skills served Dürer extremely well to launch his career as an innovative printmaker.
In your opinion, who are the major artists who influenced Dürer regarding his style and subject matter, and in conjunction with this, which technological advances changed his working methods? 
Dürer's travels enabled him to take inspiration from a great range of artists during his career. Early on he hoped to meet in person the great engraver Martin Schongauer, but he died just before Dürer reached Colmar where he worked. He provided Dürer with a model for making unusually large and detailed engravings which were signed with a monogram. 
In Venice, Dürer was certainly influenced by the work of Giovanni Bellini, who he described as very old but still the best painter: works in the exhibition such as 'Christ Among the Doctors' from the Thyssen Collection show the dark backgrounds and focus on faces also seen in some of Bellini's work. In Venice, Dürer took advantage of the beautiful blue paper available there to develop a system of drawing using the colour as a mid-tone combined with ink outlines and white highlighting: he used this drawing technique for the rest of his career, although he had to colour his own paper once back in Nuremberg. The availability of large sheets of paper was crucial for both Dürer's drawing practice and his printmaking.
Why did Dürer travel so much when the Italian artists of the same era stayed in Italy? Was there a difference between the Northern and the Southern Renaissance artists? 
It was very much part of the training of artists in Northern Europe to travel: once an artist had completed their apprenticeship they were expected to travel and gain experience in the workshops of established artists, sometimes at some distance from home. Dürer though was an intensely curious artist and these conventional early experiences were clearly not enough for him. He took advantage of Nuremberg contacts in Venice to travel there twice as well as to other Italian cities.
When he travelled to the Low Countries in 1520–1 he met many artists working there as well as Raphael's agent, Tommaso Vincidor. The two artists corresponded, but Raphael like other Italian artists of the time seems to have been content to stay in Italy and respond to the works of art circulating there, rather than seeking out their producers.
In what way would you say Dürer influenced later artists? 
Dürer was a hugely influential artist, and there are those working today whose works are still incorporating references to Dürer, despite the fact that he was working over five hundred years ago. The wide circulation and great variety of Dürer's prints has constantly enabled artists to pick and choose motifs from them to use in their own work, while Dürer's consistent use of the AD monogram ensured his authorship of the original inspiration was always clear.
In the 19th century some artists particularly admired the dense detail of the prints and the style they associated with the newly fashionable medieval and Gothic art. Above all Dürer's success and fame showed artists that their work could be valued internationally and over a period of centuries.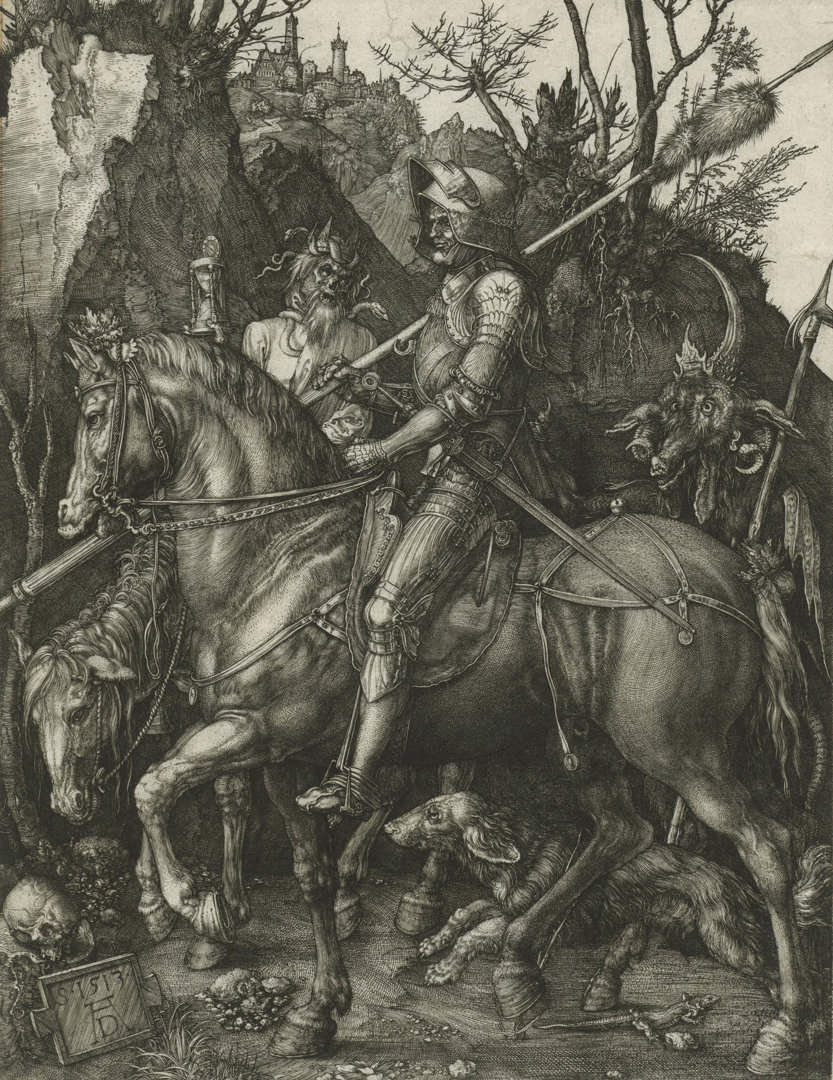 Who was Dürer's wife and how did she play a role in his success? 
Dürer married Agnes Frey in 1494; marriage was required in order to run a workshop in Nuremberg, as in other places at the time. Agnes's father was a skilled metalworker who was also involved in the administration of Nuremberg, and her mother came from a wealthy and well-connected family. Agnes's family contacts may have assisted with Dürer's first journey south of the Alps as well as in other ways. Like Dürer's mother, Agnes played a key role in his business: she was sent to sell his prints at fairs such as that at Frankfurt, and, along with his mother, she would have been instrumental in keeping his workshop going when Dürer was in Venice in 1505–7. In 1520–1, however, Agnes accompanied Dürer on his journey to the Low Countries, where she sometimes joined him at the local festivities with which he was welcomed.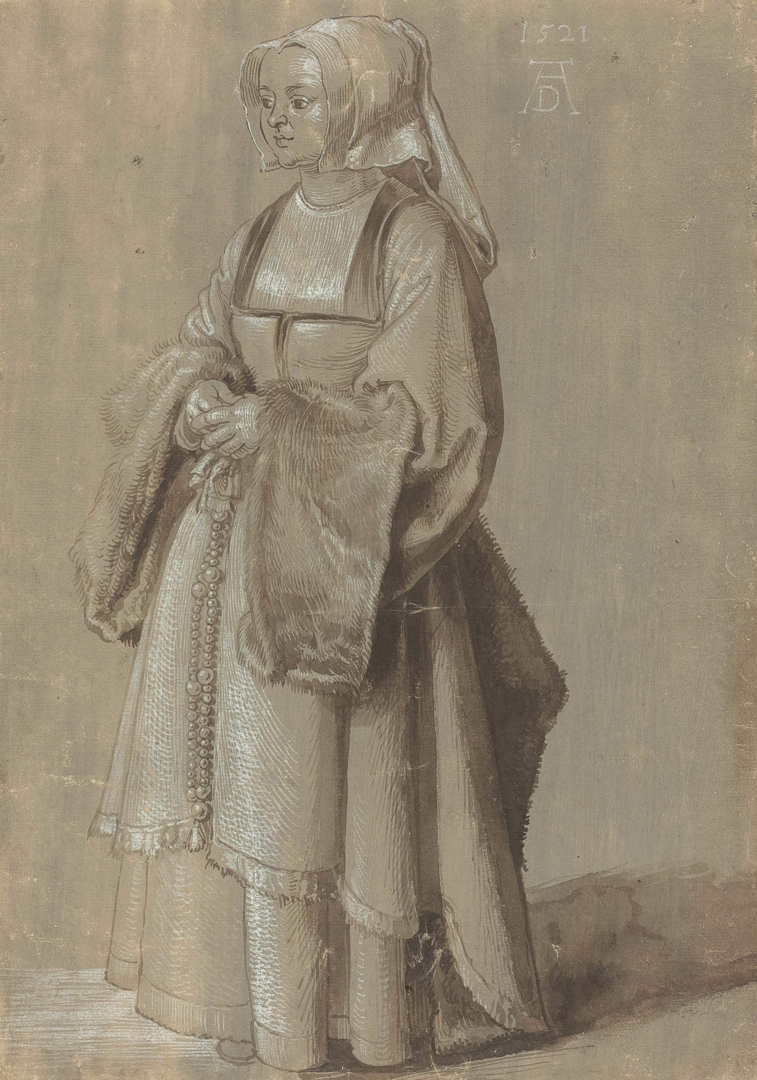 Could you explain how the relatively new development of available paper helped Dürer develop as an artist and how do you think using the medium changed his work? 
Dürer started his career at a time when artists had already begun to make their preparatory drawings on paper rather than parchment using pen and brush with ink or a silver stylus on a prepared surface – a difficult medium in which Dürer excelled from a young age. These techniques demanded great skill and precision but his use of water-based paints on paper from an early stage of his career enabled him to create a different type of work: extremely atmospheric depictions of place and time, even impressions of sunsets.
It would have been impossible for Dürer to flourish as a printmaker without access to the production of large quantities of paper, and particularly the larger sheets which were the basis for his luxury books such as the 'Apocalypse' woodcuts or the 'Life of the Virgin Mary': we have examples of both in the exhibition.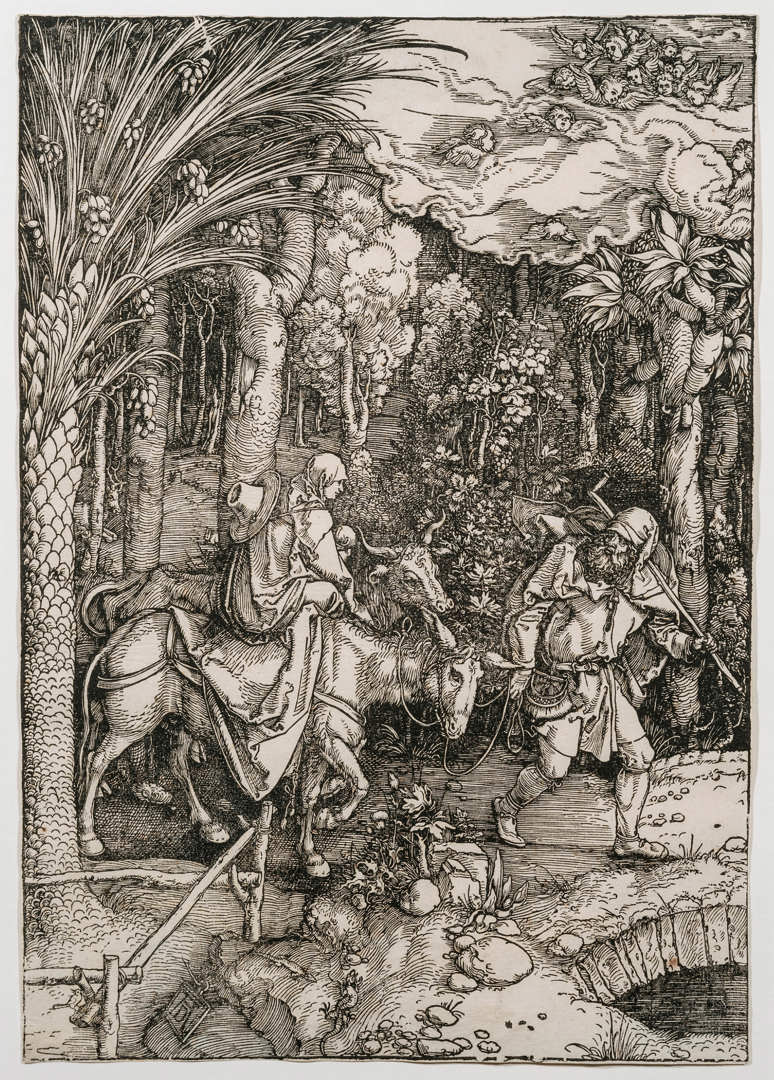 What sort of planning and preparation goes behind an exhibition like this?
Like most large exhibitions this has been several years in the making; the pandemic period has extended this, but putting together a show of works by an artist as important as Dürer requires a good deal of persuasive conversation with potential lenders, which can never be hurried. We are fortunate that we have so many generous lenders to our exhibition.
We published the exhibition catalogue earlier in the year and putting together a beautifully illustrated book involving a dozen or so eminent contributions is a project in itself. Once we have a good idea of the content of the exhibition we focus on commissioning the design, which helps us to tell the story of the exhibition, room by room. It's a very exciting moment when lenders bring in their works, we start putting them on the walls or on cases, and the exhibition starts to spring to life.
What can we expect to see in the exhibition? Will we learn something new about Dürer? 
It's always a pleasure to be able to include other types of works as well as paintings in a National Gallery show. With Dürer as the focus it's vital also to be able to show engravings, woodcuts, sketches in various media and watercolours, so that we see the full range of his achievements.
We'll be able to examine his preparatory processes and get some insight into his personality through his witty letters and his engrossing diary. This is the first exhibition that has viewed Dürer's career through the lens of travel, so I hope this will shed new light on the significance of his journeys north and south of Nuremberg, and on his interactions with the interesting people he met along the way.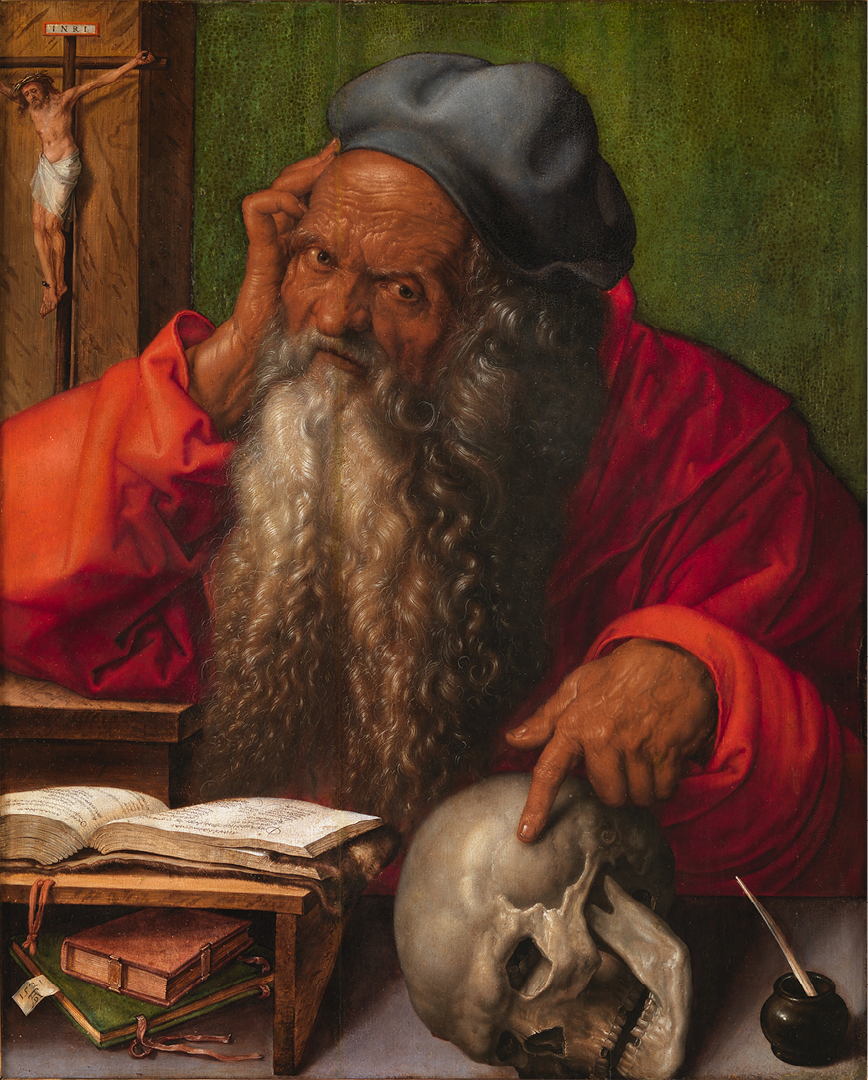 Members' talk and Q&A
There's another chance to put your Dürer questions to Susan Foister on 18 November.
Susan will be answering your questions in a live introduction to the show, exclusive to Members.
Curators introduction: 'Dürer's Journeys', Members talk and Q&A
4–5pm, Thursday, 18 November 2021