The imagined
Delacroix believed that the depiction of religious and literary subjects allowed "full play to the imagination", by which he meant they offered a means of expressing his own feelings. In pursuit of such expression, Delacroix distorted the anatomy of his figures, heightened colours, and painted using techniques that many perceived as undisciplined and idiosyncratic. He often completed paintings in one go or over a few days. For his advocates, Delacroix's insistence on individual creativity was precisely what made his art so relevant and modern. As Redon put it, Delacroix's painting was "a triumph of sentiment over form". 
One example of this approach is 'The Lamentation' of 1848. Here, Delacroix maintains a balance between bold improvisation, as in the rough painting of Christ's head and torso, and more carefully rendered details like the crown of thorns. Later generations held this picture in particular esteem: in 1869 Frédéric Bazille tried to persuade a wealthy cousin to buy it, describing it as "one of the most beautiful paintings of the French School"; in 1876 the novelist Henry James praised its "singular profundity of imagination"; and a smaller version was treasured by Degas.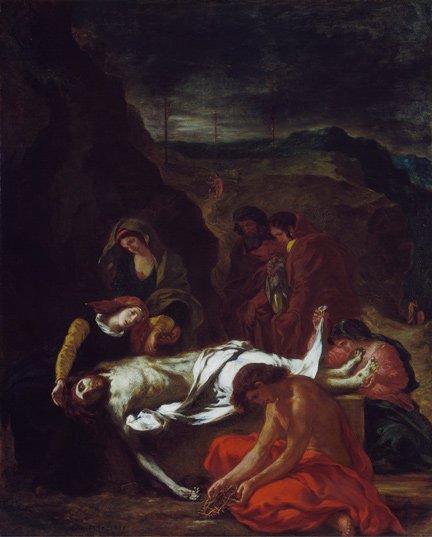 Although on a different scale, Delacroix also exercised his imaginative powers in major public commissions in Paris which include: the Salon du Roi, Palais Bourbon, 1833–7 (today the Assemblée Nationale); the Library of the Chamber of Deputies, Palais Bourbon, 1838–47; the Galerie d'Apollon, Musée du Louvre, 1850–1; and the Chapelle des Saints-Anges in the Church of Saint-Sulpice, 1849–60. Delacroix's ability to create bold, legible designs meant that he was particularly suited to this task of painting complicated allegorical and religious compositions on a large scale. Although some projects took years to complete, subsequent artists were drawn to the fact that they seemed to be rapidly executed.