Issued April 2016
8 June – 25 September 2016
Annenberg Court (Getty Entrance)
Admission Free
Children from across England and one school in Spain will have their work showcased at the National Gallery this summer in the 21st annual 'Take One Picture' exhibition.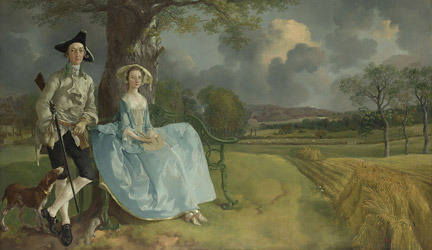 Each year the National Gallery invites primary schools to use one of its paintings as the stimulus for learning right across the curriculum. For 2016, Thomas Gainsborough's Mr and Mrs Andrews was chosen as the inspiration.

From watercolours and lacemaking to ceramics and creative writing, the exhibition features a diverse range of works reflecting the richness of creative responses to this painting. Landscapes, culture, heritage, fashion, and design were just some of the themes explored by the children.
Mr and Mrs Andrews, which is on display in Room 35, portrays newly married Robert and Frances Andrews. Soon after his marriage Robert Andrews inherited the Suffolk estate of Auberies, the setting for this painting. His wife, born Frances Carter, was also from a local landowning family and the match consolidated the land held by both families. Robert Andrews has a gun under his arm, while Frances Andrews sits on an elaborate garden bench reflecting contemporary taste for Rococo design. Gainsborough left a little of Frances Andrews's lap unpainted; it is possible that this space was reserved for an anticipated child.
Pupils from Holy Trinity and St Silas Primary School in Camden were particularly inspired by the genre of portraiture. They worked with an artist to create photographic portraits of their families in their domestic setting – their brief was to compose a portrait that gave insights into their family's identity. Pupils enjoyed learning technical photographic processes in school and then applied these new skills to capture a special moment at home. The children had to balance technical considerations, sensitivity to the sitters' feelings about how they wished to be portrayed and the message they wanted to convey about themselves as artists.
Grace, Year 4, explains:
"In school, we thought about what makes a good photographic portrait, changing the frame and angle. At home, I asked my family to each say a favourite thing about being together. We found that playing card games was a win, so I took a picture of that."
Year 1 pupils from Ashfield Infant and Nursery School in Cumbria thought that Frances Andrews looked uncomfortable sitting on her bench, so they decided to make their own. Pupils visited their local town to research different types of benches and investigate materials, designs, and sizes. This inspired their own bench designs, made using pencil and digital software, and model benches constructed from clay and stickle bricks. Pupils also wrote letters asking a local carpenter to help them with a collaborative project to build a full-scale bench. They learnt many new skills from the carpenter.
Cole, Year 1, said:
"I really liked sawing and hammering. It was fun. It was the first time I had done sawing and hammering."
This project involved working across various curriculum areas including literacy, information and communications technology (ICT), science, maths, and design technology (DT). Take One Picture is an excellent example of how focusing on just one painting can stimulate learning across the curriculum and engage pupils in developing their problem-solving and creative skills.
Gill Hart, Head of Education at the National Gallery, says:
"Take One Picture demonstrates that the arts play a vital role in education by inspiring children's imaginations, creativity, and learning. The diverse range of work featured in this exhibition illustrates how focusing on a single painting can act as a catalyst for children to develop new skills, make connections with their local community, and take the lead in their own learning. Our aim is that the children continue to find meaning and inspiration in the paintings throughout their lives."
  National Gallery Director, Dr Gabriele Finaldi, says:
"Take One Picture inspires children to respond in creative ways to a great painting from the National Gallery. Gainsborough's 'Mr and Mrs Andrews' has given rise to some extraordinarily interesting learning opportunities as well as some fascinating artworks, a selection of which are in the National Gallery exhibition."
Take One Picture is generously supported by The Dorset Foundation, the Tavolozza Foundation and Christoph Henkel.
The schools represented in the 2016 display are:
Ashfield Infant & Nursery School, Cumbria
Baring Primary School, London
Brighton College Prep School, Brighton
Brooklands Farm Primary School, Milton Keynes
Crow Lane Primary and Foundation Stage School, Huddersfield
Exeter Junior School, Exeter
Greenfields Community Primary School, Maidstone
Hartsbourne Primary School, Bushey Heath
Holy Trinity and S. Silas C of E Primary School, London
King Edward's Junior School, Bath
Kings College School, La Moraleja, Madrid (Spain)
Little Hallingbury C of E Primary School, Bishop's Stortford
Lobley Hill Primary School, Gateshead
Loughton School, Milton Keynes
Moreton First at Moreton Hall School,

Shropshire

Olney Infant Academy, Buckinghamshire
Our Lady Immaculate Catholic Primary School, Essex
Ponteland First School, Tyne and Wear
Shinfield St. Mary's C E Junior School, Berkshire
St Cuthbert's C of E Primary School, Leicestershire
St Jude's Catholic Primary School, Hampshire
St Barnabas C E First and Middle School, Worcestershire
The Claypole Church of England Primary School, Nottinghamshire
The Perse Nursery and Pre-Prep School, Cambridge
The Queen's Lower School, Chester
Thomas's Kensington Preparatory School, London
Velmead Junior School, Hampshire
William Barnes Primary School, Dorset
Winton Primary School, London
Kingsmead Primary School in partnership with William Patten Primary School, London
There is also a slideshow on display in the exhibition containing work from a further 40 schools.
NOTES TO EDITORS
About Take One Picture
Launched in 1995, Take One Picture is the National Gallery's countrywide scheme for primary schools. Each year the Gallery focuses on one painting from the collection to inspire cross-curricular work in primary classrooms. As part of a one-day Continuing Professional Development (CPD) course at the Gallery, teachers are given a print of a painting and a soundscape that the National Gallery has put together. The challenge is then for schools to use the image imaginatively in the classroom, both as a stimulus for artwork, and for work in more unexpected curriculum areas.
Each year a display of work produced by schools based on the painting is shown at the National Gallery, and a selection is published on the Take One Picture website. In order to be considered for the display, schools submit examples of how a whole class or school has used the picture in a cross-curricular way to the Gallery's Education Department by a set date.
About Thomas Gainsborough
Gainsborough was, with Sir Joshua Reynolds (his main rival), the leading portrait painter in England in the late 18th century. The feathery brushwork of his mature work and rich sense of colour contribute to the enduring popularity of his portraits. Unlike Reynolds, he avoids references to Italian Renaissance art or the Antique, and shows his sitters in fashionable contemporary dress.

He was a founding member of the Royal Academy, though he later quarrelled with the academy over the hanging of his pictures. He became a favourite painter of King George III and his family.
He was born in Sudbury, Suffolk, the son of a wool manufacturer. He trained in London, and set up in practice in Ipswich about 1752. In 1759 he moved to Bath, a fashionable spa town, attracting many clients for his portraits. He settled in London in 1774. His private inclination was for landscape and rustic scenes, and his amusing letters record his impatience with his clients' demands for portraits.
Dates and opening hours
Open to the public: 8 June – 25 September 2016
Daily 10am–6pm, Fridays until 9pm
Admission free

For press information please contact press@ng-london.org.uk / 020 7747 2865
For public enquiries please contact 020 7747 2885 or information@ng-london.org.uk