SAINSBURY WING

Inventing Impressionism
4 March – 31 May 2015
Soundscapes: Listening to Paintings
8 July – 6 September 2015

Goya: The Portraits
7 October 2015 – 10 January 2016
SUNLEY ROOM

Peder Balke
12 November 2014 – 12 April 2015
ROOM 1

Maggi Hambling: Walls of Water
26 November 2014 – 15 February 2015

Frames in Focus: Sansovino Frames
1 April – 13 September 2015
-----------------------------------------------------------------------------------------------------------------------
INVENTING IMPRESSIONISM
How Paul Durand-Ruel created the Modern Art Market
4 March – 31 May 2015

Sainsbury Wing
Admission charge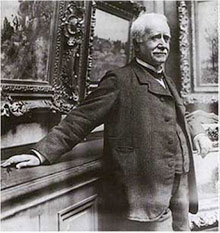 Impressionism produced some of the most controversial images of its time; yet is now one of painting's best-loved movements. It owes much of its global success to the endeavours of one man: art dealer Paul Durand-Ruel (1831-1922).

This ground-breaking exhibition lifts the veil on this key figure that discovered Monet, Pissarro, Degas and Renoir in the early 1870s, immediately buying their works when they were still largely ignored or ridiculed. 'Without him', said Monet, 'We wouldn't have survived'. Fierce advocate and loyal friend of the Impressionists, the dealer became the group's most courageous backer during its early decades of struggle.

With great artistic flair and extraordinary commercial insight, Durand-Ruel developed revolutionary business strategies, such as stock building, exclusivity, and one-man shows of 'his' artists. He also turned his Paris-based business into a global firm, opening branch galleries in London and New York, staged countless exhibitions around the world and reversing the fortunes of the Impressionists. Despite rejection from the art establishment, the visionary Durand-Ruel was the single most powerful driving force making Impressionism the household name worldwide it is today. 

The exhibition includes around 85 works, among them a number of Impressionism's greatest masterpieces. These pictures - all of which were dealt by Durand-Ruel - are borrowed from the key European and American collections he helped form.

The exhibition is organised by the National Gallery, London, the Réunion des Musées Nationaux – Grand Palais in partnership with the Musée d'Orsay, and by the Philadelphia Museum of Art.
SOUNDSCAPES: LISTENING TO PAINTINGS
8 July – 6 September 2015

Sainsbury Wing
Admission charge
After the highly successful and experimental 'Metamorphosis: Titian 2012', where contemporary artists – including choreographers, composers, dancers, poets and visual artists – responded to paintings by Renaissance master Titian, the National Gallery is inviting six sound artists and musicians to each select a painting from the National Gallery's collection and to create new work in response to it. 
Each artist will be given a room in the Sainsbury Wing exhibition galleries in which their chosen painting and their sound/musical response will be installed. 
The new sound pieces will be site specific and can only be heard in the context of the 'Soundscapes' exhibition with the painting that inspired it. Relying on minimal text, the idea is to give visitors the opportunity to experience and think about these works of art in a very different way, through what they hear as much as what they see.
This is an exhibition that celebrates the National Gallery's collection, highlighting its ongoing inspiration for contemporary artists, this time from the musical world.
GOYA: THE PORTRAITS

7 October 2015 – 10 January 2016

Sainsbury Wing
Admission charge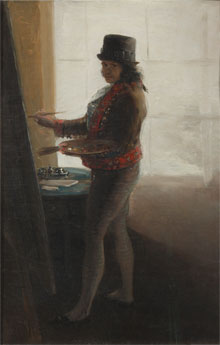 Francisco de Goya (1746 -1828) is one of Spain's most celebrated artists. He was considered a supremely gifted portrait painter and an excellent social commentator who took the genre of portraiture to new heights through his ability to reveal the psychology of his sitter.
This landmark exhibition - the first ever focusing solely on his portraits - will re-appraise Goya's genius as a portraitist and provide a penetrating insight into both public and private aspects of his life. It will explore Goya's ambitions and development as a painter, and his innovative and unconventional approach to portraiture which often broke traditional boundaries.
The exhibition will trace Goya's career from his early beginnings at the court of Charles III in Madrid to his appointment as First Court Painter to Charles IV, through the difficult period under Joseph Bonaparte and then Ferdinand VII, which nevertheless saw some of his finest work, and then his final years in France.
By bringing together more than 50 of his most outstanding portraits from around the world, including drawings and miniatures, and organising them in a chronological and thematic sequence, the show will enable viewers to engage for the first time with the full range of Goya's technical, stylistic and psychological development as a portraitist.

PEDER BALKE

12 November 2014 – 12 April 2015

Sunley Room
Admission free
This autumn, the National Gallery will hold the first-ever UK exhibition focused on the paintings of Peder Balke.
Largely forgotten for more than a century, this Norwegian artist is only just being rediscovered and recognised as one of the forerunners of modernist expressionism. This groundbreaking free exhibition will see around 50 paintings representing every facet of the artist's career travelling to London from private and public collections across Europe. The vast majority of these works have never been seen in the UK before.
>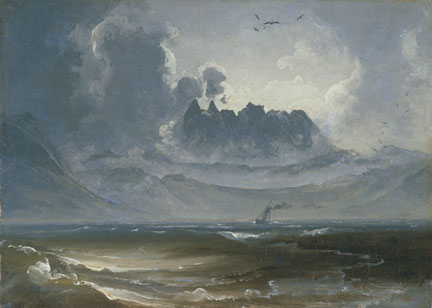 Peder Balke (1804–1887) is one of the most original painters of 19th-century Scandinavia. Born on the Norwegian island of Helgøya, he attended art school in Christiania (now Oslo), before studying with painters in Stockholm and Dresden. Balke was one of the very first artists to venture to the far north of his native Norway. In 1832 he visited the distinctive, dramatic and rugged lands of the North Cape, an experience of primal nature so profound that he built his career painting those isolated Arctic Circle seascapes.

The National Gallery owns just one painting by Peder Balke: 'The Tempest' (about 1862), which was generously presented to the Gallery in 2010 by Danny and Gry Katz. It was the first – and remains the only – painting by a Norwegian artist in the collection.

The exhibition is organised by the Northern Norway Art Museum, Tromsø, in collaboration with the National Gallery, London.
The exhibition is generously supported by Aud Jebsen and the Athene Foundation, Basel, with additional support from the Daniel Katz Gallery, London; the Deborah Loeb Brice Foundation; the Royal Norwegian Embassy in London; and the Savings Bank Foundation DNB.
MAGGI HAMBLING: WALLS OF WATER

26 November 2014 – 15 February 2015

Room 1
Admission free
Maggi Hambling, the first National Gallery Artist in Residence (1980-81), has established a reputation over the last four decades as one of Britain's most significant and controversial painters and sculptors. This autumn she returns to exhibit in Trafalgar Square for the first time in almost 35 years with a brand new series of paintings – 'Walls of Water' – which have never been seen in public before.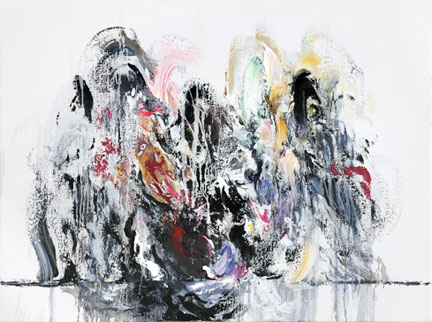 Hambling's continuing series of 'Wall of Water' paintings began in 2010.  Eight of the works on display are expansive in scale – measuring over six by seven feet. There is also a ninth smaller canvas that was produced in response to the death of Amy Winehouse in 2011 (pictured).
All the works have their origins in the artist's experience of gigantic waves crashing onto the sea wall at Southwold – Suffolk being the county where she was born, still lives and which has often inspired her work.
These new works by Maggi Hambling complement the National Gallery's exhibition on the Norwegian artist, Peder Balke, one of the most original painters of 19th-century Scandinavia.
FRAMES IN FOCUS: SANSOVINO FRAMES

1 April - 13 September 2015

Room 1
Admission free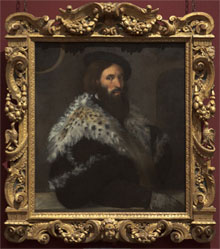 Early altarpieces were usually framed but it was not until the mid-16th century that the majority of frames were designed as removable items made to enhance a painting.
This exhibition looks at one of the most innovative of frame types, called the 'Sansovino frame'. Sansovino frames, characterised by carved overlapping scrolls, garlands of fruit, masks, broken pediments and even animals, broke away from the idea of frames as contained borders and experimented with traditional architectural forms.
Associated with Venice and the Veneto in the second half of the 16th century, these frames take their name from the Italian architect and sculptor, Jacopo Sansovino, who introduced the style of the High Renaissance into Venice. Sansovino had such a lasting reputation that in the 19th century the term 'Sansovino frames' was used to describe Venetian frames created in an elaborate, early baroque style.

This exhibition will show 30 'Sansovino frames' dating from 1560 to 1590 which have been lent by the Victoria and Albert Museum and private international collections – yet only two will be shown actually framing a painting. The exhibition will enable visitors to realise how frames transform the way we look at paintings, and to appreciate them as artworks in their own right.
CONTACT
For further information please contact the National Gallery Press Office on 020 7747 2865 or press@ng-london.org.uk
Publicity images can be obtained from http://press.ng-london.org.uk