Meet the musicians
Myra Hess and her team kept detailed lists of the musicians who played at the National Gallery concerts. Their records reveal a vast array of performers was involved, ranging from established stars such as Solomon Cutner, a pianist who always drew a large crowd, to comparative unknowns, keen to make their mark.

Royal Air Force musicians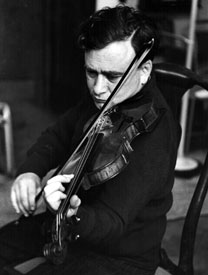 Many musicians were drawn from the Royal Air Force (RAF), which Sir Kenneth Clark, the Gallery's Director, later described as 'our great standby' during the war. Recognising the importance of music to morale at home, the service took an enlightened approach, assigning many talented musicians to its orchestra, based near London.
Among these musicians until his release from the RAF in 1942, was Howard Ferguson, the Irish-born composer, along with the members of the distinguished Griller Quartet, who performed regularly at the National Gallery throughout the war and referred affectionately to Myra Hess as 'auntie'.
All the performers were paid the same flat fee, regardless of talent and experience; an ethos of equality that also prevailed in regard to nationality.
French and German performers
In May 1940, as news reached London of the German advance on the Netherlands, the celebrated German Lieder singer, Elena Gerhardt telephoned Myra Hess to cancel her appearance at the Gallery.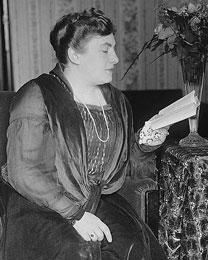 'Myra,' she told her friend, 'I cannot sing today. Nobody will want to hear the German language'. Hess reassured Gerhardt this wasn't the case and offered to accompany her. As the two women walked on stage, Gerhardt was still concerned, when the audience, sensing her nerves, responded with an ovation warm enough to dispel any doubts that music was what mattered.
Years later, Allied victories in Europe brought performers from the newly liberated France. The composer Francis Poulenc and singer Pierre Bernac visited in January 1944, and were followed by the great French violinist, Jacques Thibaud, who took the Gallery stage on 9 March accompanied by Myra Hess.
Concerts reach 750,000 people
In an article about the concerts written after Hess's death, Ferguson, who was Myra's close friend and assistant, noted the number of performers who had been involved. A total of 1,698 concerts had been given to a combined audience of more than 750,000 people. 
The group of musicians who took part comprised 238 pianists, 236 string players, 64 wind players, 157 singers, 24 string quartets and 56 ensembles, as well as 13 orchestras, 15 choirs and 24 conductors.
Next: The end of the concerts