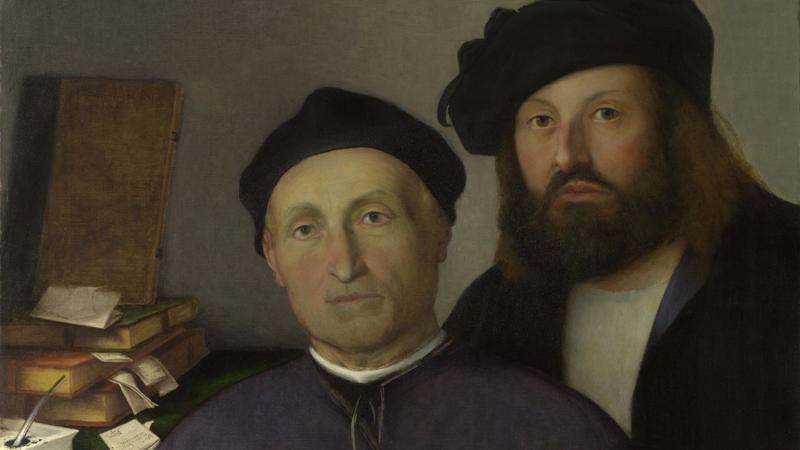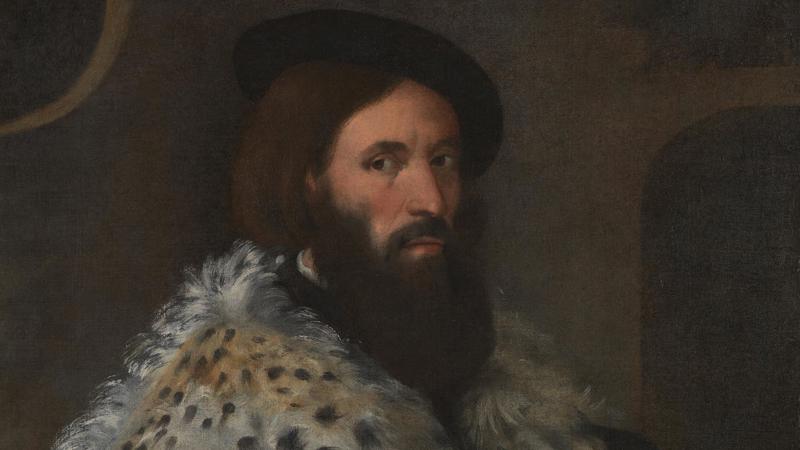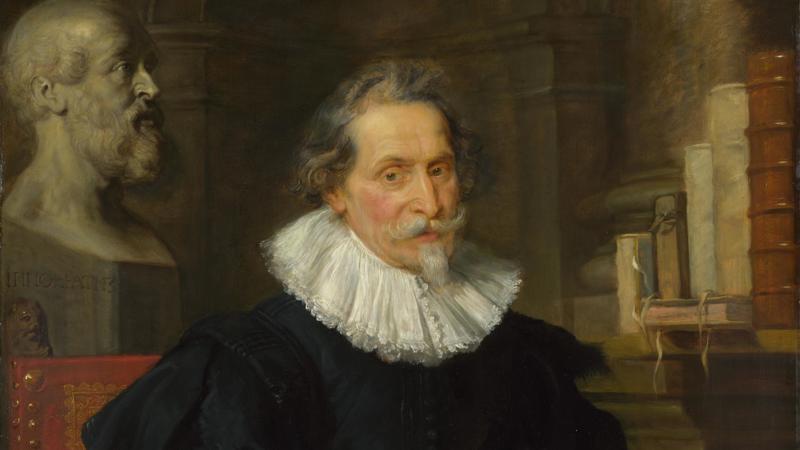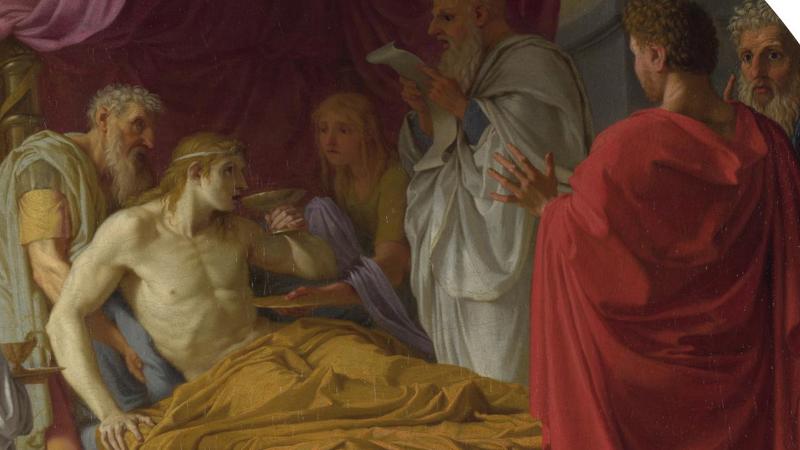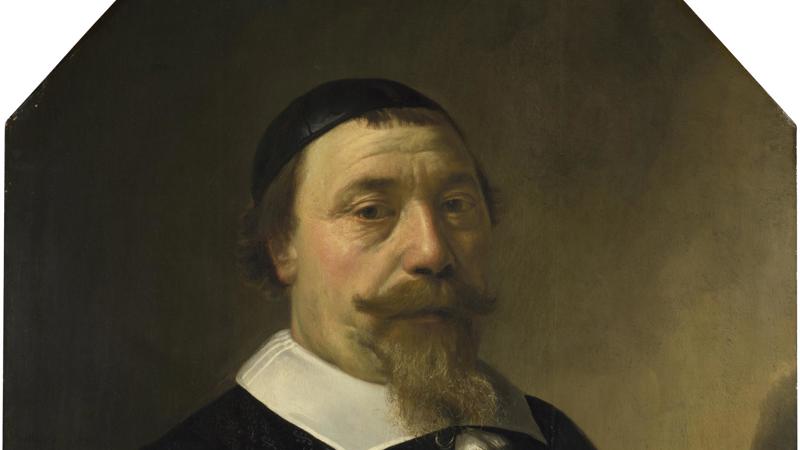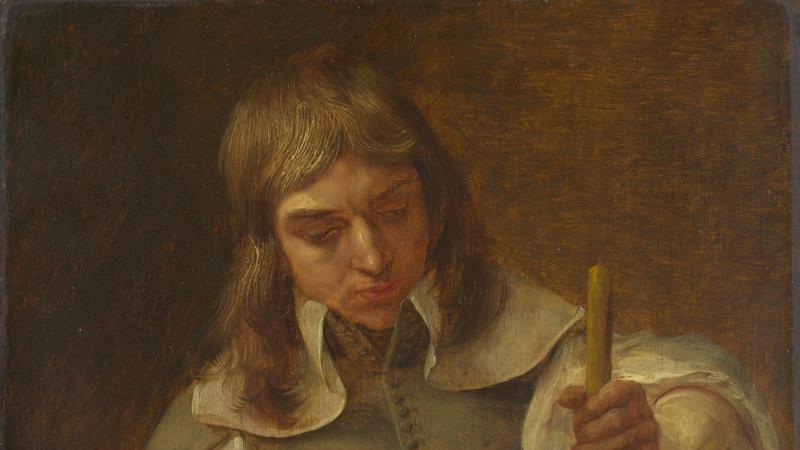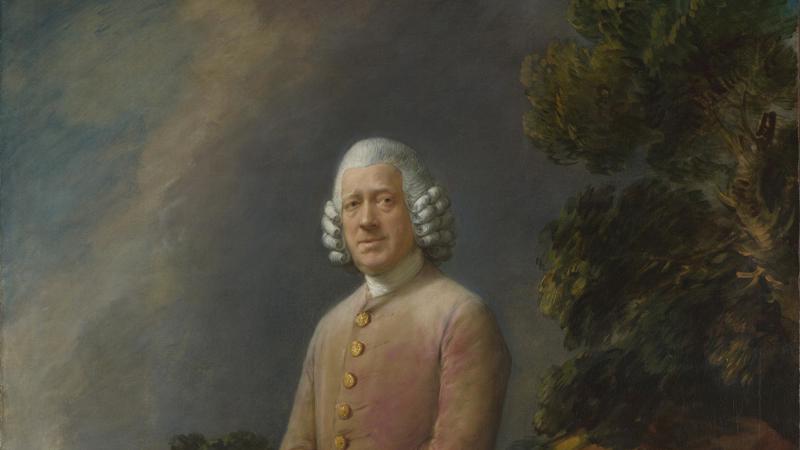 A fish and an angel
We kick off our look at medicine-related paintings with an unusual cure for blindness.
In a story taken from the biblical book of Tobit, Tobias is jauntily making his way to pay a debt for his blind father when he is joined by the archangel Raphael. 
Intriguingly, Tobias holds a beautifully painted fish. Elegant Raphael holds a small container with the fish's intestines – a cure for blindness according to the angel.
Tobias puts this to good use on his return to his father.
Zoom into the painting's details. A possibility; did Leonardo paint the fish and the little dog?
Selflessness
Continuing the biblical theme is this fragment from the Liesborn altarpiece – a fragment because the altarpiece was split up into sections.
This fragment is from the central section, the Crucifixion. A bit of detective work reveals that the fluttering cloth and right knee belong to Jesus, and so here we have Mary at the foot of the cross with the brothers, Saints Cosmas and Damian.
Their ointment jars are the medical giveaway; legend has it that they cured many people at no cost.
Modern medicine 1515
Moving swiftly along to the 16th century, we enter the academic world of Italy's university cities of Bergamo and Padua with this slightly lop-sided double-portrait of Giovanni Agostino della Torre and his son, Nicolò.
One of the most celebrated portrait painters of the Renaissance, Lotto's portraits stand out for their psychological depth. There's a thoughtfulness behind the distinguished doctor, Giovanni's, face.
There's also a poignancy about this painting; is Nicolò's rather awkward inclusion down to the fact that Lotto may have added him to the portrait on Giovanni's death?
A Venetian mastermind
This painting was attributed to Titian relatively recently; once restoration treatment had removed the layers of dark varnish that hid the detail.
Fracastoro was not only a medical doctor but was also a well-known astronomer, mathematician and poet.
He proposed the theory of contagion in the 1546 work 'De Contagione' which explains how and why plague was spread.
Titian may have had to paint this busy man quickly when he could pin him down. The lynx collar reminds us of Titian's brilliance at capturing the texture – as with his cheetahs in Bacchus and Ariadne.
The respected scholar
Here Rubens give us a direct reference to the intellect of his friend, the doctor Ludovicus Nonnius.
As with Lotto's portrait of della Torre, the medical and scholastic paraphernalia are a clue to the sitter's profession.
Rubens includes props such as a bust of Hippocrates, the Ancient Greek founder of medicine, and reference books.
He freezes the action as if Nonnius is discussing a passage from the book he holds; most likely his text, 'Diaeteticon sive de recibaria', 'Libri IV'.
In the book he argues for the importance of diet, his research based on the eating habits of the ancient Romans.
A hero's hero
Despite moving to the mid-17th century, here we have a chronological hiccup; a scene showing one of ancient history's most revered figures, Alexander the Great.
Looking far from well, he lies on a bed drinking medicine given to him by his doctor, Philip.
Philip has been accused of treachery against Alexander in a letter, which he is reading aloud.
Is he guilty? Hands raised in horror, eyes widened, their companions wait to discover the truth. Alexander, who recovers, looks up at Philip to acknowledge his innocence and loyalty.
A rare close-up
Aelbert Cuyp's claim to fame is his landscapes but he also painted a small number of portraits, and we're lucky to have this rare example.
Cornelis van Someren (1593–1649), was a prominent Dordrecht doctor who was 56-years-old in 1649, the age and date inscribed on the picture.
Cuyp goes into wonderful detail; painting Someren's slightly pink cheeks and the few grey hairs in his fashionably upturned moustache and beard.
Looking back at the past
One of the great joys of art history is the insight it can provide into our social history.The comparison with how we do things today is fascinating; some stay the same, while some things are vastly different.
The five senses was a common theme for painting in the Low Countries in the 17th century. 
Here, 'touch' is depicted as a man with his sleeve rolled back (bravely?) letting blood from his own arm, a procedure which they thought helped cure or prevent some medical conditions.
Blood was probably associated with the sense of touch because, like feeling, it permeates the whole body. 
A fashionable gentleman
In 1759 the fabulously fashionable portrait-painter Gainsborough moved to the equally fashionable spa town of Bath, where he set up a very successful practice.
During the 15 years he spent there, he painted this portrait of Dr Ralph Schomberg, aged about 56.
Gainsborough consulted various doctors in Bath, both for his own illnesses and his elder daughter, Mary's, recurring mental instability.
Ralph Schomberg was the eldest son of the German Jewish doctor Meyer Löw Schomberg; one of the most successful physicians in London.