French
'Portrait of a Man (Victor Considérant?)', after 1830
Oil on canvas, 28.5 x 22 cm
NG3686
Some paintings pose particularly difficult questions. This small portrait, rejected as a work by Eugène Delacroix, has yet to find a convincing attribution. The identification of the sitter is also in doubt, so what can researchers discover about this painting?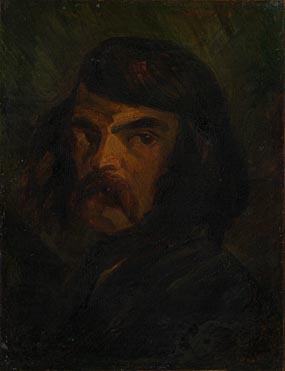 This modest sketch was presented to the Tate Gallery in 1922 by the painter Walter Sickert as a work by Eugène Delacroix. Just one year after the painting was transferred to the National Gallery in 1956, curator Martin Davies questioned the attribution to Delacroix and the painting was subsequently categorised as simply 'French School'. Recently, however, a suggestion was made that this might be a painting by Sickert himself, and an investigation was launched.
Who is the sitter?
By tradition the sitter is identified as Victor Considérant (1808–1893), a French Utopian socialist who in 1855 founded a Utopian colony near Dallas, Texas. Delacroix is alleged to have met Considérant at a costume ball given by the writer Alexandre Dumas in Paris in 1833. Documented portraits of Considérant show a man with flowing hair and a distinctively luxurious drooping moustache. These traits also feature in the National Gallery's portrait, but otherwise the likeness bears little resemblance to portraits of the French social reformer.
Delacroix or Sickert?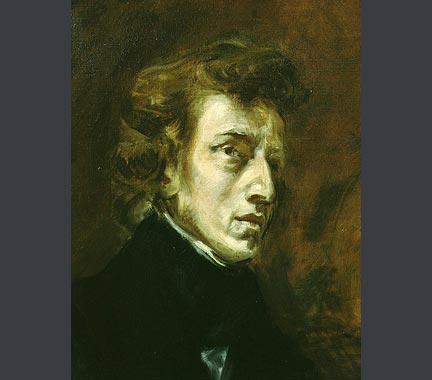 Moreover, the painting only superficially resembles the informal portrait sketches painted by Delacroix in the 1830s. While Delacroix's vivid oil sketches capture the lively personalities of his sitters, the heavy strokes of paint in the Gallery work seem rather laboured. The painter apparently had some difficulty in rendering the far side of the subject's face, deep in shadow; his right eye is especially ill-proportioned, flat and opaque.
During the mid-1890s, Sickert painted a series of small portrait heads – remarkably bold and direct likenesses defined by a sombre palette and swift, angular brushstrokes. Once again, however, the vigorous quality of these sketches bears little resemblance to the National Gallery's 'Portrait of a Man'.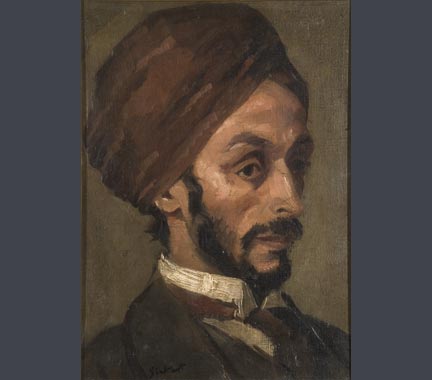 Still, as it was considered remotely possible that Sickert, described by contemporaries as 'chameleon-like' and a notorious practical joker, painted the sketch as an exercise in the manner of Delacroix, further research into the history of the painting was undertaken. 
Early history
The history of the 'Portrait of a Man' can be traced back just a few years before it was given to the Tate. In January 1920 the painting had been exhibited as a portrait by Delacroix of Considérant at the Eldar Gallery in London, but there is no record as to where the gallery might have obtained the work. Sickert had a continuing relationship with the Eldar Gallery: he was friends with the owners and had held a one-man show there in February 1919.
Could Sickert have deposited one of his own paintings – passing as a work by Delacroix – with the Eldar Gallery for them to sell on? Intriguing as this suggestion may be, it is more plausible that Sickert simply acquired the painting from the Eldar Gallery either by purchase or in exchange for his own work.
Scientific analysis
Unfortunately scientific analysis of the materials and techniques used to fabricate the 'Portrait of a Man' is of little use in determining whether it might have been painted in the 1830s or the 1890s (or anytime in between), or who might have painted it. Nor is there anything uniquely distinctive about Sickert's working practice that would confirm his having made it.
For the moment at least, the painting will continue to be catalogued simply as French School, 'Portrait of a Man' – a reminder that while scientific investigation can eliminate certain attributions as being impossible based on scientific fact, it cannot establish a positive relationship between a painting and a particular artist.
Postscript
Dr Wendy Baron, a leading expert on Sickert's work, has recently furnished information which indicates that Sickert had no hand in painting the 'Portrait of a Man'. In the autumn of 1906, Sickert wrote several letters from Paris to his friend, the artist William Rothenstein, who was then working as a dealer in a London gallery.
To earn some money, Sickert scouted for pictures which might be sold in London at a profit – among them a painting he described as 'a magnificent head of Victor Considérant by Delacroix'. Unfortunately Sickert seems not to have been a great connoisseur and all of his 'finds' remained unsold. The painting evidently remained in his possession until given to the Gallery in 1922.
Updated 10 August
Marjorie E. Wieseman is Curator of Dutch paintings at National Gallery. This material was published on 30 June 2010 to coincide with the exhibition Close Examination: Fakes, Mistakes and Discoveries.