Subject
In 1825 Corot arrived in Italy for his first and what was to be his longest trip, returning to France in 1828.13   He was accompanied by a fellow student from Bertin's atelier, Johan Karl Baehr (1801–1869), who later became a Professor of the Academy at Dresden.14   They arrived in Rome in November 1825, and in May 1826 made their first trip into the countryside, visiting Civita Castellana to the north of the city.
Corot spent most of the time from May to October in the countryside north of Rome, and then in November made a trip south to the Castelli Romani. He remained in Rome during the winter, working on pictures for the Salon. In April 1827 he travelled to Olevano, south-east of Tivoli, and from May to July he was in the Castelli Romani. In late July and August he was in Subiaco and Olevano, and in September and October he was back north of the city. Again he spent the winter in Rome, and in February 1828 visited Naples.
The Claudian Aqueduct was one of two aqueducts begun by Gaius Caesar in AD 38, and completed by Claudius in AD 52. The one which bears Claudius's name was supplied with water from the Caerulean and Curtian springs, which also fed the Acqua Marcia. In Corot's time the remains of the aqueduct were visible just five kilometres out of Rome on the Via Appia Nuova.
The exact spot where Corot stood to paint this view has been identified: three kilometres from the Porta San Sebastiano, near to the Via Appia Pignatelli and a few metres from the church of Sant'Urbano.15  The Tor Fiscale, visible right at the centre, was a medieval defence tower, its 17th-century name derived from an official of the Papal Treasury. It was erected at the intersection of the crossing of the Acqua Claudia over the Acqua Marcia.16 
Behind the Claudian Aqueduct and to the right and the left of the tower is the Acqua Felice, an aqueduct constructed by Pope Sixtus V in 1585 on the ruins of the Acqua Marcia. On the right are the Alban hills, on the left the Monti Prenestini. In the middle-ground, behind the trees, flows the River Almone, which crosses on the right a path, now the Via dell'Almo, which rejoins the Via Appia Nuova.

Corot depicted the Claudian Aqueduct in a number of views, including 'Aqueduct in the Roman Campagna '(R74) (Philadelphia Museum of Art; fig. 3), in which the Via Appia Nuova can be seen17 and 'Aqueducts in the Roman Campagna', dated December 1825 (R96, location unknown)18.  Another work, 'A View of the Roman Campagna and the Claudian Aqueduct towards Monte Caro', signed and dated Corot\Rome 1826, is painted on canvas, which together with its larger size (29.2 x 51.4 cm), suggests that it was painted in the studio.19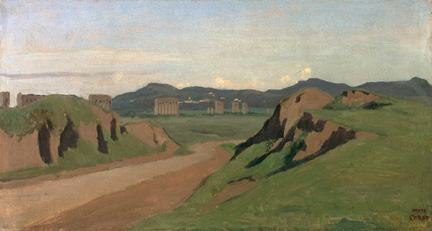 Robaut dates both R74 and NG 3285 to 1826 to1828, suggesting that they could have been painted at any time during Corot's stay. Galassi writes that Corot tended to start with a preparatory drawing directly on the paper, which enabled him to establish the composition before beginning to paint. His analysis of Corot's method at this period describes perfectly the technique of NG 3285: 'As he filled in the outlines with paint, the drawing disappeared. The result was a taut mosaic of interlocking blocks of colour, each treated as a single touch, or patch of touches, of the brush.'20 
In the case of NG 3285, unaware of the underdrawing, Galassi concludes that it was probably painted in the spring of 1826, that is, early on in Corot's Italian stay, on the grounds that the composition shows signs of experimentation. There are certainly awkward passages, such as the right-hand side: 'The hillock and bush on the right have congealed into a dense mass, which stands up vertically to merge with the undulating line of the distant mountain range. Notice also the strange, bulbous shape of the shadow.'21  
Despite the fact that the infra-red has revealed underdrawing, Galassi's theory that the painting dates from early in Corot's stay is probably correct and a dating of spring 1826 seems plausible for NG 3285, taking into consideration its fresh and sunny atmosphere.22