Sandro Botticelli (about 1445–1510)
'Three Miracles of Saint Zenobius', about 1500
Tempera on wood, 64.8 x 139.7 cm
NG3919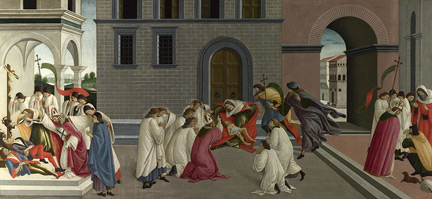 Botticelli's painting 'Three Miracles of Saint Zenobius' is the second in a set of four panels, which together provide a visual biography of the Florentine bishop Saint Zenobius. The first picture is also in the National Gallery (fig. 1), while the third and fourth are in the Metropolitan Museum in New York and the Gemäldegalerie in Dresden (figs. 2 and 3). The priest and theologian Clemente Mazza wrote a vernacular biography of the saint in 1475 (printed in 1487), from which Botticelli took his episodic structure, sequence of events, and the emotional tenor of the narrative.1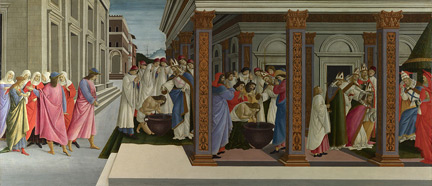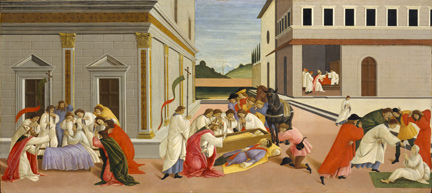 The first miracle, on the left of this second panel, shows Saint Zenobius exorcising two young men who had beaten their mother and who, after being cursed by her, began to devour their own flesh. Having told her to believe in Jesus, who alone could save her sons, Zenobius prayed for several hours before a Crucifix in the church of San Salvatore, rising to make the sign of the cross over the youths, and to chase the demons from their bodies.2 Rather than depicting a church interior, Botticelli took his cue from the Crucifix, a key protagonist in this miracle, and designed an outdoor shrine around it.
Locating the miracle
In the centre of the panel Zenobius resuscitates a French woman's son, who had been left in the saint's charge during his mother's pilgrimage to Rome but had died just before her return. This was a favourite Florentine miracle, already portrayed by Ghiberti and Domenico Veneziano. Here Botticelli locates the miracle in a piazza in front of a palace flanked by an unusually deep, unadorned archway to the right and the high door of a church at right angles to it. The archway is most probably intended as a reference to the Volta di San Pietro, which still survives in the north-east corner of the Piazza San Pier Maggiore. Mazza described Zenobius walking 'in procession from the church of San Pier Maggiore' when he encountered the mother carrying her dead child in Borgo degli Albizzi.3 Botticelli probably chose to represent the piazza because it was more suited to the depiction of three miracles than a narrow street would be.
The third miracle takes place in front of a high, foreshortened door, which must be the church door described as the place where Zenobius encountered a blind man who sat there begging every day. This door was not identified in Mazza's 'Life', but Botticelli shows it as though it were the entrance to San Pier Maggiore, at right angles to the archway.4
Urban drama
The life cycles of saints were familiar to Italian viewers in the form of frescoed chapels, but this series of paintings translated hagiography into the format of 'spalliere' – wooden panelling usually built into domestic interiors. Botticelli maintains the same scale, proportional relationships and palette throughout the four panels, and also creates a rhythmic flow, moving from episode to episode. These visual and narrative connections are largely achieved by the unifying architectural settings. The long horizontal format of the 'spalliera' promoted a panoramic approach to spatial design. Botticelli used this to construct a series of urban scenarios which together result in an idealised type of painted town planning. Whereas the real streets of Florence were often narrow, dark, and filled with earlier medieval buildings, these painted spaces are wide, rectilinear and light, flanked by grand, apparently new and sometimes architecturally audacious structures.
The architectural composition of 'Three Miracles of Saint Zenobius' is based on a stage-like setting of three distinct building types: the open white arches of a ground-floor oratory or corner shrine, the grey plastered façade of a family palace (with fictive 'sgraffito' stonework, and real 'pietra serena' detailing of doors and windows), and a deep barrel-vaulted archway leading from the piazza into the next city neighbourhood. Its theatrical character is underlined by the way in which each building is elevated on its own podium, and is deployed to frame a scene in the life of Zenobius.
Two hypotheses have been proposed for the patrons of these four paintings. They may have been made for the marriage chamber of a member of the Girolami family, who were supposedly direct descendants of Saint Zenobius and continued to play a role in his cult.5 It is worth noting, however, that the places in these panels do not apparently relate to the surroundings of the Girolami residences clustered around the Church of Santo Stefano.6 Nor do their coats of arms or emblems appear. The other possibility is that they were commissioned by a confraternity devoted to Saint Zenobius for their meeting rooms or oratory, perhaps for a youth group such as the 'Compagnia della Purificazione e di San Zanobi'.7 In support of this argument, it is remarkable how the panels are dominated by young men in white surplices like those worn by choirs or members of 'laudesi' confraternities, while the sequence and composition of the figure groups moving through the city seem inspired by eccelsiastical processions.8
Amanda Lillie

Selected literature  
Mazza 1487; Horne 1980, pp. 308–14; Davies 1961, pp. 108–10; Lightbown 1978, vol. I, pp. 145–6, vol. II, pp. 106–7; Christiansen 1983; Callmann 1984, pp. 492–6; Lightbown 1989, pp. 269–79; Barriault 1994, pp. 83, 153–4; Cole Ahl 2000, pp. 46–73; Florence and Paris 2003–4, pp. 18, 40, 43–4; Bastian Eclercy in Frankfurt 2010, cat. no. 62–5, pp. 308–21; Florence 2013.
This material was published in April 2014 to coincide with the National Gallery exhibition 'Building the Picture: Architecture in Italian Renaissance Painting'.
To cite this essay we suggest using
Amanda Lillie, 'Sandro Botticelli, Three Miracles of Saint Zenobius' published online 2014, in 'Building the Picture: Architecture in Italian Renaissance Painting', The National Gallery, London, http://www.nationalgallery.org.uk/research/research-resources/exhibition-catalogues/building-the-picture/place-making/botticelli-miracles-of-saint-zenobius