Cleaning of the marbled decoration on the reverse involved no more than the removal of a thick coating of wax (applied probably at some time in the last century) and a great deal of embedded grey dirt. The surface underneath was found to be rich and glossy, and with no need for a new varnish. It is exceptionally well preserved.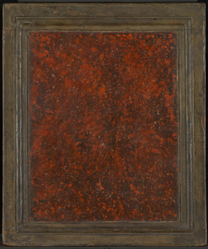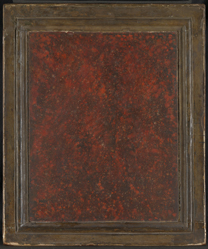 Although the pattern does not resemble that of any known marble, the illusion of polished stone is remarkable. It has been achieved by a complex technique.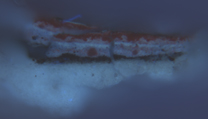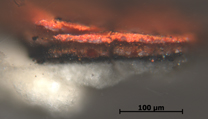 Over a white chalk ground, similar in appearance in the cross-section to that on the front (although the paint surface is notably less cracked), is a layer of black pigment. It is probably a carbon black as in the black background of the portrait.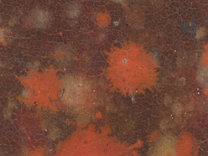 Paint spatters
Paint was then spattered over the black. First of all a porphyry colour was used, mixed from red lake, vermilion, chalk (more translucent than the usual lead white) and a little black, as in the cross-section. This was followed by scattered spots of a greyish white and finally the brilliant red of vermilion.
FTIR analysis of the binding medium of the spatters indicates that it contains a protein, either glue, egg or possibly casein. This is not surprising as oil paint is too thick and sticky for effective spattering. When Italian painters such as Mantegna executed spattered marbling using an egg medium, craters and air bubbles from the foaming paint are usually visible under magnification.1 The absence of such craters here suggests that a glue medium may have been used.
Translucent layer
Between the porphyry-coloured and vermilion layers in the cross-section there is a translucent layer of unpigmented material which fluoresces strongly under ultraviolet. This intermediate application of varnish or oil medium contributes to the sense of depth in the layers of spattered paint.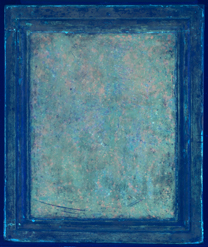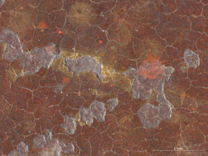 Surface coating
Analysis of the smooth glossy surface coating indicates that it contains mainly heat-bodied linseed oil (the medium of the portrait itself) with a small amount of pine resin and other minor components, yet to be identified. It is slightly discoloured and clearly very old, having developed its own network of cracks.
The ultraviolet image confirms that it is interrupted only in the areas where there are small scratches and flake losses, which show as black. Varnish recipes from the 15th century indicate that they were based on resins dissolved in drying oils rather than the volatile solvents of more modern varnishes. It seems likely, therefore, that this is Van Eyck's original surface coating.