The National Gallery Podcast
Episode 86
Edmund de Waal gets out the family photo album, Rembrandt falls in love, and the Magi get a makeover.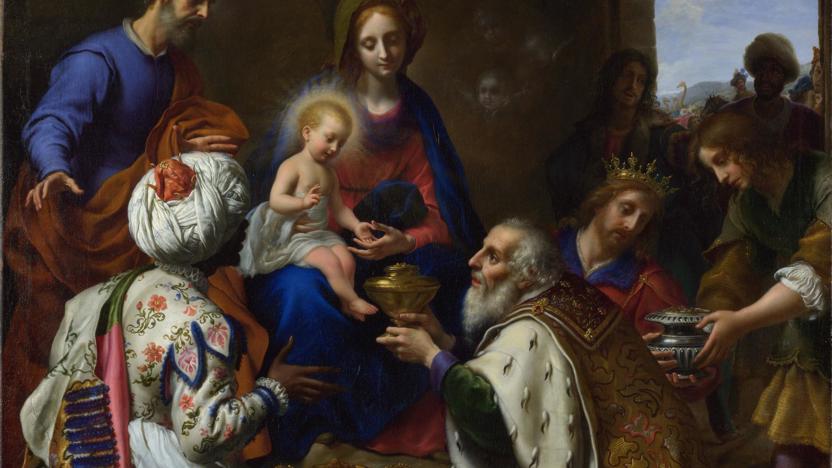 Read transcript
MIRANDA HINKLEY (in the studio): This is the National Gallery Podcast and I'm Miranda Hinkley.
We start in an unabashedly Christmas-y vein with 'The Adoration of the Kings' as painted by the Italian artist, Carlo Dolci. His works were in huge demand during his life-time. But his modest output meant he was largely forgotten after his death in the late 17th century.
This painting – one of his largest – didn't enter the National Gallery's collection until 1990. But since its arrival it's been much appreciated by the public for its gorgeous colours and textures – and as a perfect Christmas card image. Ethereal cherubim float over the head of the Virgin and child, who occupy the middle of the painting surrounded by the three kings and their gifts. Curator Jenny Sliwka told Cathy FitzGerald what fascinates her about the work:
JENNY SLIWKA: I'm sort of interested in the tradition of representing the three Magi because if you go back to the gospel story, Matthew talks about the Magi coming from the east to visit the Christ child and curiously in the biblical account there's no mention of how many Magi there are and they're not described as kings at all. That's something that comes much later. So in really early representations, they're actually described as Persian astrologers and this is something that Western Christianity took up and transformed and it's only after Tertullian describes them as kings that now we have this tradition… we see the kings arriving to pay homage to the young child who will become the king of kings.
CATHY FITZGERALD: And they're very beautifully dressed, aren't they?
JENNY SLIWKA: Exquisite. I mean any artist who paints this subject, the adoration of the kings, it becomes a sort of bravura showcase because they get to elaborate and imagine what kings of this period might wear and they get to describe what exotic animals might accompany this retinue. But I think Dolci in particular, being a tailor's son, he goes on a sort of wild tour de force in his description of all of these golden textiles. And the description of different kinds of materials, so you go from shiny hard gold to soft fur and velvety turban and you do actually dangerously want to reach out and touch. We won't let you, but it does have that sort of appeal, I think.
CATHY FITZGERALD: We have a self-portrait of the artist as well, don't we?
JENNY SLIWKA: Yes, he's sort of tucked away in the corner… if you look at the centre of the picture and move your eye all the way to the right-hand side you'll see a truncated figure, sort of a half-face staring out at you.
CATHY FITZGERALD: Just behind the man with the…
JENNY SLIWKA: The turbaned man, yes. He's still slightly in shade as well, so this is not a figure who jumps out at you, you need to spend time to look and you'll notice that he's actually looking out at you. And Dolci was a deeply spiritual man and I think he has some sort of personal affinity to this painting. And that personal affinity is actually confirmed by something that we can't see here today… but if I could turn this painting round and show you the back, Dolci actually signs his name and his age, which is 33, and it seems to me that this is a very specific reference, a sort of affinity, that he had with the figure of Christ. Christ of course died on the cross at the age of 33, and I think that has some very personal resonance for him.
CATHY FITZGERALD: Do you think this picture gets more popular at this time of year?
JENNY SLIWKA: Certainly. Actually I've been noticing since the weather got colder in this gallery there's a lot more people gathering around this picture and I think it strikes people in a different way. Something about the colouring and the tonalities and dark winter light – it seems to make more sense in some ways.
MIRANDA HINKLEY (in the studio): Jenny Sliwka talking about Dolci's 'Adoration of the Kings', which you can find in Room 32… and on some of this year's National Gallery Christmas cards. If you haven't bought yours yet, see www.nationalgallery.co.uk, where you can find a range of decorations and gift ideas.
MIRANDA HINKLEY (in the studio): And now to our exhibition Facing the Modern: The Portrait in Vienna 1900 . Celebrating the great diversity of portraiture in turn of the century Vienna, this show brings together works by Klimt, Schiele and other greats. But among the many grand portraits in oils there's one, rather more humble object – a small, cardboard-bound photograph album. It was discovered tucked into a plastic bag full of family documents by the ceramicist and author Edmund de Waal when he was researching his book 'The Hare with the Amber Eyes.' Made in the early years of the 20th century, the album records a lavish weekend party at which Edmund's then youthful great-grandmother, Emmy, and her cousins, dressed up as figures from Old Master paintings. Emmy's inspiration was Titian's famous portrait of the Renaissance noblewoman Isabella d'Este, as Edmund explained to Leah Kharibian.
EDMUND DE WAAL: Yes, there she is. Emmy von Ephrussi, my great grandmother, looking I have to say, very self-possessed as Isabelle d'Este, which actually rather fits with her character. She was very, very fond of dressing up and here she is in an extraordinary complicated costume with a great fur drape across her and great velvet puff sleeves and the headdress looking exactly like Titian's painting and great pearl… huge pearl earrings… pearl drops going from her ears and she's looking straight out at us, with her hair perfectly done. It's 1904 and the question is what are these women doing? What are these young women doing in Vienna dressing up like this?
They're all Jewish. These are all my great grandmother's cousins – these are all young Jewish women – and what they're doing, I'm sure of this, I'm convinced of this – in their dressing up is a kind of assimilation. It's a kind of claiming of a place within Viennese society, saying we're not nouveau riche, arriviste Jewish rivals from Odessa, from Galicia, from Ukraine, from the Levant, we are good European, Viennese girls. And how do you do that? You dress up as someone in the Kunsthistorisches Museum. You choose your favourite painting which is hanging in that incredible art palace and you become a proper Viennese citizen – you assimilate by being an old master painting.
LEAH KHARIBIAN: And painted portraits – however one looks at them – they almost have implicit a do not touch sign attached to them. Whereas a photographic album is an entirely different beast – it's something to be held, it's something to be opened and talked over. Is that something that's important to you?
EDMUND DE WAAL: Yes, part of what of course is so significant for me is this idea of the tangible past – of being able to reach into the past, hold it in your hands and let it come alive. It's this telling of stories about where you are, who you are, who you're related to, who your friends are, who is in your circle and it's very, very, very immediate.
LEAH KHARIBIAN: And it's something that all of us, I think, can relate to, because of course while we don't have Makart's or Schiele's or Klimt's on our wall, we all have a photographic album, a family album, and I was wondering – I suppose this holiday is a good time to get the album out and to share stories about them.
EDMUND DE WAAL: That's how you start storytelling, isn't it – you get out something and you pass it to someone else and immediately you're in that extraordinary world of anecdote and storytelling and remembrance and things come alive and you know, here we are – as you say, it's a grand exhibition, it's full of extraordinarily powerful and complex images of people but in this very small modest thing you've got young women – I mean, how old are they? Nineteen, twenty years old – who've spent a weekend together dressing up [laughs]. And you can just hear the amount of noise they must have made.
MIRANDA HINKLEY (in the studio): Thanks to Edmund de Waal. Facing the Modern: the Portrait in Vienna 1900 is sponsored by Credit Suisse and runs until the 12th of January. Tickets can be purchased from the Gallery or online with a booking fee at www.nationalgallery.org.uk.
MIRANDA HINKLEY (in the studio): 'Saskia van Uylenburgh in Arcadian Costume' shows a plump woman in a cream and green gown, holding an armful of flowers and a staff decorated with foliage. This is Rembrandt's first wife, Saskia, and as the painting's title suggests, she's dressed in theatrical fashion. Art-historian Karly Allen took Cathy FitzGerald to meet her.
KARLY ALLEN: She doesn't quite meet our gaze – she looks away from us… quite a searching sort of expression. She has a circlet of leaves and flowers around her hair and her clothes are very low-cut, so she has this quite raunchy bust, that's being shown, which immediately tells us that this is definitely a woman in fanciful dress. It looks as if she might be pregnant – she looks very full-bodied. Is she supposed to be a goddess, perhaps the Roman goddess of spring and flowers, Flora? Is she just a simple shepherdess? We can perhaps imagine it's a combination of themes.
CATHY FITZGERALD: And what stage is Rembrandt at in his life when he paints this?
KARLY ALLEN: We're fairly secure in thinking it was made in 1635, so within those first years after Rembrandt arrives in Amsterdam – this is where he's going to really make his name, so he's a young artist… he's receiving a lot of portrait commissions through the art-dealer, Hendrick van Uylenbergh, and this becomes really crucial because it's through Hendrick van Uylenbergh's gallery that he meets – we can assume – Hendrick's cousin, Saskia. So this is the early years of Rembrandt's life as an artist and as a husband – he's just married Saskia the year before. So when we look back at this picture, perhaps that's what we see – we see him showing the woman he loves, the woman closest to him, full of life and also if this is 1635 then by the end of the year we know that she gives birth to their first child – so being pregnant myself at the moment, I'll be lucky if I get a snapshot of me in the background to record this important moment, but they had these lengthy hours together and it does feel like a celebration of that.
CATHY FITZGERALD: And in a way this is a trailer for a lot more Rembrandt that's coming next year at the Gallery.
KARLY ALLEN: Yes, this painting is a great example of Rembrandt's technique at the beginning of his career, but this time next year, autumn 2014, the Gallery's going to be focusing on Rembrandt's technique and subjects from his final years bringing together important works from collections worldwide in a landmark exhibition.
MIRANDA HINKLEY (in the studio): Karly Allen talking about 'Saskia van Uylenburgh' by Rembrandt, in Room 24. And the exhibition she mentioned – Rembrandt: The Final Years – will open at the Gallery next October.
That's it for this month. You can see the National Gallery's collection online at www.nationalgallery.org.uk or if you're in London this month, come visit: we're open 10 til 6 daily and til 9 on Fridays… with the exception of the 24th to the 26th December and the 1st January, when the Gallery will be closed.
Season's greetings – and till next year, goodbye!