Episode 80
The National Gallery Podcast
Vermeer… the musical? Discover the links between music and Dutch art. Plus Gainsborough's technique and masterpieces from the Barber Institute.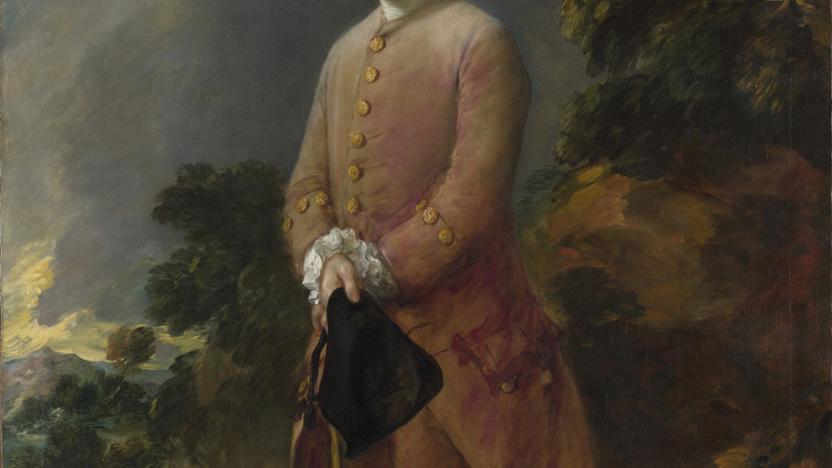 Read transcript
Miranda Hinkley (in the studio): This is the National Gallery Podcast and I'm Miranda Hinkley.
We start this month with our major new exhibition, 'Vermeer and Music: The Art of Love and Leisure'. Opening in just a few weeks time, this show of Dutch 17th-century treasures is set to be one of the great delights of summer at the National Gallery – and not just because it features a rare gathering of works by the great Johannes Vermeer. Leah Kharibian met the curator Betsy Wieseman to find out more.
Leah Kharibian: Betsy, we're here before the exhibition opens and it does seem to me that sometimes fortune really does smile on curators. There were some very special circumstances that came together to bring this show about and I was just wondering if you could tell us what happened?
Betsy Wieseman: One event that started the idea for the exhibition was when English Heritage approached us to see if we might like having Vermeer's painting, 'The Guitar Player', on loan at the National Gallery, while Kenwood House was closed for repairs. I can't imagine a better thing to happen.
What I then really quickly realised was that 'The Guitar Player' was exactly the same size and very similar in format to our two paintings by Vermeer, 'A Young Woman standing at a Virginal' and 'A Young Woman seated at a Virginal'. And the three of them together made such a beautiful trio, if you will, of musical scenes by Vermeer that I thought – this would make a lovely exhibition… I'd really like to take advantage of this event, of having the Kenwood House picture on loan and make something special from it.
Leah Kharibian: And so what happened next? Because you've got these three Vermeers, and Vermeers it has to be said are extremely rare… there are only – what – something like 36 known to have ever been produced in his lifetime, or that have survived. What did you do next… what happened?
Betsy Wieseman: Well, I realised that there are about two-dozen other paintings, Dutch paintings of the 17th century, with musical subjects in our collection alone and they're actually some of my favourite paintings in the collection. So I started to look a little more deeply at the paintings themselves… learning about the music and the musical scenes that were depicted and I thought this is a great exhibition as it is, but if I was able to add musical instruments of the period similar to what we see in the paintings and maybe some of those beautiful Dutch songbooks of the 17th century, that would be fantastic.
Leah Kharibian: Now that's exactly what you did. You've got some amazing instruments… I mean a guitar that is the spitting image really of the guitar that's in Vermeer's 'Guitar Player' and a wonderful viol, very much like the viol that we see in 'A Young Woman seated at a Virginal', but you didn't even stop there… there's another dimension to all of this. Could you tell me about that?
Betsy Wieseman: One thing I wanted to do was to be able to give visitors a sense of the musical world that we see depicted in these 17th-century paintings. One thing that people don't realise is there were no big public concerts as we know them today. In the 17th century most of the music took place in the home… small, intimate domestic settings… and I wanted to be able to recreate that sense of an intimate, musical experience for visitors to the exhibitions. So it was very important to me that we try and incorporate live music in some way.
Leah Kharibian: As I understand it, you're going to have performers from the Academy of Ancient Music actually performing on certain days inside the exhibition itself. Do you think that thing of having music, live music playing, while people are able to look at art, will that actually recreate something that we've lost by having the pictures in an art gallery?
Betsy Wieseman: I think that the original 17th-century owners of these paintings would have had music in their own homes. So I hope that by combining all of these elements people will just be able to immerse themselves and perhaps feel like they can disappear into that beautiful, serene world that Vermeer creates in his paintings.
Miranda Hinkley (in the studio): Thanks to Betsy Wieseman. 'Vermeer and Music: The Art of Love and Leisure' opens on 26 of June. Tickets are available from the Gallery or online with a booking fee at www.nationalgallery.org.uk
Miranda Hinkley (in the studio): Next… to a great portrait painter. Born in Suffolk, the son of a wool manufacturer, Thomas Gainsborough trained in London before moving to Bath in 1759.
Anyone who was anyone flocked to this fashionable spa in the 18th-century, which meant many customers for the young portrait painter, whose fame steadily grew. One picture from the period is now in the National Gallery's collection … a painting of a rather distinguished gentleman by the name of Dr Ralph Schomberg. Unlike most of Gainsborough's clients, Schomberg didn't pay for his portrait. Cathy FitzGerald asked art historian James Heard to explain why...
James Heard: The story is that Gainsborough had two daughters – one of them it seems was not very well… he approached various doctors in Bath and they couldn't deal with the situation and finally he asked Dr Schomberg, who seemed to have actually cured her – perhaps temporarily – but he cured her… and so Gainsborough painted this portrait in lieu of doctor's fees. And when you consider that Gainsborough at this time charged a hundred guineas… you know, that's a pretty good fee for a doctor.
Cathy FitzGerald: And we know from letters and diaries of Gainsborough's friends that as an artist he had some quite idiosyncratic techniques when he was portrait painting, don't we?
James Heard: Gainsborough really thought about the whole process. For instance, he was not very interested in a particular kind of pose… he would sit you down or stand you and he would observe you, but with the curtains drawn. He liked to see you in the dark – almost the dark – and then gradually as the painting progressed, so he would open the curtains and put in more and more of the detail, so this is a kind of tonal approach… just of patterns of light and dark. He often used candlelight. And what he would do is once he'd just roughed out where the face would be in some brown paint, no doubt, he would then move it… move the whole canvas so the head is as close to the real head as possible and so he could compare them.
Cathy FitzGerald: So he was aiming for realism above all?
James Heard: Absolutely and he was very gifted at that. I think his only problem was sometimes he got bored with the person he was painting, so they're not always so accurate. But the other thing is, look at the size of this portrait… I mean, what is it, it's at least seven foot tall. How do you paint that? Going up and down a ladder? Well, you might do for certain parts of it, but the background we do know that Gainsborough actually used very long brushes… 6 foot…
Cathy FitzGerald: Six foot brushes?
James Heard: Six foot. And you think 'how is that possible?'.
Cathy FitzGerald: I'm not sure how you'd get the angle on that…
James Heard: Well, if you look at the background here you can see it's very sketchy and remember in those days people were used to swords, so they were used to handling something in their hand in a way that…
Cathy FitzGerald: … at a distance…
James Heard: … yes, in a way that we're not. So you know that speeded up the process, but also it gave him that very Impressionistic background that he really loved.
Cathy FitzGerald: And we know quite a lot more about Dr Schomberg himself, don't we?
James Heard: Schomberg… he came from an extremely distinguished family… and Schomberg himself, the man that's in our painting, turned out to be the black sheep of the family. He was always travelling on the continent and getting into terrible debt, which of course his father had to pay… and then finally his father decided enough was enough and cut him out of his will – I think he left him a shilling or something like that, and after this was painted, there was a scandal… a really big scandal even for the 18th century… because he was appointed to collect money from the churches in Bath for the local hospital. And instead of the money going into whatever it was… the box… the dish… it was going into his inside pocket. Seven pounds no less, which was a huge amount of money. He had to disappear. He disappeared to Reading. And I often wonder – did Gainsborough sort of sense something rather roguish about this character? It doesn't appear in the painting, but when you spend a long time with somebody you get to know them quite well. To me that's what's so fascinating about portraits, because in a sense you can never really tell the truth about these people. I mean here is this very serious man and yet we know he was a black sheep.
Miranda Hinkley (in the studio): Thanks to James Heard.
Gainsborough's portrait of the inscrutable Dr Ralph Schomberg is on display in Room 34.

Miranda Hinkley (in the studio): The National Gallery has always fostered close links with collections across the UK and this month an exhibition opens in Room 1 that celebrates the Gallery's relationship with the Barber Institute of Fine Arts at the University of Birmingham. 
This great collection includes works by Tintoretto, Poussin, Turner and Monet – and was, amazingly enough, assembled from scratch just 80 years ago. Leah Kharibian met the Barber's Head of Collections and Learning, Robert Wenley, and began by asking where the Institute can be found and what it contains.
Robert Wenley: The Barber Institute is on the campus of the University of Birmingham and it contains a world-class collection of art; principally paintings from the 13th century to the 20th century. Also works on paper, sculpture and decorative arts and unusually one of the world's greatest collections of Byzantine and medieval coins.
Leah Kharibian: And this idea of actually setting up a collection and making a collection from scratch – I mean, it's an immensely ambitious one, but it was the brainchild of a really rather wonderful person…
Robert Wenley: Yes, our founder Lady Barber certainly discussed plans to found this Institute with her late husband, Sir Henry Barber… he was a property developer in Birmingham. They didn't have a major collection themselves to give but they did have a lot of money in the form of shares and their property company and so they decided to use this wealth – they had no children – to set up the Institute and it was the first director, Thomas Bodkin, who was a flamboyant Irishman, who had the flair and taste to acquire these early works, which we celebrate here in this exhibition.
Leah Kharibian: Now I know Bodkin might have been flamboyant, but Lady Barber… Hattie… Constance… well, she just looks like a wonderful person… apart from I mean obviously her great taste in hats and headdresses. Can you tell me about her at all?
Robert Wenley: She's clearly an extraordinary character. She had so many passions – I'm not sure I can list them all, but she loved textiles and lace and dressing up – I think that's where the hats and costumes come from – but she had quite a serious collection of tapestries and historic lace. She also loved riding and hunting… so she had many diverse interests… and I haven't even mentioned the fact that she was a very talented pianist. She studied at the Royal Academy of Music and I think that explains why she wanted a concert hall at the Barber Institute which is an unusual feature of the building.
Leah Kharibian: And while the Barber was being built, some of the pictures came here I understand?
Robert Wenley: That's right, yes. The building of the Barber took two or three years and in that time Bodkin had negotiated with Kenneth Clark, the director here, to lend those key early acquisitions to the National Gallery, most of them, and so we're very much celebrating the anniversary of that particular loan back in the late 1930s, but also the fact that Lady Barber had stipulated that the collection to be acquired for the Barber Institute was to be of that standard of quality required by the National Gallery and the Wallace Collection. So she had those benchmarks in mind.
Leah Kharibian: And how important was it do you think, the National Gallery's sort of support of Lady Barber's project?
Robert Wenley: Well, I think although it's not expressed anywhere, I think it probably did provide some sort of seal of approval if you like on what Bodkin had achieved in his acquisitions and the fact that so many of these works were literally of a standard that they could be displayed at the National Gallery and that's something again that we celebrate here in this display that the present director has very gracefully agreed that they should be redisplayed here during the summer of 2013, so that's wonderful.
Leah Kharibian: Well, I'm really glad to know that the relationship continues to flourish and happy 80th birthday, Robert!
Robert Wenley: Thank you very much!
Miranda Hinkley (in the studio): That was Robert Wenley talking about the display 'Birth of a Collection: Masterpieces from the Barber Institute of Fine Arts'. The pictures are on show in Room 1 until the end of August and admission is free.
And finally… the National Gallery is going on tour this summer. If you're heading to Hay-on-Wye, Grassington, Buxton or Latitude festival look out for 'The Titian Experience'… a mobile cinema supported by The Art Fund celebrating Titian's masterpiece 'Diana and Callisto'.
We'll catch up with the tour later in the summer… but for now… don't forget you can view the entire collection online at www.nationalgallery.org.uk. And if you're visiting in person, the National Gallery is open 10 till 6 daily and till 9 on Fridays.
Until next month, goodbye!