Episode 8
The National Gallery Podcast
In the June 2007 podcast, Polish artist and writer Roman Halter talks us through memories of the Holocaust. School kids examine a 17th-century masterpiece in the Take One Picture project. Life-size reproductions of paintings hit the streets.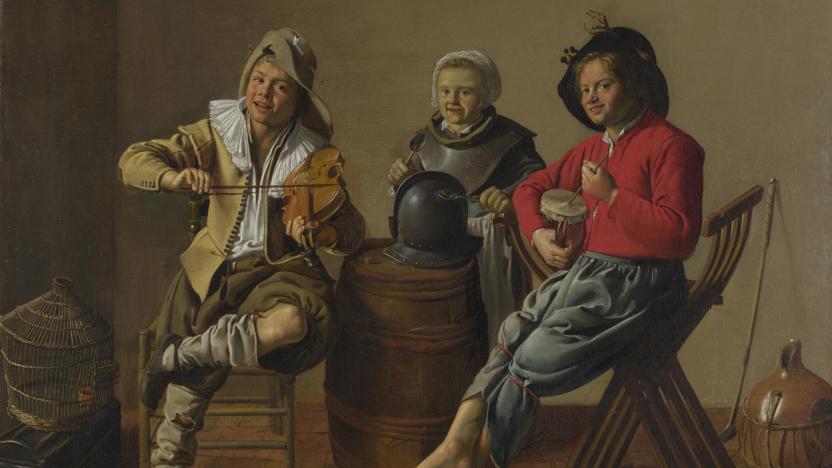 Read transcript
Miranda Hinkley (in the studio): Hello, I'm Miranda Hinkley, and in this month's podcast from the National Gallery: London's pavement artists get some competition – lifesize reproductions of some of the Gallery's greatest paintings are to be posted across the city – we tell you the best places to spot a Rubens or a Titian in the wild. And:
'Take One Picture' kids: We put lots of love on it because we liked it, all of them, both of them actually…
Miranda Hinkley (in the studio): Art comes to life with a bang for the 'Take One Picture' project.  We discover what a classroom full of school kids made of a very noisy 17th-century Dutch painting.
Roman Halter and Refugee Week
Miranda Hinkley (in the studio): But first: every year, millions of people from different countries and cultures are displaced from their homes by war, famine and natural disaster. This month's Refugee Week aims to raise awareness of both the plight and the positive contribution of those who come to the UK.
To mark the event, we talked to Polish painter Roman Halter. A boy of 12 when Hitler's troops invaded Poland in 1939, Halter was sent as slave labour to Dresden, via Auschwitz, and was the only member of his family to survive the war. He arrived in Britain as a refugee shortly afterwards, but only several decades later were his memories of the holocaust to become the basis of his own, highly personal art. Halter's paintings draw explicitly on great works from the past, and over the years he's developed a close relationship with the National Gallery collection. Colin Wiggins, a long-term friend, invited Halter to discuss a picture that means a great deal to him: Goya's portrait of 'Doña Isabel de Porcel'.
Colin Wiggins: So can you tell us a little about your own personal circumstances at that time – in the late 1940s?
Roman Halter: Well, first the experience of the holocaust left me with a terrible trauma. I didn't want to show this – it was a realisation that I'd lost everybody. There were no more illusions that anybody would survive. And then the second sort of awakening was 'what will I do with my life? What will become of me? I've no education, I'm ignorant about the world'.
Colin Wiggins: Why do you think it took you so long – 25 years – before you began to make these paintings expressing your…
Roman Halter: Because I wasn't ready before. I really… neither did I have the ability to paint properly, but then I found – yes, now is the time – and I got going. I called my family together and I said 'your standard of living will drop now because I have to do this – do you accept' and they all said yes, you have to do whatever you have to do. And I prepared 10 canvases and took these canvases to Israel, hired a room in a place called Naharia and painted.
Colin Wiggins: This is the time when your memory of your mother and this painting – Goya's 'Doña Isabel de Porcel' – they combined in your work.
Roman Halter: Well, the painting was conceived actually when I came here to the National Gallery, so my mother in my town of Chodecz when she went to synagogue, she wore a mantilla. And that reached from 1492 when Jews were expelled from Spain – it came all the way to Poland that fashion. And women sat in the balcony and they had a mantilla and also a veil in order to appear more modest but although they thought they looked more modest, they looked more queenly and men used to glance up at the gallery to see their wives and daughters. And when I sat between my father and grandfather in the synagogue, I kept on looking at my mother. And when I saw this painting that reminded me of my mother. My mother had a longer face and I thought one day, when I learn to paint, I'll paint my mother wearing a mantilla with a veil.
Colin Wiggins: Can we finish by looking closely at Isobel? And if you'd just like to say one or two things about what it is that you find striking in her? Does it still remind you of your mother? Do you still connect this painting with your childhood memories?
Roman Halter: Yes, I still do because you have to remember it's not only my mother who sat there with a mantilla but other women. And I come from a town where there were 800 Jewish people and only four of us survived, three women and me, and other women sat in that wooden synagogue and the wooden synagogue I can only explain looked like a mandolin upside down and they were sitting in the balcony. And when I went back after the war to see whether anybody survived, I found a total empty place, not a single Jew was there. And this portrait not only communicates a greatness to me, but also brings back memories of the people who lived there in my town of Chodecz and especially the memory of my mother.
Miranda Hinkley (in the studio): Roman Halter talking to Colin Wiggins. Visit www.refugeeweek.org.uk for details of other events planned around the country.
The National Gallery on tour
Miranda Hinkley (in the studio): And now... Gallery-goers are the usual audience for art – voices muffled, tone respectful – but this month it's the turn of pigeons and pedestrians. Wander through Soho or Covent Garden during June, and you may find yourself face to face with a masterpiece from the collection, thanks to the very latest in digital reproduction technology. I talked to Tracy Jones and Dawson Carr in Trafalgar Square about how this outdoor setting might change the way we experience these famous pictures.
Tracy Jones: 'The Grand Tour' is a project that the National Gallery has been working on with Hewlett Packard and the plan is to bring between 30 to 50 lifesize recreations of National Gallery permanent collection paintings and put them up around the walls of central London. We wanted to make sure that if people saw these works they could within five or 10 minutes walk actually be here and see the real works of art. So they're all within easy walking distance of the National Gallery. We're really hoping to touch the everyday lives of people that might not think to come along to Trafalgar Square and come into the Gallery, but they might be nipping out for a sandwich at lunchtime when they see a huge Caravaggio on the wall or something and they think 'Wow! That's an amazing painting – maybe I'll walk along to the National Gallery and just pop in.
Miranda Hinkley: So I'm standing on the steps outside the National Gallery with curator Dawson Carr. Dawson, which paintings are you most excited about seeing out in the open?
Dawson Carr: Well, I think the two that I'll be most curious to stand on an opposite street corner and watch the reactions of people are: the Bartolomé Bermejo, 'Saint Michael Triumphs Over the Devil', a scene that even those not familiar with the subject and the Christian tradition will be fascinated with because it includes a marvellous, truly inventive depiction of a devil being slain by Saint Michael. And the other is Caravaggio's 'Supper at Emmaus', a scene that's very real and palpable and involves the viewer in the excitement of the subject being depicted. One of the most interesting things for a curator in this exercise is that, of course, with most of these paintings, we've removed them from their original context anyway, by putting them on the walls of the National Gallery and this is yet a step further removed from what the artist intended. We're hopeful that it will grab people's attention and bring them to see the real thing.
Miranda Hinkley: Dawson, how do you think the fact that the paintings are outside around London will change the relationship between the viewer and the image?
Dawson Carr: Well, we're really hoping that people are going to see these images and be compelled by them, that it's going to pique curiosity and get people who maybe have never walked through the doors of the National Gallery to come and see what we're really about. We're completely subject to a barrage of images everyday and because most of the things that the National Gallery is about predate 1900, they come from a time when these images were much more special. We're interested in drawing people in. You can drop in and just look at one or two things – and so we're hopeful that this will compel people to come to the Gallery and really experience these works of art on their own.
Miranda Hinkley (in the studio): Tracy Jones and Dawson Carr on the joys of free-range art. 'The Grand Tour' is produced in collaboration with HP, and will be on display across London from 12 June. Picture-spotters can hunt out the works in Soho and Covent Garden, or, from 12 June,  download a map from www.thegrandtour.org.uk. And don't forget to take your mobile – an information label next to each painting will include a number to call to hear a commentary about the work.
'Take One Picture'
Miranda Hinkley (in the studio): This month's final feature continues the theme of bringing paintings to new audiences. Fine art probably isn't the first thing you'd reach for to entertain the kids. But as primary-school teachers across the country have been finding out, a little encouragement might be all that's needed. Each year, the Take One Picture project introduces a work from the gallery to schools: its most recent choice, Dutch artist Jan Molenaer's 'Two Boys and a Girl Making Music'. Karen Hosack, the project's organiser, and the staff and pupils of St Patrick's Catholic School, Plumstead, told us more…
[Kids singing]
Karen Hosack: 'Take One Picture' is a nationwide project for primary schools Each year we ask schools to submit some work to show us the sort of things that they're doing and what we like to see is cross-curricula work. They can use it in literacy, maths, science, crafts, design, technology, information technologies – so many different areas of the curriculum just using one painting as a central stimulus. The painting we've chosen for this exhibition was Molenaer's 'Two Boys and a Girl Making Music'. It's part of the collection that we haven't looked at before – it's a Dutch portrait, and also it's a painting with children in it and children like looking at pictures of children because they can really quite easily identify with the characters in the picture.
[Kids singing]
'Take One Picture' Kids: For the lady's hat we used metal framing to make the outside. And some sequins. Quite bendy – it's quite bouncy. I enjoyed helping Miss Mann stick all the materials on it.
[Kids singing]
Alison Royle: I'm Alison Royle and I'm an occupational therapist working for Greenwich PCT.
Deborah Mann: And I'm Deborah Mann. I'm a learning support assistant at St Patrick's school.
Alison Royle: Well we were looking for a project that we could use with our occupational therapy group that was a visual project, something that we could have as a focal point. It was something very tangible for them to be able to enjoy doing, something they could see and feel and touch and really enjoy the process of practising lots of quite difficult skills. Well we chose the hats because the children look at the picture and they find it difficult to see the whole picture they need something very specific to focus in on. Focusing in on that creative process they forgot a lot of their anxieties and fears about the task.
Deborah Mann: And they felt happy to experiment in a way didn't they? And to try things that in the classroom perhaps they would shy away from.
Alison Royle: A lot of our children have a great deal of difficulty doing practical things – bi-motor tasks and concentrating on doing cutting and sticking and pasting, and this gave them an opportunity to practice those things in a very secure environment and they really enjoyed the creative process.
Deborah Mann: We got the idea for the designs really from other contemporary paintings. The embroidery is actually based on 17th-century designs called slips.
Alison Royle: We did a huge amount of work with threading and using laces. We wanted to get particularly the boys to be able to do their shoe laces up, so we talked a lot about knots and bows and how a thread works and really we wanted to put that into some sort of sewing. So we started off with some really basic designs and then a couple of the boys became really interested in sewing and so we tried to think of ways that we could use that for the hat and the embroidery came from there really. And the nice thing about this whole process is that we're actually going to be in the Gallery and now a couple of the classes are going to be able to come up as well as the children and their families and see what they've been doing. And that even adds a greater degree of kudos and sense of achievement for the children. It's very exciting for them.
[Kids singing]
'Take One Picture' kids: I like to do the hats because I like artwork and other stuff. We put lots of love on it because we liked it, both of them actually. I think we're famous because of our hats.
[Kids singing]
Miranda Hinkley (in the studio): The 'Take One Picture' exhibition runs at the gallery until 1 July. Admission is free. And if you feel like getting creative yourself, this is the month for it. A series of free talks runs throughout June devoted to the topic of inspiration, while 21 July sees the launch of the 'Get Inspired Tour', sponsored by Expedia. It's an audio trail around the collection featuring famous artists, writers, sculptors, and photographers discussing how particular paintings have inspired their work. Details of all these events and more can be found on our website: www.nationalgallery.org.uk.
Finally, the Gallery's big summer exhibition, 'Dutch Portraits', opens on 27 June. It brings together a stellar array of works from the Golden Age of Dutch art – and we'll have all the news from the show in next month's episode.
Until then, goodbye!