Episode 65
The National Gallery Podcast
Doors open on the spring exhibition - Turner Inspired: In the Light of Claude. Plus the private world of Renaissance birth.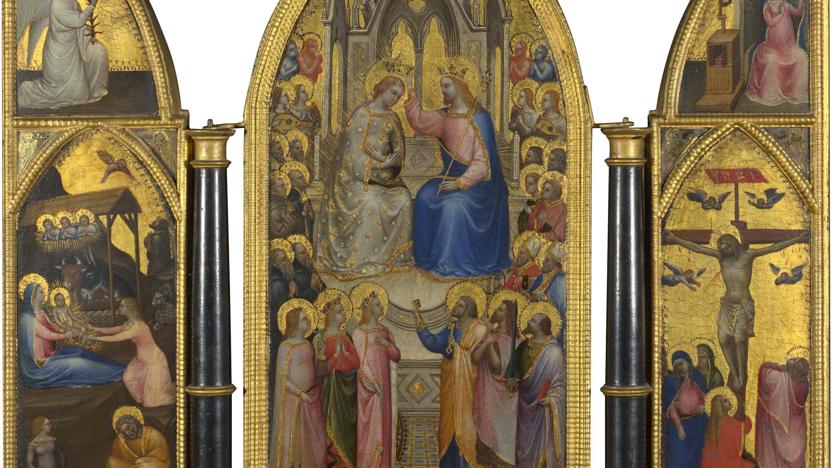 Read transcript
Miranda Hinkley (in the studio): This is the National Gallery Podcast and I'm Miranda Hinkley.
Coming up: Artist Richard Cook on his passion for Turner... And an extremely rare chance to see a tiny picture that's usually hidden from view.
But we start with our major new exhibition 'Turner Inspired: In the Light of Claude'. This show explores the fascinating, life-long passion of the 19th century British painter JMW Turner for the work of the 17th century French master of Italianate landscapes, Claude Lorrain. It's a devotion that took many surprising forms.  And it turns out that Turner wasn't alone. Before the exhibition opened, Leah Kharibian met with the National Gallery's Director of Collections, Susan Foister, to find out more about what was, in fact, something of an English obsession with Claude. 
Leah Kharibian: Susan, we're standing in front of Claude's 'Seaport with the Embarkation of the Queen of Sheba' of 1648 and it's a wonderfully large canvas that entered the collection early in the National Gallery's history. It also, very famously, was the most expensive picture to have passed through the London sale rooms and I was just wondering if you could take us through this picture and tell us what it was that made this 17th century artist so highly prized by the British?
Susan Foister: It's a really carefully composed painting; I think that's one of the first things that strikes you. There's an impression of order around this morning sea-scape, with the sun just lifting itself off the horizon and there's this absolutely beautiful play of light across the waves and you really sense the feeling of optimism in the dawn... in the early morning and the sense, I think, of warmth as well, which must have been very appealing to people in the cold north when they were perhaps thinking back about their memories of the Grand Tour in Italy and the warmth of the south, and this painting is really redolent of all of that. But it's not just a painting about the sea and the sky. It's very, very carefully framed by two classical buildings and it's this mixture of landscape and the classical that I think was immensely appealing to English people in the 18th century.
Leah Kharibian: How did that translate for the British? They really got extremely enthusiastic about Claude's paintings, didn't they?
Susan Foister: They wanted to bring him home with them if they possibly could. In the 18th century, the British became great collectors of Claude. By the 19th century there were well over a hundred of his paintings in British collections – a huge proportion.
Leah Kharibian: So in a way, Claude actually becomes a British artist, does he? He gets adopted...
Susan Foister: He certainly does get adopted... He was far more popular in Northern Europe than he was in the South where he worked. In Germany he was popular - Goethe loved him – and in Britain he became extremely popular. 
Leah Kharibian: So in 1775, about a hundred years after Claude's death, Turner is born in Covent Garden, quite near the Gallery here, to a very humble family, but he shows a very precocious talent from a very early age, and he really gets the British Claude bug if you like. And there's another picture here, in this room, that shows him painting when he was in his twenties and I was wondering if we could give that one a look. 
Susan Foister: Well, this is a painting that in a way is a dramatic contrast to the one by Claude because there's no classical architecture here at all. There are lots of people sitting on a seashore and the first thing that strikes your gaze is a pile of dead fish hits you right in the eye. And there's a woman who's obviously gutting fish just behind that and a number of fishermen standing around near their boat and the catch has just come in – it must still be fairly early morning – and they're all sitting celebrating. But most of the painting, like Claude's, is taken up with sky and with water and just as in Claude's painting, there is this wonderful impression of light on water. You can see the sun just coming up above the horizon, but it's not brilliant sun; it's northern sun here. It's this impression of mist... of almost eerie light behind the vapour that is the primary impression that Turner's giving us here.
Leah Kharibian: So the relationship that Turner has to Claude – although he admired him always throughout his life – it's not one of slavish imitation then is it? I mean when people come to the exhibition, they're not going to find Turner just copying Claude, are they? 
Susan Foister: Absolutely not. Sometimes you will see that Turner uses classical architecture and frames his composition in a very similar manner, but above all I think what you will see is the way in which Turner takes on the challenge of painting light and that's what so many of his paintings are about. I think the thing that appealed to people immensely in his painting was his sense of wanting to look at a British landscape afresh – and that's something that comes out in many, many of his compositions. His obsession with the sea – using the tradition of Claude – but seeing Britain through his eyes, and that was immensely appealing. 
Miranda Hinkley (in the studio): Susan Foister talking about Claude's 'Seaport with the embarkation of the Queen of Sheba' and Turner's 'Sun Rising through Vapour'. 
Miranda Hinkley (in the studio): Well, as we've heard, the exhibition examines Claude's influence on Turner... but, of course, there's also the question of Turner's influence on British painters down the years. We asked Colin Wiggins from the education team which modern artist he felt had been particularly inspired by Turner's legacy... and he nominated Richard Cook, an artist based in Cornwall who creates light-filled paintings and watercolours of the British countryside. We invited Richard to the Gallery, and he and Colin took a closer look at Turner's painting 'Dido Building Carthage'. When Richard confessed he'd copied the picture as a young artist, Colin asked what he'd been hoping to learn. 
Richard Cook: See I'm quite primitive in my own way, I suppose. I don't mean that in a self-flattering way, but I am quite simple-minded, so when I drew that, what I was really looking at was this dark mass which has this strange... and this beautiful sky, which is tinged by this cerulean blue and then it goes to this lemon yellow and this sun right in the middle and I suppose that just thrilled me, really... well, no, not thrilled... I loved it – and I still do love it. And I suppose I drew it because as a young artist it's a huge struggle to try and find a voice. You don't try and find a voice, you just struggle blindly, and if you're lucky something comes out of it, and that's how I was as a student. I didn't really know what I was doing, but I knew I wanted to draw this – and that is what I remember and still do, because it's imprinted in me.
Colin Wiggins: And if you are looking at Turner... you've looked at Turner since I think you were first conscious, I would imagine – he's been someone who's driven your creativity. What do you see in Turner that you find so important for yourself?
Richard Cook: Turner feels for me that he's always existed. So he's been there before me and of course will be there after me. And when I think and look at Turner, I think I'm... What draws me to the paintings in an intuitive way is they are emotionally driven paintings and I think that's what I find my deepest connection with them is.
Colin Wiggins: And of course the thing about Turner I think that most people will visualise when they think about him is this light-packed effect. This picture we're standing in front of is 'packed' with light. It's not just radiant, it's like a sun-burst... you feel you ought to be wearing sunglasses when you stand in front of it. Are you hinting that there might be something more than the visual in Turner's response to these natural phenomenon? That he's seeing something deeply symbolic about his own life... his own mortality when he looks at a sunset?
Richard Cook: No, I'm not saying that. I don't think there's anything symbolic about what he's done at all. We live in a world where the sun rises and the sun sets, but we also live in an interior world, and somehow one is – I wouldn't say a projection of the other, that's too simple – they are sort of the same thing somehow and that's the way I understand Turner. So yes, of course, sunsets, the evening star, beaches, trees, rivers, glories beyond count. But I think there's something simpler in the centre of it, and it's not a symbolisation – Turner's sunsets don't mean death; that's just too crass for me, anyway. But I think there's an entry into the poetic realm which is where Turner dwelt and these paintings are a result of his need to somehow express that, I would say.
Colin Wiggins: I'm interested you said the poetic realm, because poetry of course was very important to Turner. He had this poem which allegedly he was writing called the fallacies of hope that never saw the light of day... and then, of course, this painting comes from the classical story of Dido and Aeneas as told by Virgil. And when we start to look at all of the little figures – there's Queen Dido as the city is being built under her supervision... this huge, massive city that's arising from absolutely nothing, but the little detail that I rather love are the children in the foreground. And they've made a little model boat – a little toy boat – that you can see, and it's sailing off into the distance towards what looks like over in the bottom right-hand corner of the picture, a dark, dark cave. And this perhaps Turner being very literal about the idea that Dido is going to be abandoned by Aeneas and he's going to go off down into the underworld, as we can see from the cave here. So how do you think Turner's relationship to classical poetry informed his work?
Richard Cook: Well, I am not hugely familiar with the Greek myths and the things you mention, but Turner I know was. But I think as a painter, you see, I don't respond to that – that in a way falls away for me. The things I respond to are what I've already talked about... and as a painter – that's in a way, the only way I can answer your question. Yes, there is a text of course to all paintings in the National Gallery, much of which we've lost, but their enduring power and energy somehow transcends that because otherwise every damn painter who painted something would be of interest – but they're not. Why is there only one Rembrandt? Because there's something different that took place in that man's soul and that is what we love and need as human beings now. 
Miranda Hinkley (in the studio): Thanks to Richard Cook. 'Turner Inspired: In the Light of Claude' opens on the 14th of March and runs until early June.
Miranda Hinkley (in the studio): This month, to mark International Women's Day, the Gallery is offering visitors the chance to take part in an unusual course. It's run by Karly Allen, from the education team, and Teresa Arias, Consultant Midwife at King's College, London - and explores what the collection can tell us about giving birth and being a mother in the Renaissance. We asked Karly and Teresa – who met when Karly had her first baby last year – to tell us more about one of the paintings they'll be talking about. 
They chose a tiny work by the Florentine painter, Giusto de' Menabuoi, which depicts Saint Anne being cared for by a group of women shortly after giving birth to the Virgin Mary. It appears on a triptych, which celebrates the Coronation of the Virgin... but as the scene features on the reverse of the shutters, it's usually hidden from view. Art-handlers carefully lifted the piece down from the wall and set it up on an easel so that Karly and Teresa could take a closer look. Midwife Teresa began by describing the scene from the new mother's point of view. 
Teresa Arias: Maybe she's just given birth; maybe it's in the days after giving birth... but she's sat upright in her bed chamber. She has five women all working very hard to nurture her and look after her and beside her she has a woman pouring water into her hands to help her wash her hands and what I love about this painting... the mother, her gaze is firmly fixed on the roast chicken that's coming towards her. There's another woman who's holding a platter with this gleaming roast chicken and the mother is clearly, clearly ravenous and is going to devour this.
Karly Allen: It's really fascinating for me to look at a painting like this after having had my own child. I think if I'd seen this picture closely beforehand I wouldn't have noticed half the details and suddenly I feel this very direct connection with it. The chicken especially – I really understand that hunger that is like no other. I was surrounded by tins of flapjack rather than chicken, but it is that need for very hearty food. But also this feeling of dependency. I would never have expected to feel quite so dependent on the people around me and I really feel that, the way that this mother is lying in bed, tucked in, supported by cushions, her legs quite restricted by the bedclothes – she can't really move, so she's completely dependent on these women around her to bring everything to her bedside. To wash her hands for her... to take the baby.
Even though it might seem there's a distance between the mother and this new baby – you almost want her to be holding the baby herself – I can really appreciate that there are these moments where you just desperately want someone else to take the child for a minute so you can have some support yourself.
Teresa Arias: It's interesting – at the time it was really common to have a gathering of women. They could have been extended family; they could have been friends – but actually there were professional women who helped the midwife at the birth, that looked after the women... but also they hung around for a number of weeks after the birth. There was a lying in period that lasted between four and six weeks and women were really looked after – they were made to stay in this bedchamber away from drafts, eat very good food. So that we know from evidence... women were employed to do such a role.
So we can tell that that is a familiar scene, but where the reliability of the scene ends I guess, is that we know that maternal mortality rates were very high – and about twenty per cent of women died during the childbearing years related to childbearing. And also between 25 and 50% of babies died before their infancy, so actually entering into this chapter in their lives might have provoked some very mixed emotions. They might have known other women who had died during childbearing years, but equally they were very well rewarded for becoming a mother, so their status was well-regarded for becoming a mother. So my mind again is drawn to the experience of the midwife and what must it have been like to actually be confronted by death on such a consistent basis – and her role would have extended, presumably, to delivering some bad news to father and extended family. So I feel very privileged to live in a time in the Western world where we don't have to do that as often.
Karly Allen: So it is fascinating to think about who would have been looking at this picture at the time. Was it intended for a very particular viewer; a very particular collector, perhaps? Or to be given as a gift to a young mother... or a prospective mother. You can imagine a young woman of childbearing age – perhaps she's recently married – and she's looking at these images of birth-scenes and it's allowing her to think through these mixed emotions, and to enjoy this image of a very ordered and calm... comfortable birth-scene that perhaps would allay her fears of what's to come. What's lovely is that there's always been a desire for women in pregnancy or in early motherhood to look towards images or texts for guidance of for advice and that seems to continue – well, it continues today.
Teresa Arias: I totally agree; I think women are inundated with images in the media of new mothers... of books informing them of how to be as a mother, what to eat as a mother, and I think we turn to each other with the use of technology and through forums to exchange what the experience of being a mother is, because most of us now might not have an extended family to learn from and to share with. So I guess what I take away from this painting is female celebration of a magnificent event and I'm rather envious that I'm not in that little party myself.
Karly Allen: It's interesting that now people need to look outside for that sort of support and we've lost that sense of local community, network of women coming into your bedchamber, so this little picture allows us a glimpse into almost a lost world and the very private world of childbirth in the 14th century.
Miranda Hinkley (in the studio): Thanks to Karly and Teresa. Giusto de Menabuoi's triptych is back on display with its shutters open, so – for now at least – the painting depicting the birth of the virgin is hidden from view. 
But you can still get a look at the picture on the National Gallery website. If you're watching the version of this podcast that contains images, you'll see a web-link on your screen now. 
And the Gallery's website is also where you'll find more information about Karly and Teresa's course. It will take place on Thursday the 8th and Thursday the 15th of March and is called 'Mother and Child Enthroned'.
That's it for this episode – until next time, goodbye.