Episode 56
The National Gallery Podcast
Sainsbury Wing 20th Anniversary special edition with the Gallery's Director Nicholas Penny, the artist Paula Rego, and archivist Alan Crookham.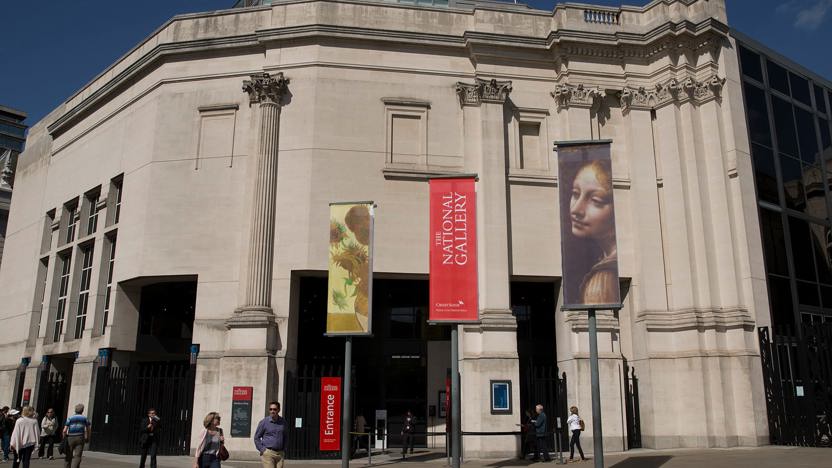 Read transcript
Leah Kharibian (in the studio): This is the National Gallery Podcast and I'm Leah Kharibian. This month we're celebrating 20 years of the Sainsbury Wing, which was opened by the Queen on the 9th of July 1991. The National Gallery has had its home in Trafalgar Square since 1838. Its grand entrance overlooking Nelson's Column is one of the iconic views of London. But as the Gallery's collection expanded over the past century, wall-space became an increasing issue. The answer, funded by a generous donation by the Sainsbury brothers, was a purpose-built extension that's become an integral part of the Gallery's daily life. I spoke to the National Gallery director Nicholas Penny about what continues to make Sainsbury Wing the ideal place to show the Gallery's earliest pictures.
Leah Kharibian: Nick, we're here in the Sainsbury Wing galleries which even after 20 years still retain such a distinct character – they're light, spacious, grandiose and yet somehow also understated – and at the end of each vista you have some of the Gallery's most magnificent altarpieces. To me, at least, the collection's early works look so at home here it's hard to imagine them anywhere else. But to begin I was wondering if you could describe what life was like for the early and Renaissance pictures before the Sainsbury Wing was opened?
Nicholas Penny: Well, I think as soon as the National Gallery started collecting paintings, and you have to remember that – for the first 30 or so years of the National Gallery's existence it had no paintings from before 1500 – well, as soon as they started collecting in that area there was always an awareness that this was a different type of picture. There's a very, very high percentage of these works are religious works and moreover a high percentage are actually altarpieces and so they've been removed – more obviously removed – from their ecclesiastical context than is the case with later pictures.
Leah Kharibian: And how do you think the architects, Robert Venturi and Denise Scott Brown, were able to address this particular aspect of the earlier collection?
Nicholas Penny: I think, you know, again and again one feels with galleries that the most successful aspects of their architecture are the things that most people aren't really aware of. And without in any way imitating the exact appearance of an Italian or even northern European church – what Robert Venturi and Denise Scott Brown provided for us in the Sainsbury Wing is a space that has a kind of... some kind of ecclesiastical resonance. Partly from its great height. Partly from its colour scheme – we don't have these sort of rich wall coverings here.
And also people think it's a very large space but the plan of each room is relatively small. At the same time, there are very, very large openings and relatively small spaces on either side, so I think it was quite an achievement to provide a space that was at once suitable for very large pictures – partly because of the vistas that these large openings provide. So you're seeing... I'm now looking at a painting which is three or four rooms away... and at the same time you can actually concentrate on smaller things on smaller walls at the same time. So from that point of view it works very well and it's also different. So that difference that there was, people felt, between the early Renaissance if you like, and the rest of the collection – they always felt that – but it was never part of the visitors' experience until we got the Sainsbury Wing.
Leah Kharibian: And overall what do you feel the successes of the Sainsbury Wing have been?
Nicholas Penny: Well, I suppose to put it most... in the simplest possible way... I keep thinking that it opened 10 years ago rather than 20 years ago – that's to say that the solution for the hanging of these paintings still seems completely fresh and doesn't seem in any way out of date at all. That I think is a success.
The other thing is we've all known for a long time that the National Gallery had a defining collection of Renaissance art. And now we actually present it much more clearly as such. I mean you can... to be able to experience one part of the National Gallery in separate galleries underlines its importance and its distinction and its distinctness actually. And I think that's a triumph too.
And I suppose one of the things I really like about it is that you don't get lost in it but there isn't a way round. So it's not over didactic – we're not saying, you know, this is the story of Renaissance painting – you can weave around it as you like. I mean, you can do it a little bit by 'oh here are the paintings made in Florence and here are the paintings made in Venice' or you can do it by 'here are the earliest and here are the latest'. We don't get complaints about this which must mean it's working quite well I think. It certainly works well for me.
Leah Kharibian: Super, thank you very much.
Leah Kharibian (in the studio): Thanks to Nicholas Penny.
Leah Kharibian (in the studio): The site of the Sainsbury Wing on one corner of Trafalgar Square was derelict for much of the last century. Miranda Hinkley met up with the National Gallery archivist Alan Crookham to hear how it became the building we know today.
Alan Crookham: What we have now is the Sainsbury Wing, but it took a very long time for this to actually be developed. Throughout the 1950s and 1960s the site was left vacant and it was essentially used as a car park – if you can believe that – that a corner of Trafalgar Square, one of the prime locations for real estate in the centre of London was used as a car park.
And towards the end of the 1970s, finally the trustees managed to persuade the government that something needed to be done. So a competition was launched in 1981 by the secretary of state at the time, Michael Heseltine, and the winner was the firm Ahrends, Burton and Koralek (or ABK as we call them). And the revised design was made public and people weren't very keen on it because essentially what it had was a tower, which was supposed to mirror the tower of St Martin's of the Fields on the other side of the square, but in actual fact it wasn't a very attractive tower, it kind of had this thing on the top which looked a little bit like a cat's cradle. And I think the death knell for the building really came when Prince Charles criticised it in a very famous quote that I think people will still remember from the 1980s when he called it a 'carbuncle on the face of a much loved friend' – of course, the much loved friend being the Wilkins Building, the old building in Trafalgar Square.
And it looked as though everything had come to a dead end, so perhaps it was destined to be a car park for another 20 years. And then in April the following year, 1985, the three Sainsbury Brothers, John, Simon and Timothy, came forward and said that they would fund an extension which could be entirely for the use of the National Gallery. So they started a world-wide search for an architect and they selected Robert Venturi of Venturi, Scott, Brown and Partners from America.
What Venturi designed – Venturi was an advocate of post-modernism in architecture – and what he's designed here is a post-modern building in the sense that it has a certain degree of ornament – it's tried to blend into its location – but it's also playing around with that slightly – you can see with the cutaway of the staircase and you can see with the columns that they're bunched together so they give you the illusion of classicism but in actual fact it's not classical at all. And the further away you get from the Wilkins Building, you can see that it becomes slightly plainer and then eventually it gets plain and round the corner you have a brick exterior.
Miranda Hinkley: Well, let's wander in now through one of those cutaways and have a look at the interior. Well, here we are inside the Sainsbury Wing and it's an absolutely fantastic space.
Alan Crookham: Yes, I mean this is the foyer area that we're standing in now – you've got... there's a granite staircase leading up to the main galleries which is on the main floor, tying in with the old Wilkins Building and then if you go downstairs the other way, you come to the suite of temporary exhibition galleries that were constructed as part of the Sainsbury Wing back in 1991.
Miranda Hinkley: And while there were smaller exhibition spaces in the main building, this is the first, large dedicated exhibition space?
Alan Crookham: Yes, because I think at the end of the 1980s, the Gallery was looking at having a larger exhibition space so that it could put on bigger, better exhibitions – the kind of blockbuster exhibitions I suppose that we've become used to today – and there wasn't' anywhere in the old building that really could be used or adapted for that purpose and therefore a specific temporary exhibition space was constructed in the basement of the Sainsbury Wing which we still have today.
Leah Kharibian (in the studio): Alan Crookham talking to Miranda Hinkley. And if you'd like to more about the building, we'll be holding architecture tours on the 14th of June and the 12th of July. See the website for details at www.nationalgallery.org.uk
Leah Kharibian (in the studio): And now to a painting made especially for the Sainsbury Wing by the Portuguese-born artist Paula Rego. An artist for nearly 60 years, Rego is still deeply committed to her work.
She's involved in commissions for sites across the globe but kindly took a break from her studio to talk to us. Her involvement with the Sainsbury Wing project began in 1990, when she was commissioned by the Gallery to create a three-panelled mural for the new restaurant. Rego was inspired by a work that was to be hung in the new wing – Carlo Crivelli's 'Madonna of the Swallow' – to create a masterpiece of her own, entitled 'Crivelli's Garden'. I met her in front of the work to ask how it related to her time at the National Gallery.
Leah Kharibian: Paula, your brief as associate artist was to respond to the collection and you'd already been working on some ideas based on the life of the virgin which I believe forms the right-hand panel, but could you tell us about what inspired the other two panels?
Paula Rego: They're all about the saints and pictures in the National Gallery. Saints, that is women saints – no men saints, the men are all having their heads cut off, like Holofernes and Samson as well (well he doesn't have his head cut off, but anyway) and so it's all based on pictures in the National Gallery... except I didn't use the same poses or anything – I just made up my own poses because they were different people... Most, a lot of the people in the picture worked at the National Gallery – they were working here – and I put them in the picture, playing the part of a saint.
Leah Kharibian: That's wonderful. So I was just wondering whether this personalisation, this way of bringing the National Gallery staff sort of into the picture – how that happened for you.
Paula Rego: Well, I need people to copy from – it's very difficult to make them up out of my head – and I just cast them... you know, according to a little bit their personalities, but not quite, so I just chose them and the ones I talked to most I asked to do more and I liked them very much.
Leah Kharibian: I was really fascinated by the way in which within this work and as you say – they're all women – the women seem to be helping each other or instructing each other or teaching or trying to impart something – is that important for you?
Paula Rego: Yes, very. It's very true too, well particularly where I come from. If they didn't do that, they'd be strangled and killed quicker than they are. Beaten up after a drunken brawl.
Leah Kharibian: I see, so it's women protecting each other too?
Paula Rego: It's women protecting each other, sharing their secrets, having the main part.
Leah Kharibian: And 20 years on, when you look at this, what do you feel when you look at it?
Paula Rego: The same. It doesn't look worse. I thought sometimes pictures look disgusting after a few years. You know, they look horrible. But I'm not ashamed of this one at all. And I can still remember the joy of doing it, you know, the pleasure it gave me to do this.
Leah Kharibian (in the studio):  Thanks to Paula Rego. If you'd like to take a closer look at the mural, the National Dining Rooms are open from 10 till 5 daily and 10 till 8.30 on Fridays. That's it for this episode. But if you'd like to know more about the Sainsbury Wing – and its paintings – come along to one of our free lunchtime talks. They take place on Thursdays and throughout the month of June the focus will be on Sainsbury Wing works. See the website for more details - www.nationalgallery.org.uk.
Until next month, goodbye.